In our series of Best CPU guides, here's the latest update to our recommended Gaming CPUs list. All numbers in the text are updated to reflect pricing at the time of writing. Numbers in graphs reflect MSRP.
CPU Market Overview, Holiday 2022
As we head into the Black Friday period, there's an abundance of new desktop CPUs from both AMD and Intel to select from. The two big launches for 2022 in the world of CPUs – AMD's Ryzen 7000 series and Intel's 13th generation Core – have ended up also being two of the most performance-competitive CPU launches from a that we've ever seen.
First out of the gate in late September was AMD, who launched its eagerly-anticipated Ryzen 7000 series. Based on its new Zen 4 core and built on TSMC's 5 nm node, the flagship Ryzen 9 7950X 16C/32T made big waves at launch. Less than two weeks later, Intel launched its 13th Generation Core parts – codenamed Raptor Lake – bringing to bear higher clockspeeds and doubling the number of efficiency cores per SKU across Intel's lineup. Coupled with this, both AMD and Intel have tweaked their pricing strategies versus their previous pandemic-constrained practices; on average AMD CPU prices have ticked up, while Intel CPU prices have ticked down. Meaning the competition calculus has changed at multiple points (and that's before getting into platform costs).
Consequently, as we approach the end of 2022, both AMD and Intel have very strong hands with their current generation parts.
Another avenue to consider is the previous generations, particularly AMD's Ryzen 5000 (Zen 3) series and Intel's 12th Gen Core series. While not as fast as their successors, they're definitely cheaper as retailers look to unload old inventory, giving the frugal gamer some good opportunities to score a good deal.
Amazon's current Top 10 looks like this:
Looking at the current top 10 best sellers at Amazon (at the time of writing) in the CPU space, it paints a very black picture ahead of Black Friday. Thanks to some price cuts from AMD ahead of the big shopping weekend, almost the entire top 10 list is occupied by AMD's Ryzen 5000 series chips, with a quick cameo from the Ryzen 9 7950X. We have to get to #11 before we find Intel's flagship Core i9-13900K. Though as these are seemingly temporary deals, AMD's domination of Amazon's best seller list is probably not a permanent state of affairs, it goes to show the power of a price cut, especially when coupled with how readily available cheap socket AM4 motherboards are.
Conversely, the relatively scant showing of the Ryzen 7000 does highlight the hurdle of high up-front costs for AMD's new AM5 platform, which requires DDR5 memory and brought four new chipsets with it including X670E, X670, B650E, and B650. Even boards based on the entry-level B650 chipset don't offer much value in terms of features versus price, making anything less than the top Ryzen 7000 chips a hard sell for budget-minded gamers.
Intel's 13th Generation Core series meanwhile exists in an interesting median between the two extremes of AMD's platforms, as it works with existing LGA 1700 motherboards and DDR4 memory, meaning that users are able to opt for an Intel 600-series motherboard such as Z690, which is a bit more dated in I/O but offers full CPU performance.
Looking beyond the top 10 best sellers, the number 11 pick on Amazon is the Intel Core i9-13900K ($663), followed by the other end of the Intel 13th gen stack with the Core i5-13600K ($320).
Trying to obtain that sweet spot between value and performance is one that many look to achieve, especially if looking at what's selling best at Amazon. Interestingly, only two processors in the top 10 at Amazon cost more than $350: the Ryzen 7 5800X3D ($359) with its large 96 MB of 3D V-Cache, and the Ryzen 9 7950X at a sale price of $626. Everything else on the list is below that, which isn't a massive shift from last year's holiday guide.
With the Core i5-13600K sitting at $320 currently at Amazon, and with support for both DDR5 and DDR4 memory, AND with support for the existing 600-series motherboards that have been around for a year now, this is perhaps where the sweet spot lies between performance, price, and features. Though the Ryzen 7 5800X ($229) is also a tempting (if slightly more dated) offer thanks to its 8 Zen 3 cores. AMD's holiday price cuts also mean the Ryzen 7000 series is on the table, though even a Ryzen 5 7600X ($249) may not quite scratch that value itch.
Best CPUs for Gaming Holiday 2022
Sometimes choosing a CPU is hard. So we've got you covered. In our CPU Guides, we give you our pick of some of the best processors available, supplying data from our reviews.
AnandTech Gaming CPU Recommendations
Holiday 2022
(Prices correct at time of writing)
Segment
Recommendation
The High-Performance Pick
AMD Ryzen 9 7950X (16C/32T)
Intel Core i9-13900K

(8P+16E/32T)

$626
$663
The Smart Money Pick (Price versus Performance)
Intel Core i5-13600K (6P+8E/20T)
$320
Gaming on a Budget
AMD Ryzen 7 5700X (8C/16T) CPU
$199
On The Horizon
Intel Core i9-13900KS?
AMD Zen 4 with 3D V-Cache (X3D)
The majority of our recommendations aim to hit the performance/price curve just right, with a side nod to power consumption as well.
The High-Performance Pick
AMD Ryzen 9 7950X (16-core, $626)
Intel Core i9-13900K (8+16-core, $663)
Looking beyond the current global financial climate and focusing more on raw performance, we have two picks that should satisfy the needs of those looking for peak performance, without worrying too much about the overall cost. In fact, it was so close at the top, that it makes perfect sense to recommend both Intel's Core i9-13900K ($663) and AMD's latest Zen 4 flagship, the Ryzen 9 7950X ($626). 
Regardless of what task you're aiming to undertake, complete, or accomplish, the reality is that either the Intel Core i9-13900K or the AMD Ryzen 9 7950X will provide enough juice under the hood to get things done; especially outside of opting for a workstation-based platform. It really is so close between both at the tail end of the performance, that both are rightly justified as solid picks for high-performance desktop computing.
It's worth noting that in some tasks such as Cinebench R23's 4D rendering engine, the Core i9-13900K comes out on top, and in other instances such as encoding with 7-Zip, the Ryzen 9 7950X comes out as the victor; but it's where they meet in the middle that makes it such an intriguing battle of attrition between both Intel and AMD here. In traditional workloads such as C-Ray at 4K, it is so close, that running the benchmarks multiple times could yield either one to be the one on top, and much is the same in other benchmarks such as WinRAR 5.90. 
Although on the surface, it looks like a 16C processor (7950X) and a 24C processor (13900K) doing battle is slightly unfair, sixteen of the Core i9-13900K cores are the smaller efficiency cores, giving AMD an edge in total high-performance cores, while Intel relies on the efficiency cores to provide extra leverage in heavily multi-threaded situations; and this is where the battle is interesting.
Even in the specifications, AMD and Intel are both trading blows with high boost/turbo core frequencies. The Core i9-13900K is capable of boosting up to 5.8 GHz on the P-cores and 4.3 GHz on the E-cores, while the Ryzen 9 7950X can hit up to 5.7 GHz; interestingly the latter has 64 MB of L3 cache available, with 32 MB pooled for each core complex die, while the Core i9-13900K has just 36 MB.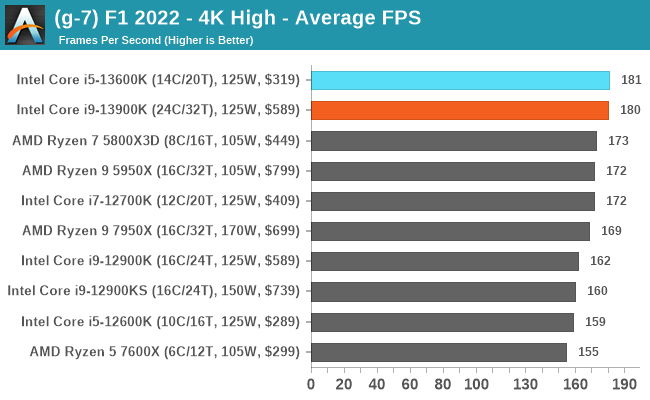 When it comes to gaming, especially at higher resolutions such as 4K, the CPU becomes less of the burden of all the work and the graphics card takes over. Where the debate ranges from how many cores are ideal for gaming or if it's really just down to the level of game optimization for multiple cores, it primarily comes down to the resolution you're gaming at.
Regardless of the current graphics situation right now, a significant question on all system builders' minds is if what they buy will last into the future, whether that's gaming at 1080p or all the way up to 4K with high refresh rates. The best thing about the gaming market is that as you push higher and higher resolutions, the CPU matters less and less, but ultimately it still matters enough to get some minimum performance.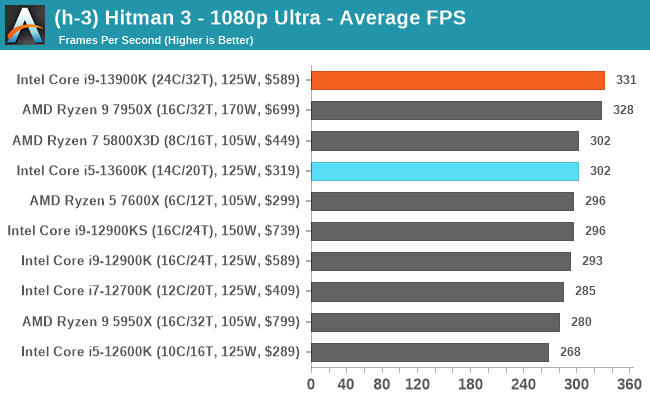 As our review of Intel's Core i9-13900K (and Core i5-13600K) shows, if you look at the bigger picture, it generally boils down to what vendor you prefer or what workload you want. In this instance, gaming is the primary focus, and there's such little difference between both flagships in relation to frame rates, or bottlenecking, or any of that overly glorified reliance on core counts, that it comes down to preference.
One avenue to perhaps consider is, what are you upgrading from? If the answer is Ryzen 5000 or Intel's 12th Gen Core, then you're more likely to notice a much bigger jump in performance by upgrading your graphics card. Of course, the latest and greatest is going to do the job, but even the Ryzen 5900X ($341) is going to deliver enough compute with its twelve Zen 3 cores, especially where games are optimized for this many cores.
Despite this, we are recommending both the Intel Core i9-13900K ($663) and AMD Ryzen 9 7950X ($626) as top-tier options for gaming; primarily because they excel at pretty much everything you throw at them.
The question of future-proofing is also answered with both of these options, as PCIe 5.0 SSDs will soon hit retail shelves, and that elusive mega-powerful desktop system is close to being attainable; despite the incredible hit to the wallet.
The Smart Money Pick (Price versus Performance)
Intel Core i5-13600K (6+8-Core/12T, $320)
As opposed to our money-is-no-object recommendations, for most PC builders money is an object, and a system needs to still perform well without breaking the bank. That's exactly what this pick is about, and having only been released less than two months ago, Intel's Core i5-13600K ($320) holds a good claim as the most balanced option.
So what makes the Core i5-13600K so special? Because let's face it, even with a price tag of $320, it's still among the more expensive chips on the market. Reeling it back in slightly, and when it comes to making a purchase based on how much something can offer with the least amount of cost, the Core i5-13600K looks to represent incredible value for money for gamers looking to save some $$$.
The Core i5-13600K has a total of 14-cores (6P+8E), with 12 threads, and 24 MB of L3 cache, and on the surface, this doesn't sound like much. The reality is, the Core i5-13600K has everything under the hood that it could need to make it a viable option for users looking to game at resolutions of 1080p up to 4K in combination with a good discrete graphics card. Looking at the finer specifications, the Core i5-13600K can boost up to 5.4 GHz on the Performance (P) cores, while the Efficiency (E) cores can hit frequencies of up to 4.2 GHz.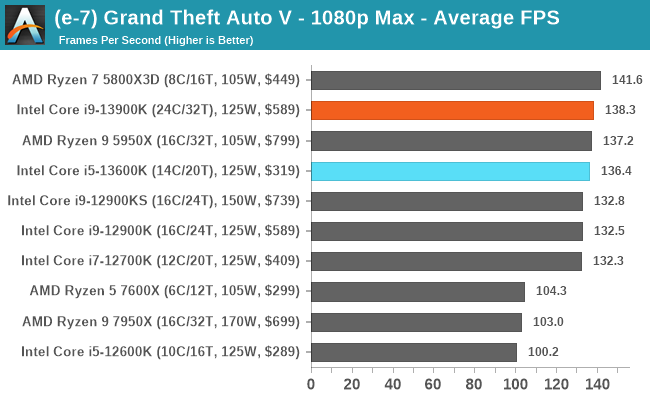 What makes the Intel Core i5-13600K such a good buy for $320 is that it's highly versatile, and can be used as a very well-rounded option for both compute-related tasks and gaming. It benefits from all of the single-threaded IPC performance uplifts over Alder Lake as the Core i9-13900K does, but outside of highly multi-thread applications where the flagship comes out the clear winner, there's not that much difference in gaming. As we can see above in Grand Theft Auto V at 1080p Maximum settings, there's around a 2 frames-per-second difference between both Intel processors, but the point here is, one is more than double the price of the other.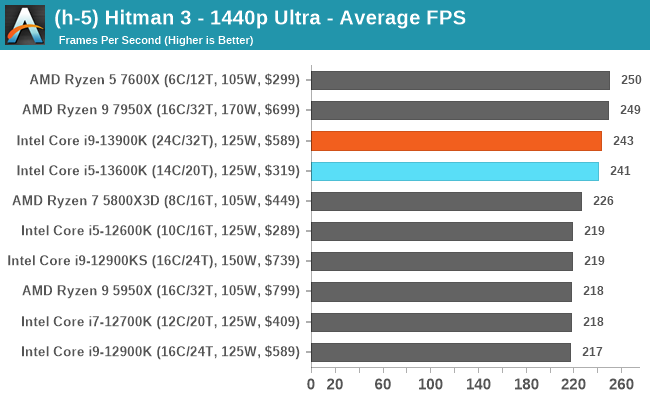 Even when the resolution is ramped up to 1440p, the differences between the Core i5-13600K and Core i9-13900K in gaming don't really differ all that much. If that's not enough to persuade you that the Core i5-13600K represents great value for money, the fact that you could pair this processor with an already decently priced B660 motherboard and a set of DDR4 memory for less than the cost of a Core i9-13900K ($663) itself, then the rest is history.
Given that this is a gaming-focused guide, an honorable mention also goes to AMD's unique, V-cache equipped Ryzen 7 5800X3D ($359). The 8 core chip offers some unique performance benefits in select games that not even the flagship i9-13900K or Ryzen 9 7950X can completely match. The benefits of the additional cache are not especially consistent from game to game – among other things, you need to be CPU limited to begin with to really enjoy them – which makes the 5800X3D a dark horse recommendation. Still, coupled with a cheap AM4 board and DDR4 memory, it warrants a look for buyers who truly aren't focused on anything but gaming performance.
The Smart Options for Today
AMD Ryzen 7 5700X (8C/16T, $199)
Not everyone has $1000-2000 to spend on a new processor and graphics card, so what about those looking to game on a budget? Thankfully, Black Friday is providing a bounty of options here, especially in the sub-$200 market.
Normally we'd pick one of AMD's Ryzen 5000 APUs, but with the Ryzen 7 5700X CPU down to $199, it's hard to ignore one of AMD's more potent CPUs. With eight cores (sixteen threads) and all the cache that comes with being a full-fledged Ryzen CPU, it still delivers a lot of performance in games (and other workloads) without hitting the wallet too hard.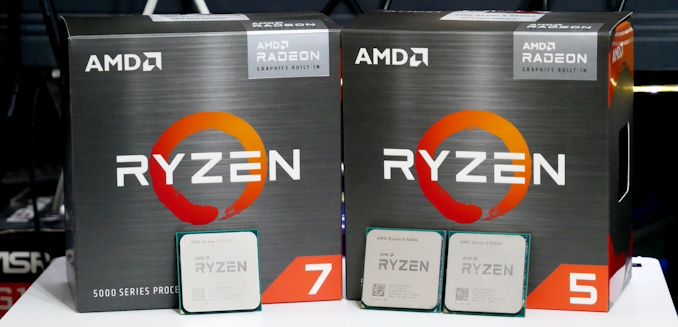 The Ryzen 7 5700X works with the AM4 platform and can be combined with a good set of DDR4 memory for optimal performance. Paired up with a relatively cheap B550 motherboard, and this leaves some extra spending money to pick up a discrete video card, which although are cheaper than they used to be (thankfully), they are still not especially cheap. There's also the benefit of having eight Zen 3 cores to consider, as it means multi-platform games coming from the consoles (which use eight core Zen 2 CPUs) won't find themselves for want of a CPU core.
And showing just how much things can change in a year, in practice this ends up being a significantly better processor than our 2021 budget picks. At that point in time a 6-core 5600X was $299, and even the more budget-focused 5600G APU was $240. Notably, this does mean that our recommendation requires a discrete GPU, but with component prices falling right now, it's hard to recommend gaming on an integrated GPU if you can avoid it – especially as discrete GPU performance has moved forward.
Otherwise, for true budget options, it's still hard for PCs to compete with the game consoles. Although it's taken 2 years(!), the Playstation 5 and Xbox Series X are now reasonably easy to find, with a base price of $500. And of course, the Xbox Series S continues to lurk at $249. True, they're consoles, so they don't come with the flexibility that we tend to appreciate as PC gamers; but it's hard to beat the power of bulk buying that Microsoft and Sony enjoy – especially as the two of them are willing to sell these consoles at cost (if not at a loss)..
On The Horizon: Intel Core i9-13900KS at 6 GHz, AMD Ryzen 7000 with 3D V-Cache
Both Intel and AMD have ended the year in a very strong position with their subsequent launches of the 13th Gen Core and Ryzen 7000 series. Earlier on in the year, AMD launched the Ryzen 7 5800X3D with 96 MB of 3D L3 V-Cache, and as we saw, it was very good in gaming, but average in terms of compute performance. That was the first time we saw AMD's 3D V-Cache packaging technology in a desktop solution, and it really does give AMD something to build on.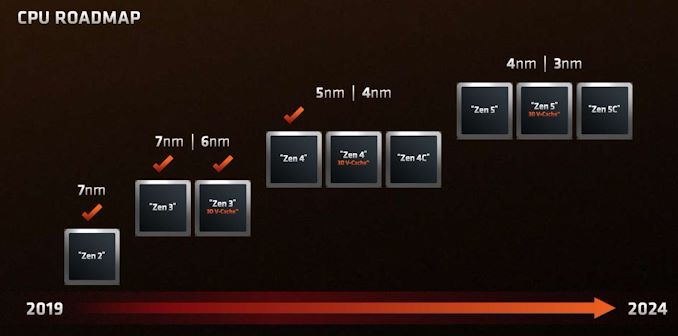 At present, there aren't any official dates on when we can expect Ryzen 7000 series SKUs with 3D V-Cache. Looking back on AMD's "together we advance_PCs" keynote for the launch of Ryzen 7000, we know that AMD is planning to launch at least one X3D SKU with its powerful Zen 4 core. Looking even further beyond Zen 4 3D V-Cache and Zen 4C in 2023, AMD also announced at its Financial Analyst Day (AMD FAD 2022), that Zen 5 will be coming in 2024, and sans any delays in production and manufacturing, it seems AMD is pretty nailed down on its desktop parts for the next couple of years at the very least.
For Intel, much of what's expected in the early part of 2023 is the launch and release of the Core i9-13900KS, which Intel briefly announced during its Intel Innovation 2022 keynote. Intel has promised a processor with clock speeds of 6 GHz out of the box, and with its flagship hitting 5.8 GHz (briefly, on a P-Core), this is entirely possible and we expect to hear more, probably during CES 2023.
There's also the rest of Intel's 13th Gen Core series to expect in the coming months, with non-overclockable desktop SKUs and the Core i3 series chips still yet to be announced. Beyond that, is Intel's 'Meteor Lake' processors which will be the successor to Raptor Lake (13th Gen), although it isn't announced, there are no finer details, and there's no telling if they will land in 2023 or 2024 at this point. It looks as though as we move into 2023 we're going to see even more competition between Intel and AMD, and strong competition is a good thing for consumers to look forward to.