Asus is completely retooling its laptop line for CES 2023, with new introductions across its ROG flagship brand including Flow, Zephyrus, and Strix models, as well as the cheaper TUF gaming laptops. They amount to a significant number of new and upgraded laptops, using a combination of the latest silicon from Intel, AMD and Nvidia. (In many cases, however, Asus is only referred to "next-gen" GPUs and processors in our press briefing and materials.) Almost all of the laptops are getting MUX switches, as well, to prolong battery life when you're not gaming.
The biggest announcement, quite literally, is that Asus is taking the ROG Strix line up to 16 and 18 inches on Intel and Nvidia models: the Strix Scar 16/18 and the Strix G16/18. Both will use Intel Core processors with 65W TDPs and Nvidia RTX GPUs that require up to 175W. 
The Scar series will use up to 64GB of DDR5-4800 RAM and up to 4TB in storage with two PCIe SSDs in RAID 0, while the G-series Strix will use up to 32GB RAM and a 2TB PCIe SSD with an additional slot for an upgrade. Both are also moving to 16:10 aspect ratios. The Scars will get an option for a Mini-LED QHD 240 Hz screen with Asus's "Nebula HDR" and 1,100 nits peak brightness, but the Strix G laptops ditch the HDR for a QHD 240 Hz Nebula display with 500 nits.
The 18-incher also gets an RGB light bar around the front, because when you're going this big, why not scream that you're gaming?
The Strix Scar 17 and G17 are still around as options for next-gen AMD systems using Nvidia GeForce graphics. 16:9 isn't dead just yet.
The Zephyrus Series includes a new Duo 16, as well as the G14, G16 and M16 getting refreshes.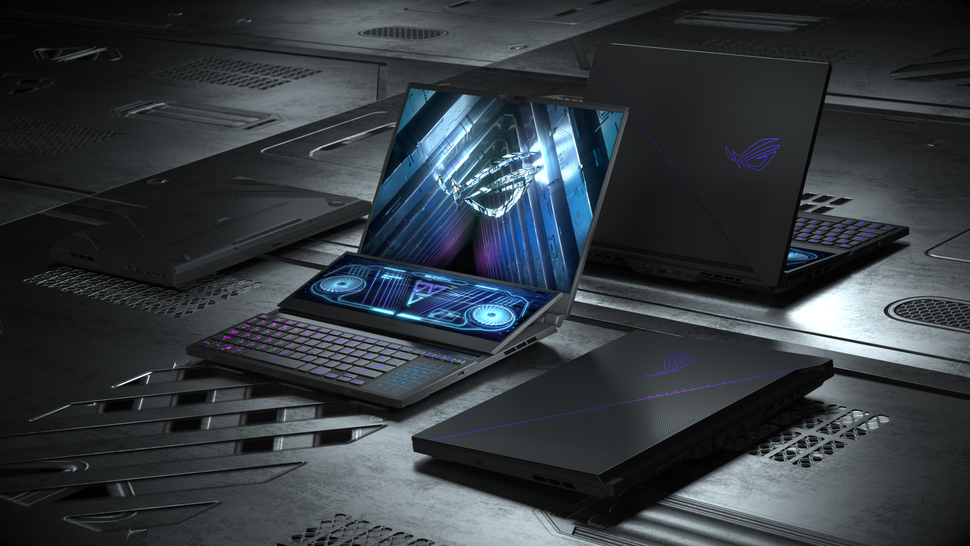 The new Duo will be an AMD/Nvidia system, going up to next-gen Ryzen 9 and next-gen RTX GPUs. The top-screen goes up to a Mini-LED QHD 240 Hz display with 1,152 dimming zones.. The storage goes up to 4TB of PCIe Gen 4 SSD with RAID0, and RAM goes up to 64GB DDR5. There's an FHD IR camera and six speakers on board.
The M16 will be Asus' first gaming laptop with its Anime Matrix display on the lid, allowing for customizable images and messages. It will use next-gen Intel Core H-series processors alongside next-gen Nvidia GeForce RTX GPUs, with a max TGP of 145W (an increase over the 120W on the 2022 model). That's enabled partially due to liquid metal and triple fans with a heatsink that takes up the full width of the laptop. The ROG Nebula HDR display is 16:10 with up to a QHD+ resolution and a 240 Hz refresh rate.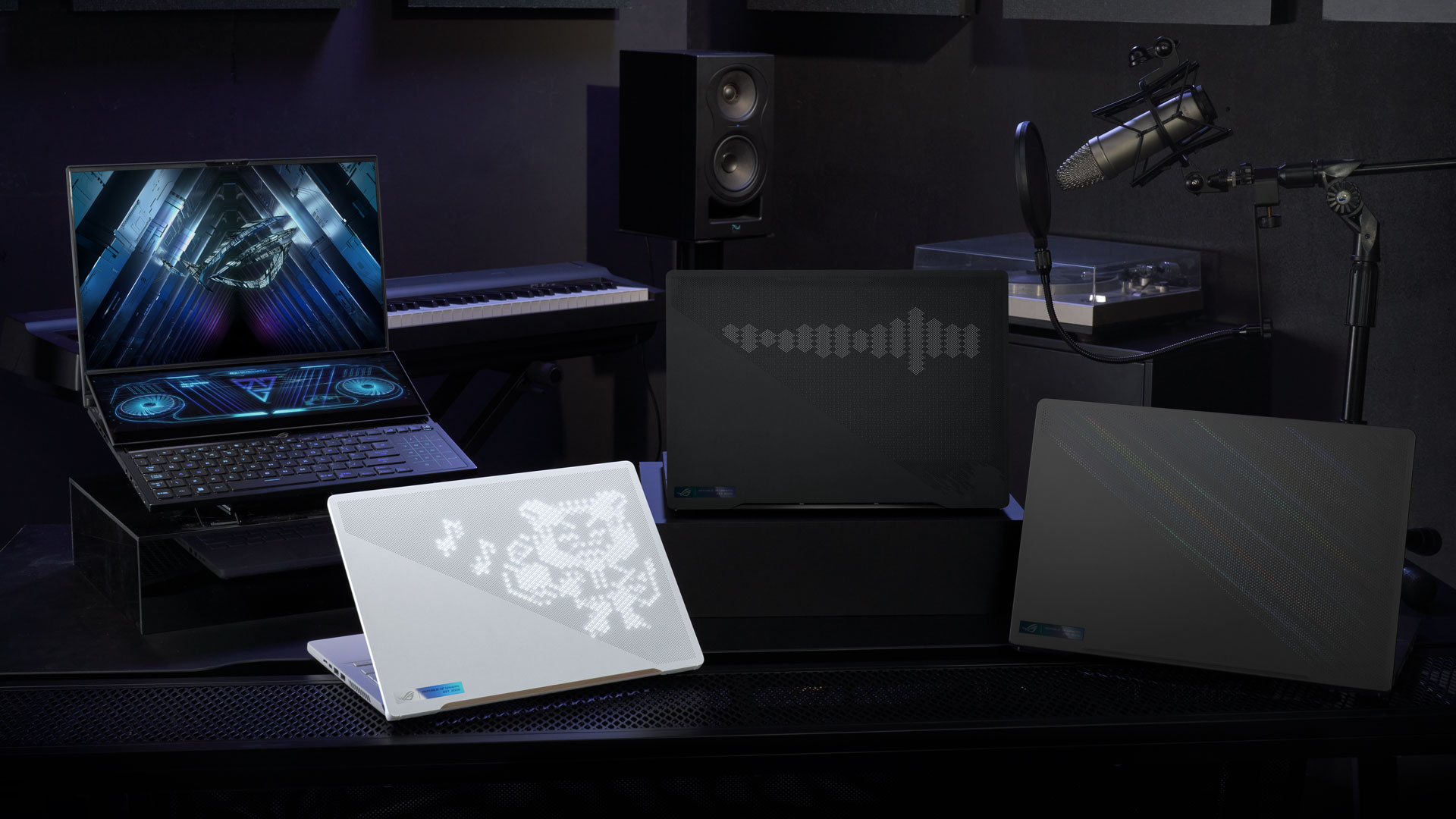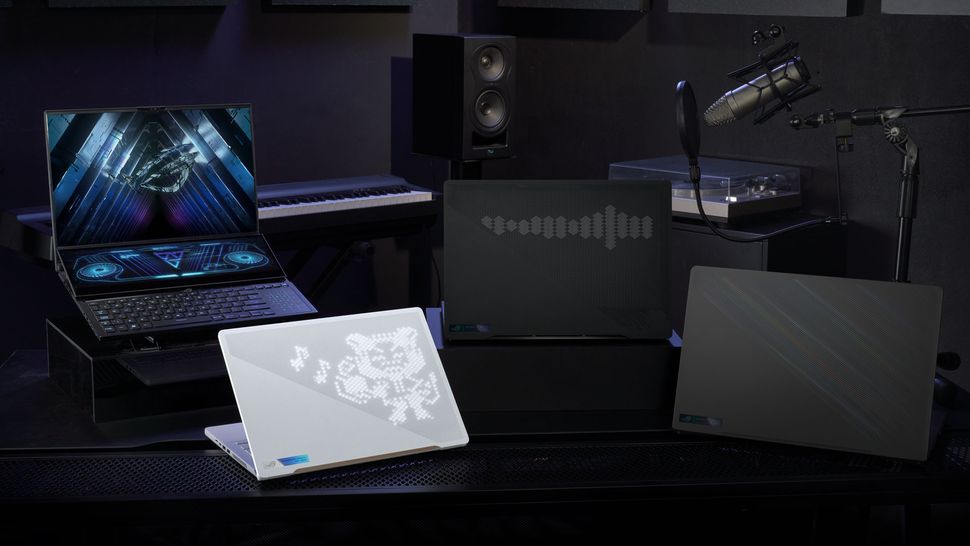 Asus' ROG Zephyrus G14, a darling of the last few years, is staying on the AMD/Nvidia combination train, sporting up to a Ryzen 9 CPU. It's getting a 16:10, 165 Hz display with a 91% screen-to-body ratio. The system will allow a TGP up to 125W with dynamic boost, and move from DDR4 to DDR5. The vapor chamber will cover 48% of the mainboard, which should hopefully help keep it cool.
The 16-incher will use Intel H-series. Here, Asus is promising up to 120W GPU power, as well as up to 48GB of DDR4-3200 RAM (it's surprising to see the older RAM here). This system will also have six speakers and a 16:10, QHD+ 240 Hz display.
Asus' Flow series will once again include the Z13 tablet alongside the X13 and X16 2-in-1 laptops. The XG mobile eGPU is being updated to use a new Nvidia GeForce RTX GPU. They're all using next-gen Intel H-series processors.
ROG G22CH Desktop
Asus is also announcing a new desktop at CES, the ROG G22CH. It's a small case that measures just 286 x 115 x 323 mm. It will come with up to a 13th Gen Intel Core i9-13900KF CPU and a next-gen Nvidia GPU, though Asus isn't saying what it was. This case definitely isn't going to fit an RTX 4090; that's for sure. It will come with either liquid or air cooling, a design that Asus says has "easy access" for upgrades, and two different side panel options.
Asus hasn't released pricing for any of its devices, nor full lists of specs, saying that those will come closer to the products' launches. These PCs ara all expected to start rolling out in Q2 of 2022.