If you're after a high-performance gaming and productivity PC that keeps fan noise to a minimum, MSI's Infinite RS 13th should be on your shortlist – provided you have lots of room and lots of cash (or at least credit). With a Core i9-13900KF and an RTX 4090, both liquid-cooled, it delivers top-end performance while maintaining a shockingly silent fan sound profile, with the help of two radiators and nine fans.
The system's MSI Prospect 700RL case is also of higher quality than you'll find on most prebuilts, including some of the best gaming PCs, with lots of room for adding extra components. Just know that with great and quiet performance comes great commitment to desk or floor space. The case is over 21 inches tall and nearly two feet front to back. And the swing-out doors are cumbersome, with nearly zero clearance from the ground. That makes this system decidedly inconvenient for placing on carpeted floors – you better have a big desk.
MSI Infinite RS 13th Specifications
Swipe to scroll horizontally
| | |
| --- | --- |
| Processor | Intel Core i9-13900KF |
| Motherboard | MSI PRO Z790-A WIFI |
| Memory | 32GB DDR5-5200 (2 x 16GB) |
| Graphics | MSI RTX 4090 Suprim Liquid X (24GB GDDR6X, 2,525 MHz boost clock) |
| Storage | 2TB MSI Spatium PCIe 4.0 SSD |
| Networking | Intel Wi-Fi 6E AX211 |
| Front Ports | 3.5 mm headphone and mic jacks, 2x USB 3.2 Gen 1 Type-A, 1x USB 3.2 Gen 1 Type-C |
| Rear Ports | Rear audio, 1x USB 3.2 Gen 2 Type-C , 3x USB 3.2 Gen 2 Type-A, 2x USB 3.2 Gen 1 Type-A, 2x USB 2.0 Type-A, Intel 2.5 Gb Ethernet, PS/2 port |
| Power Supply | MSI MPG A1000W  |
| Cooling | CryoTech Liquid Cooling with 240 mm radiator, five 120 mm fans total. |
| Operating System | Windows 11 Pro |
| Dimensions | 23.03 x 10.12 x 21.14 inches (585 x 257 x 537 mm) |
| Price as Configured | $4,599 |
Design of the MSI Infinite RS 13th
The "Infinite" in this MSI desktop's name is seemingly a nod to the amount of space it will take up in your life. At 21.14 x 10.12 x 23.03 inches (HWD), the Infinite RS 13th isn't the biggest desktop I've tested. But I'm pretty sure it's the biggest I've dealt with since the days of SLI and CrossfireX when two-, three- or even four-GPU systems like the Digital Storm Aventum were far more common. 
And the dimensions of this case don't tell half the story about the space you need to work with this system. Both side panels (one is glass, the other steel) are hinged at the back, and the brushed metal pieces that wrap around the front of the case are attached to the side panels.
This makes the side panels roughly 23 inches long, so if you want to open both all the way, you need a large portion of a medium-sized room to accommodate its sizable wingspan. 
To be fair, you can also lift the side panels off their hinges. But to do that you first have to open the doors several inches. This will be a problem on any kind of carpet (or even a desk with cables or mild clutter), because the bottom the doors have very little clearance from the ground/desk. Also, because the metal portions wrap around the front, the panels  (one of which is mostly glass) aren't flat (thanks to those curved metal bits at the front), so good luck finding a place to put them where no one is going to stumble into them or knock them over while you're working inside the PC.
Size aside, the case the Infinite RS 13th ships in (which is clearly some iteration of the Prospect 700RL, just not the one with the touchscreen) is definitely a cut above the average prebuilt chassis. It seems to be nearly all metal (mostly steel) and glass, and it feels extremely solid. There's also lots of ventilation at the front, the top, and even on the right side panel. While the triangle design of the ventilation makes for some fairly big holes in the case, all of the intake sections have removable dust filters behind them. 
MSI also does an excellent job of cable routing, keeping clutter to a minimum even on the back panel. In all, this is one of the nicer PC cases I've seen shipped with a prebuilt, and definitely has more expansion options (which we'll touch on further later in the review) than the Alienware Aurora R15. That said, as someone who lives in a small apartment, I would much prefer the more compact footprint of the Alienware, or any more compact chassis, really.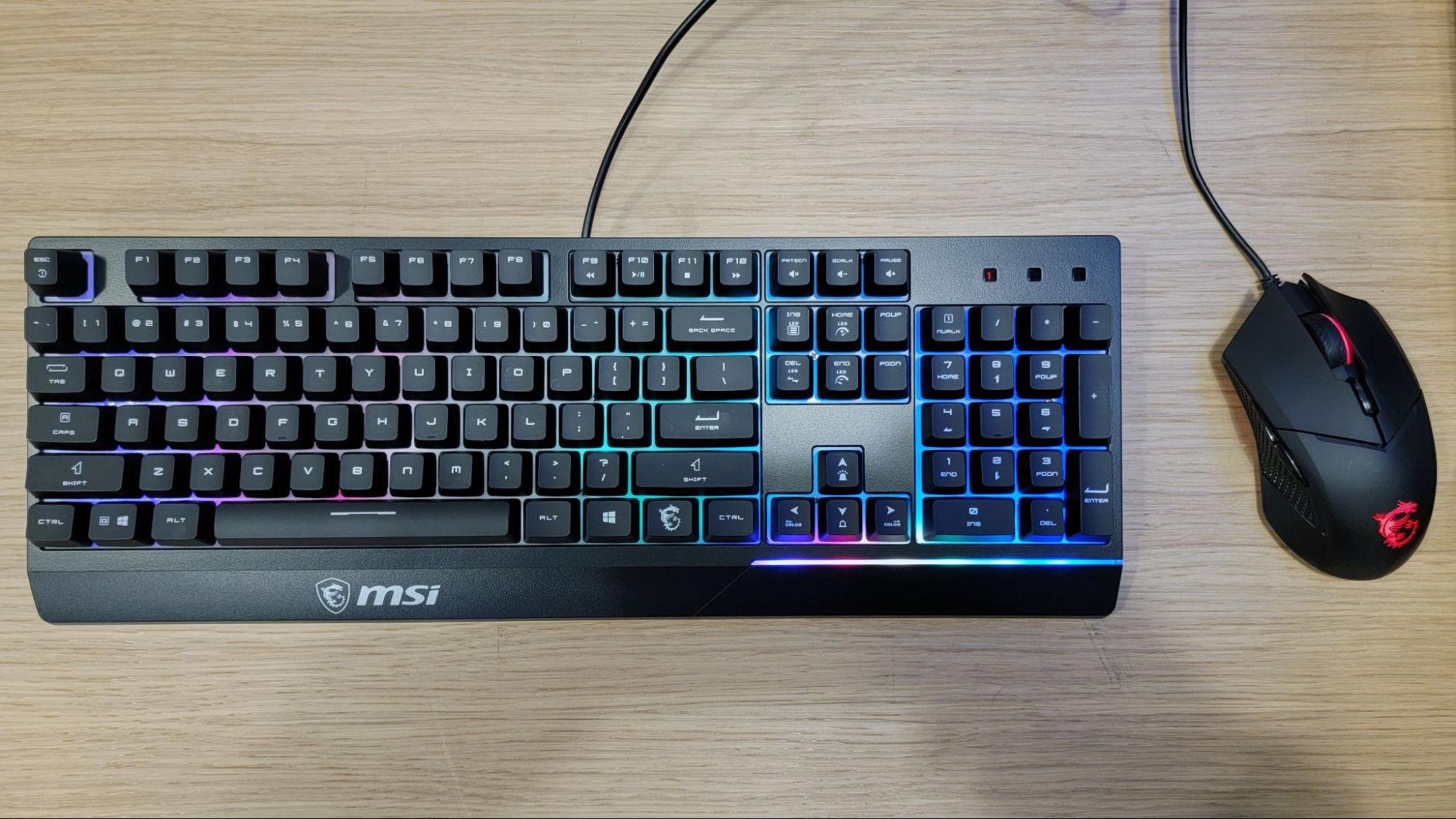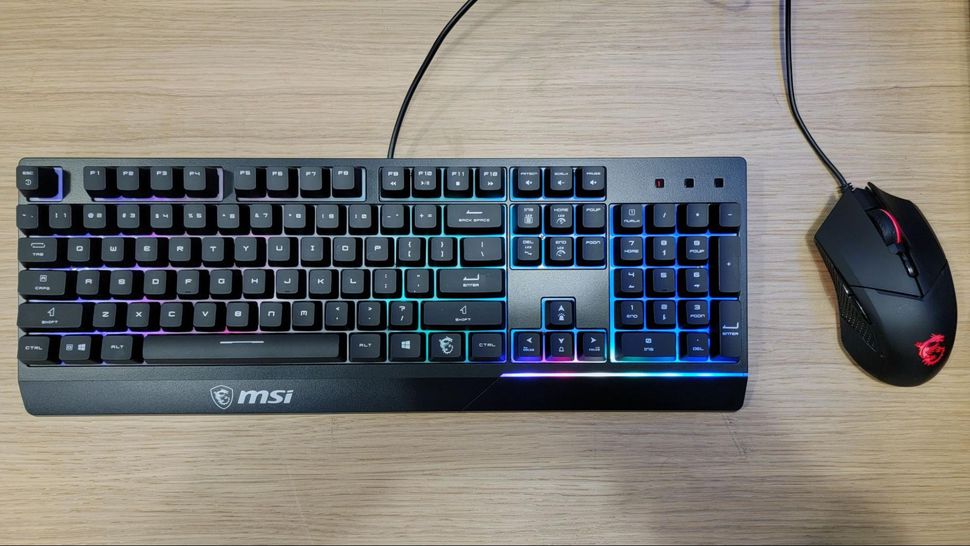 MSI also tosses in an RGB keyboard and mouse. The Clutch GM08 ships with our review system and feels decent, if a bit heavy by modern standards. But while the Vigor GK30 keyboard that MSI also includes looks good, with its six-zone RGB lighting, it's a membrane (or as MSI claims, "mecha-membrane") keyboard that just doesn't feel as pleasing as even a budget mechanical keyboard. 
Still, while the included peripherals here aren't exactly great, they look and feel a lot nicer than anything I've seen shipped with a gaming desktop in years. And buying them separately would cost you about $60 total, so there is a decent amount of value here. I mostly just wish MSI had included a true mechanical keyboard along with the mouse. But then most gaming PC sellers either don't include peripherals at all, or toss in a pair that both look and feel like they came from a dollar store.
Ports and Upgradability on the MSI Infinite RS 13th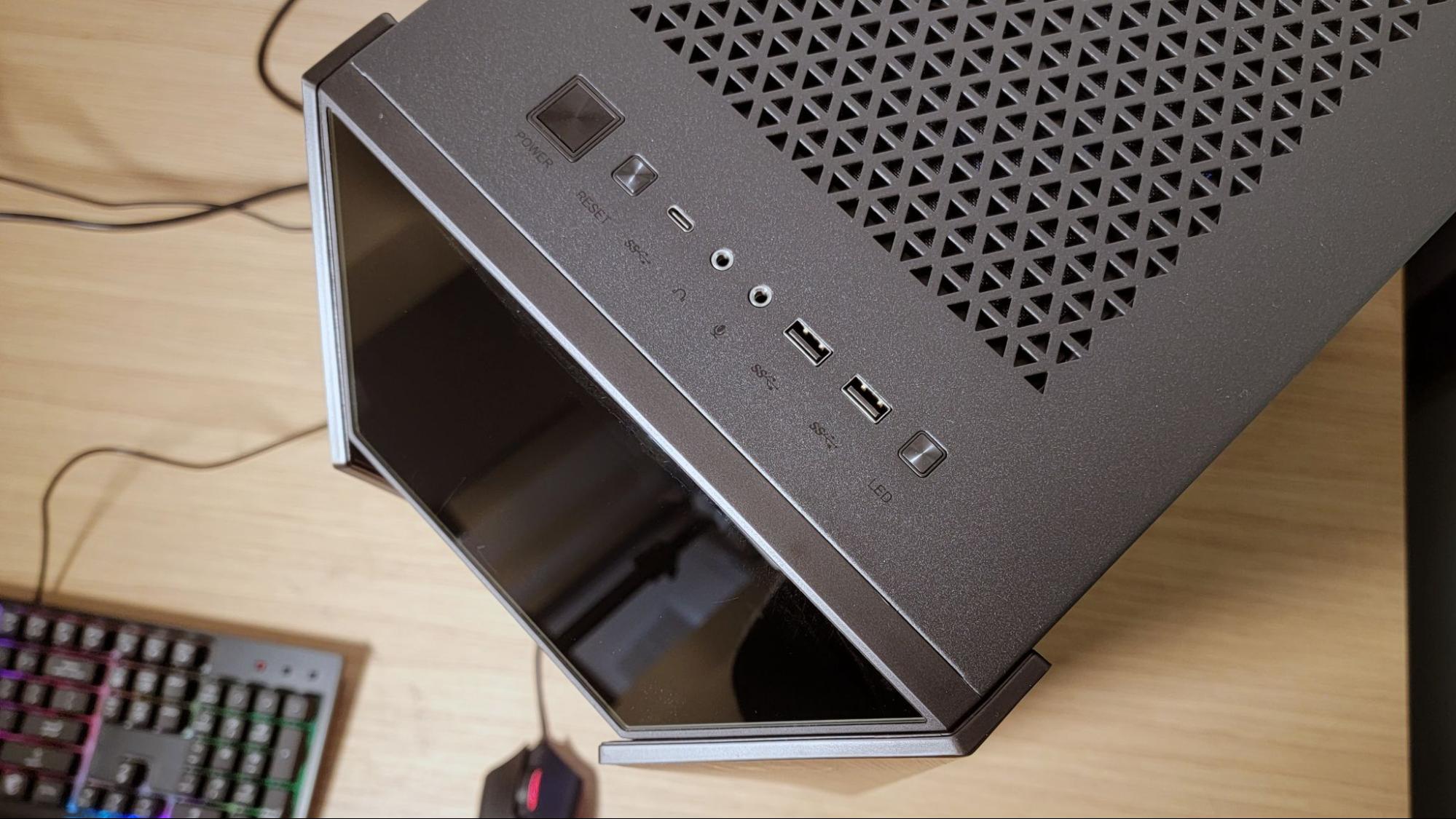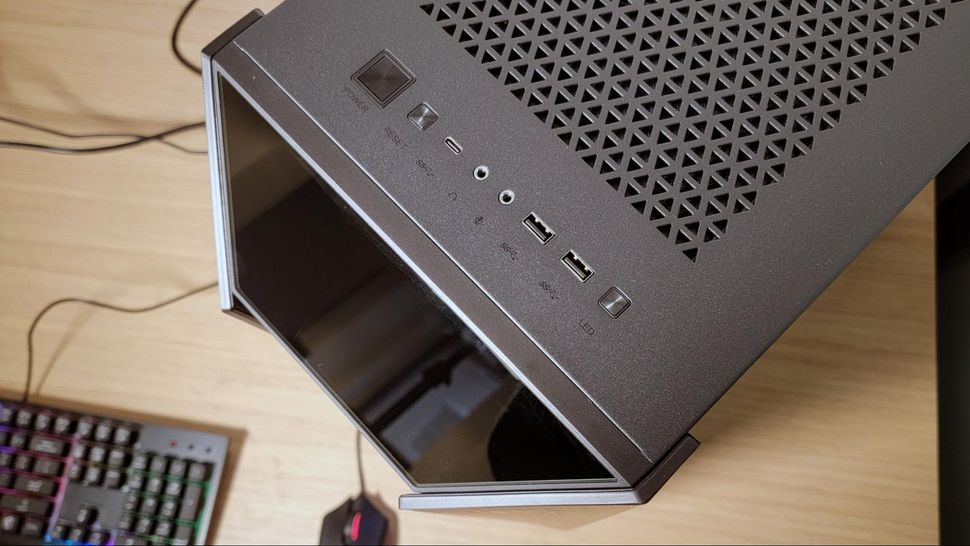 Making use of all the space at the top front of the case, the Infinite RS 13th houses, from left to right, spun-metal power and reset buttons, a USB-C port, separate mic and headphone jacks, and another metal button for cycling through lightning presets on the system's four RGB fans and the liquid cooler.
Note that there is an angled piece of black glass between the case front and top. This is where an LCD screen is housed on some versions of this case, just not on the models that MSI ships full of components. It still looks good without the screen. Just know that it attracts fingerprints that are hard to wipe off. If anything, this makes me glad the touchscreen isn't included on this system.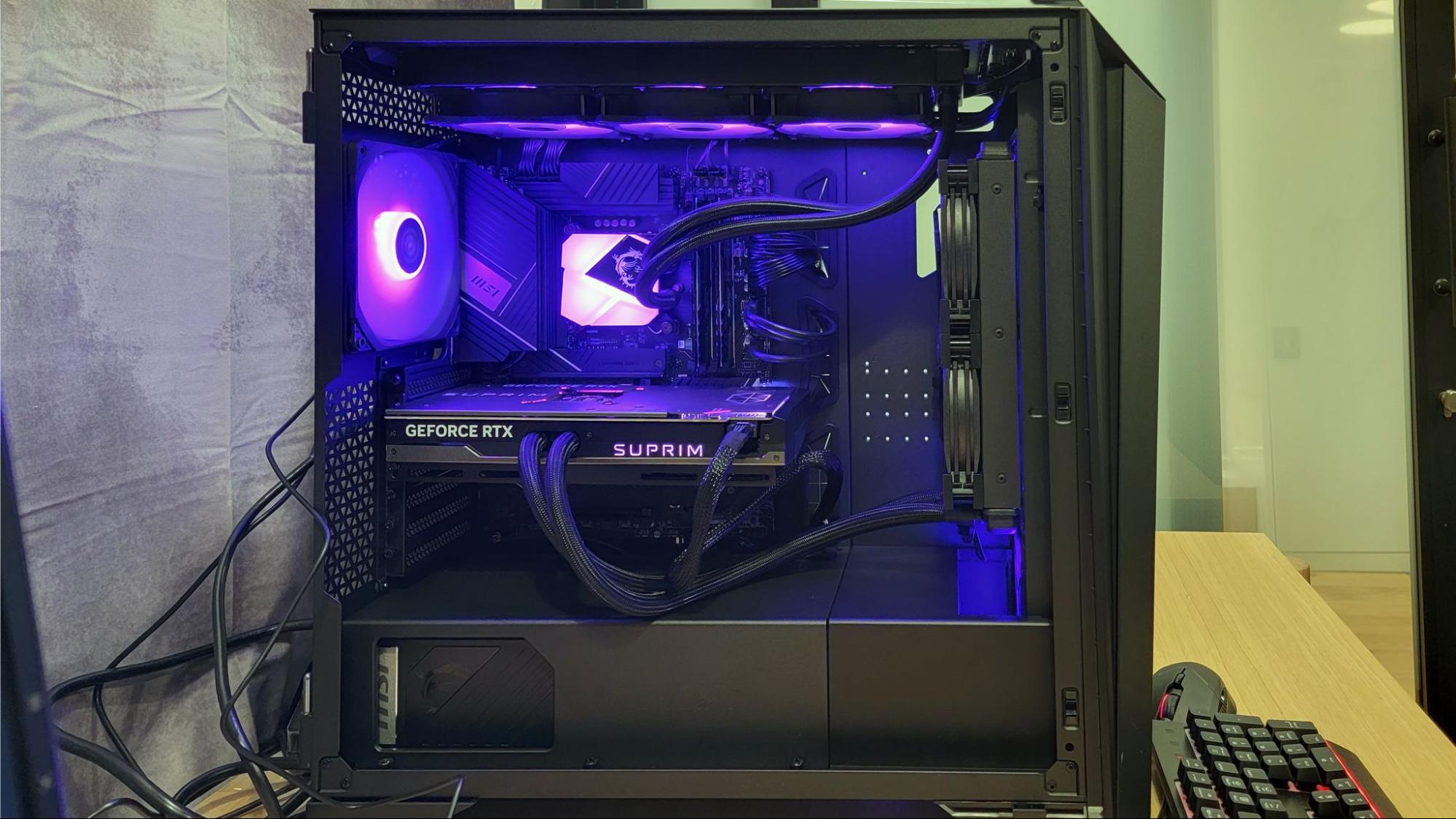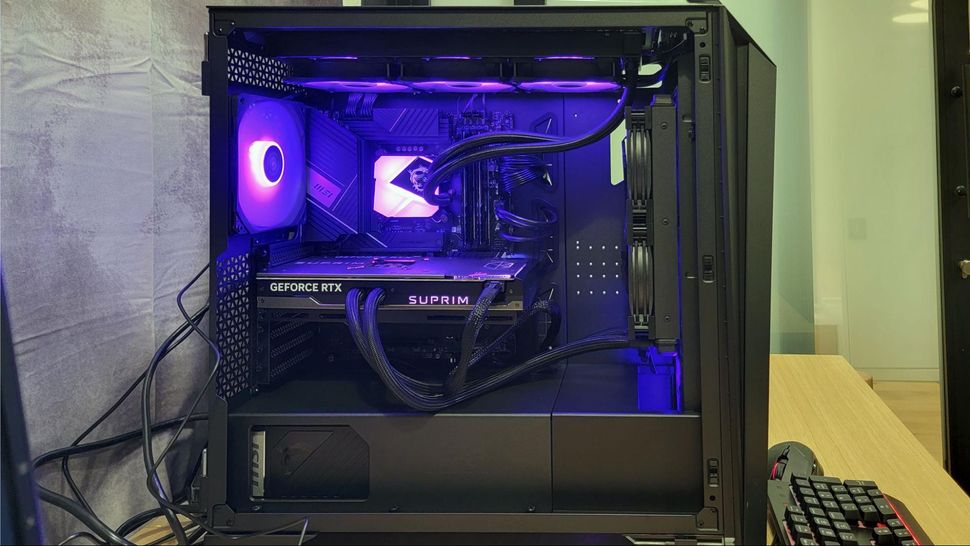 Everything glows and changes in sync via the button on the top of the case, save for the GPU.
The graphics card does have RGB on the backplate and the side, lighting up the Suprim branding. But you have to use MSI Center (formerly Dragon Center) software to adjust the lighting on the GPU. You can, of course, also use that software to change the lighting of the other components, including more effects than you can get from the button.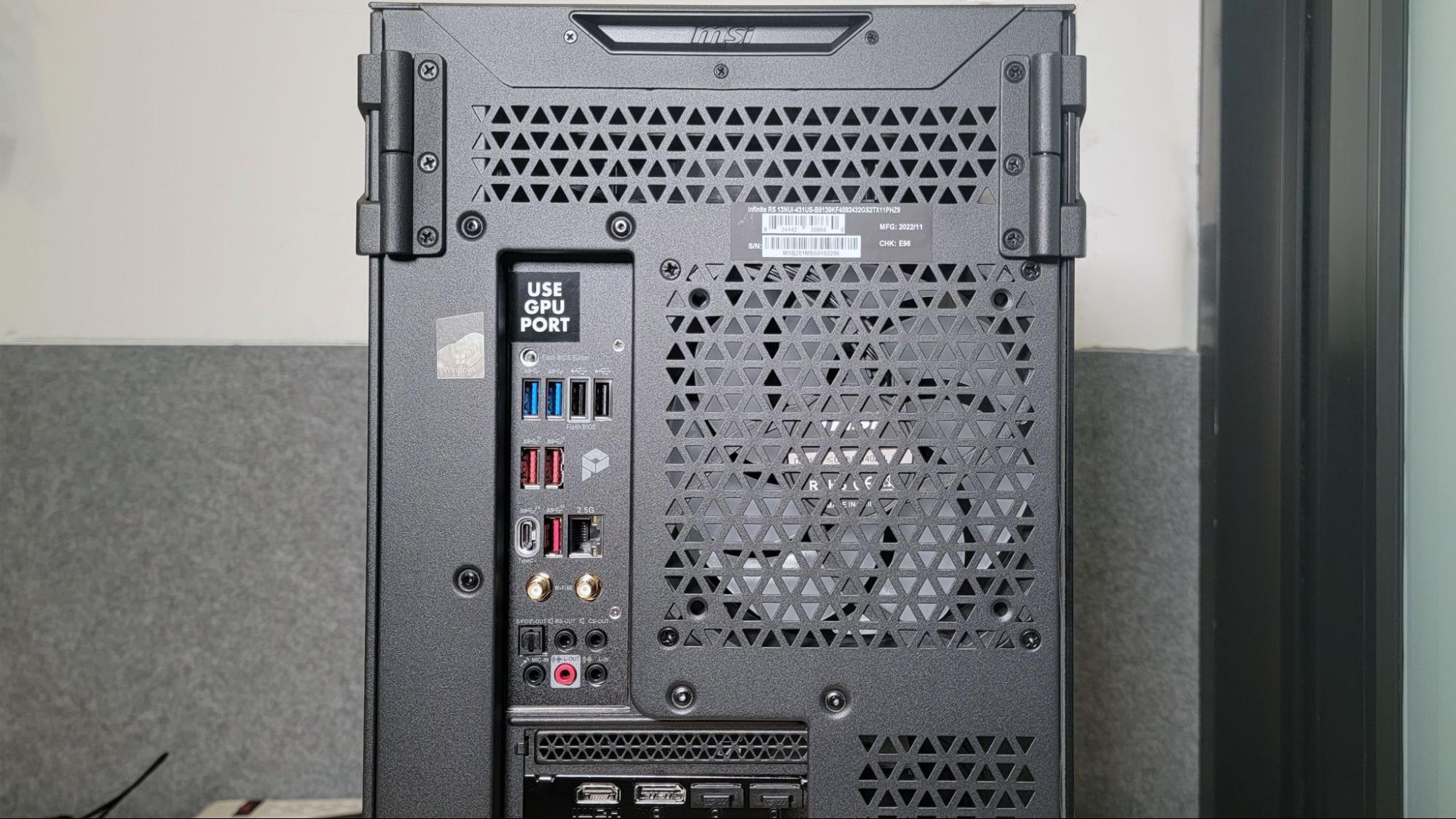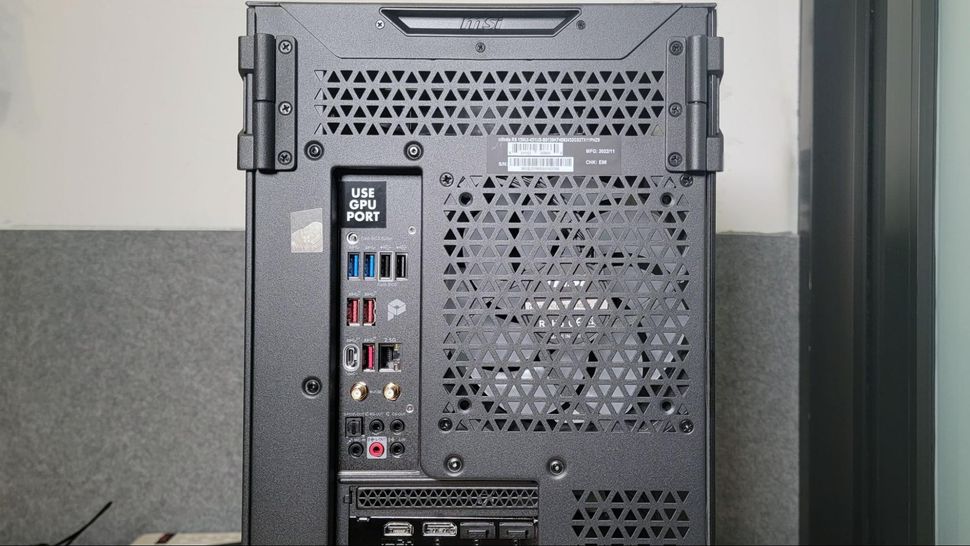 Around back, the MSI PRO Z790-A WIFI motherboard offers up three USB 3.2 Gen 2 (10 Gbps) Type-A ports, a 20 Gbps USB-C port, and four more USB-A ports (two 2.0 and two 3.1 Gen 1). Network capability is handled by both Wi-Fi 6E and fast (though still not very common) 2.5 Gigabit Ethernet. You'll likely have to upgrade your router to take full advantage of either the wireless or wired speed here. If you are after suggestions on that front, check out the best gaming routers we've tested. 
The GPU ports on the board are blocked off by a sticker telling novice users to use the graphics card ports for gaming. And you need to, since the KS CPU lacks integrated graphics. On the RTX 4090 Suprim Liquid X graphics card, you get three DisplayPort 1.4a ports and an HDMI 2.1 port.
In terms of internal expansion, things aren't quite infinite, but you have far more options with this system than most. There are three spare M.2 slots on the motherboard (four total) and six unoccupied SATA connectors. And the case has room for up to four 2.5-inch drives, or two 2.5-inch drives and two 3.5-inch drives.
There are also two empty RAM slots, should you want to add more than the existing 32GB once DDR5 prices fall. And the ATX board has three spare expansion slots (one x1 and three x16). Just note that the x16 slots vary in PCIe generations/speed and available lanes. So be sure to check the specifics on MSI's Pro Z790-A WIFI page if you're going to add expansion cards.
Gaming and Graphics Performance on the MSI Infinite RS 13th
Our review unit of the MSI Infinite RS13 shipped with a top-end CPU in the form of Intel's Core i9-13900K and a top-end GPU in Nvidia's RTX 4090. In an interesting move, both components are liquid-cooled. The CPU is chilled by a 360 mm MSI AIO mounted at the top of the case, while the GPU is MSI's RTX 4090 Suprim Liquid X, with its 240 mm radiator mounted at the front. MSI even made the extra step of adding a pair of 120 mm fans behind the GPU radiator, on top of the trio of RGB fans in front of the radiator for a push/pull setup that no-doubt helps the warmed air move from the front to the back of the case.
The CPU and GPU are the same silicon as we recently tested in Alienware's Aurora R15, so we expect gaming performance to be similar between these two machines. It will be interesting, though, to see how much of an advantage comes from MSI's superior cooling. The Alienware system has just a 240 mm AIO on its CPU while its GPU is air cooled. 
For some gen-on-gen comparison, we tossed in HP's Omen 45L from early 2022, which we tested with a liquid-cooled Core i9-12900K and an RTX 3090.
The first thing I noticed when gaming on the MSI Infinite RS 13th is just how quiet it is. Between the case's sheer size, the radiators chilling both the CPU and graphics card and the nine included fans, this is almost certainly the quietest high-end gaming rig I've tested in years. When I put my ear up to the front of the case while running some 3DMark tests, the most audible sound was from the pump integrated into the CPU radiator. And I still had to get my ear 3-4 inches from the top of the case to hear it.
As I played Doom Eternal at 4K resolution with ray tracing enabled (DLSS disabled), the game ran between 184 and 256 frames per second, spending most of the time well above 200. Performance was buttery smooth as I was getting hammered by demons (and doing a decent amount of hammering back). Once again, the fans remained so quiet I forgot the system was running next to me. 
That's definitely not the case with most high-end desktops, including the similarly equipped Alienware R15 we tested recently (and even that had made massive improvements in acoustics). If you crave a quiet but extremely powerful system, MSI delivers on that front better than I've experienced in years.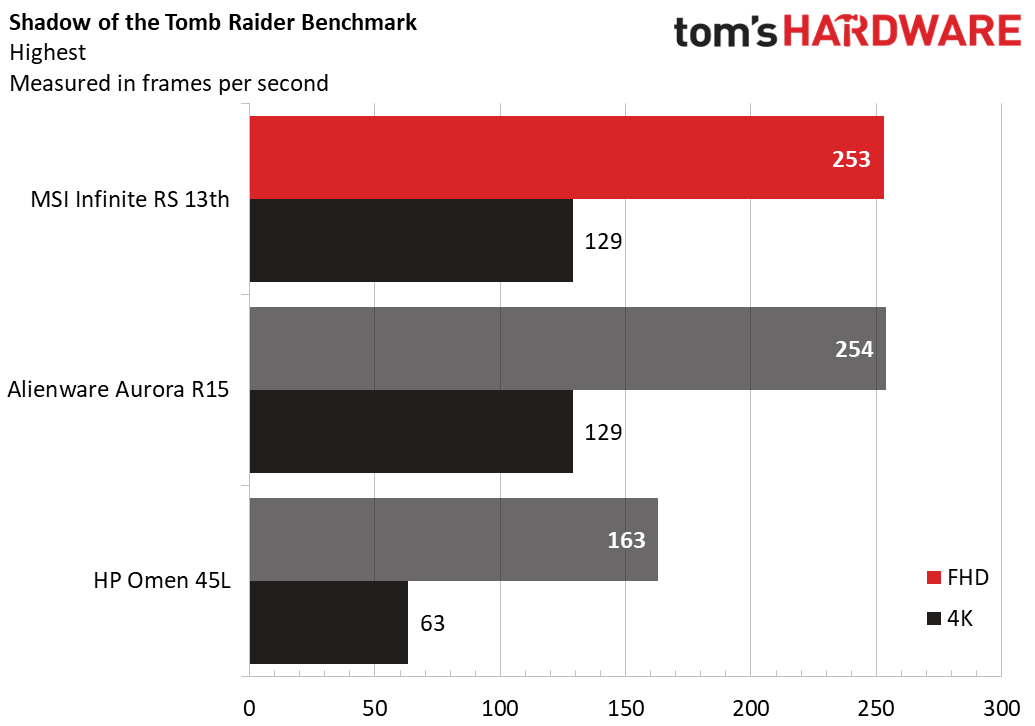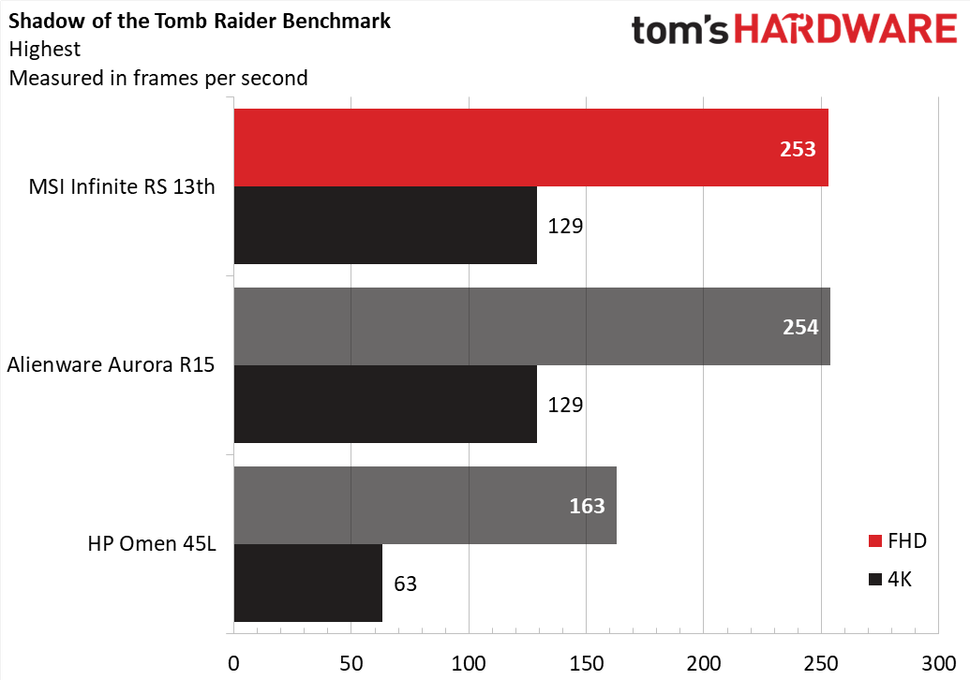 On the Shadow of the Tomb Raider benchmark (highest settings), the MSI and Alienware systems ran basically dead even, which you'll see a lot in our other test results. Technically the MSI was one frame behind the Alienware at 1080p, but when you're pushing over 250 frames per second (fps), that's well within general run-to-run variance. Note the once-mighty Omen 45L, with its last-gen flagship parts, is left in the dust here, delivering less than half the performance of the newer machines at 4K.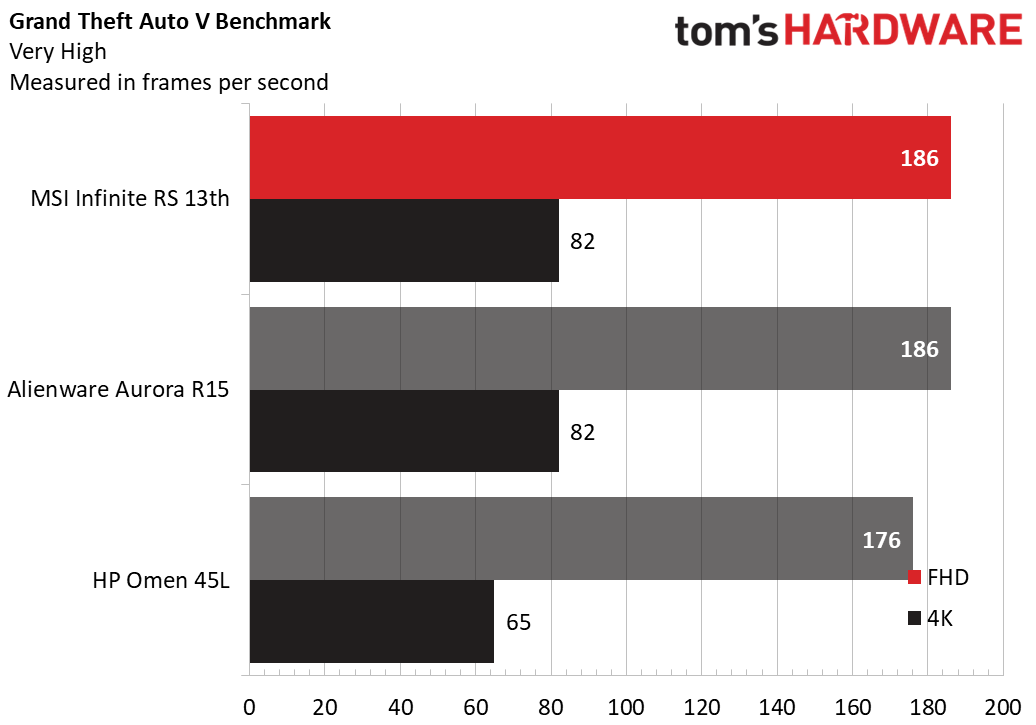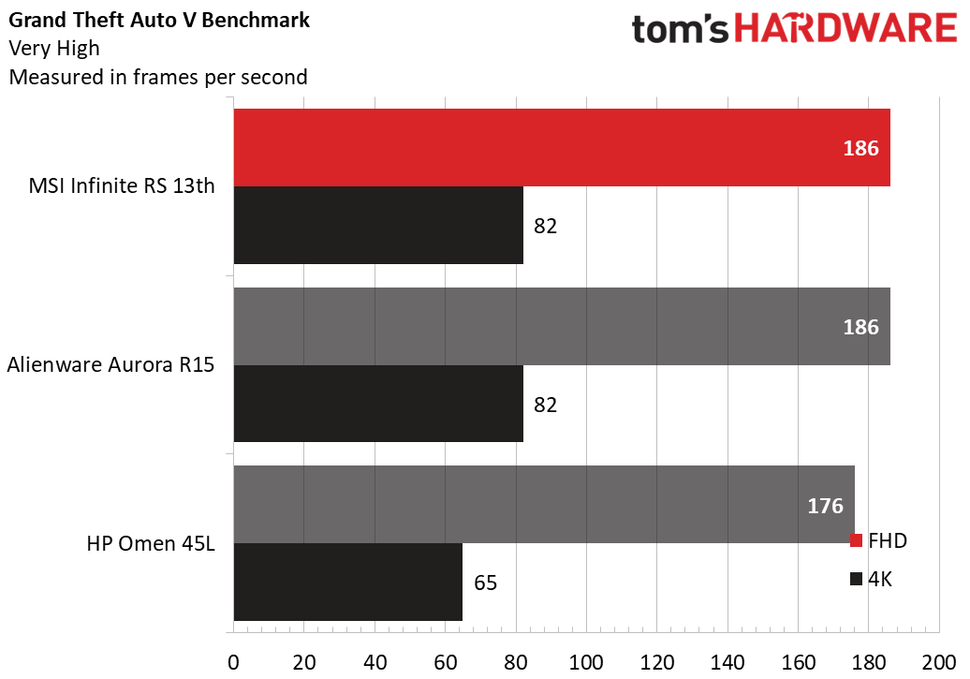 Things looked a bit different in the older, more notoriously CPU-bound Grand Theft Auto V (very high settings). On this test, the MSI and Alienware systems were again even, at 186 fps at 1080p and 82 fps at 4K. But last year's HP still hung in there, delivering just 10 fewer fps at 1080p and a still-smooth 65 fps at 4K.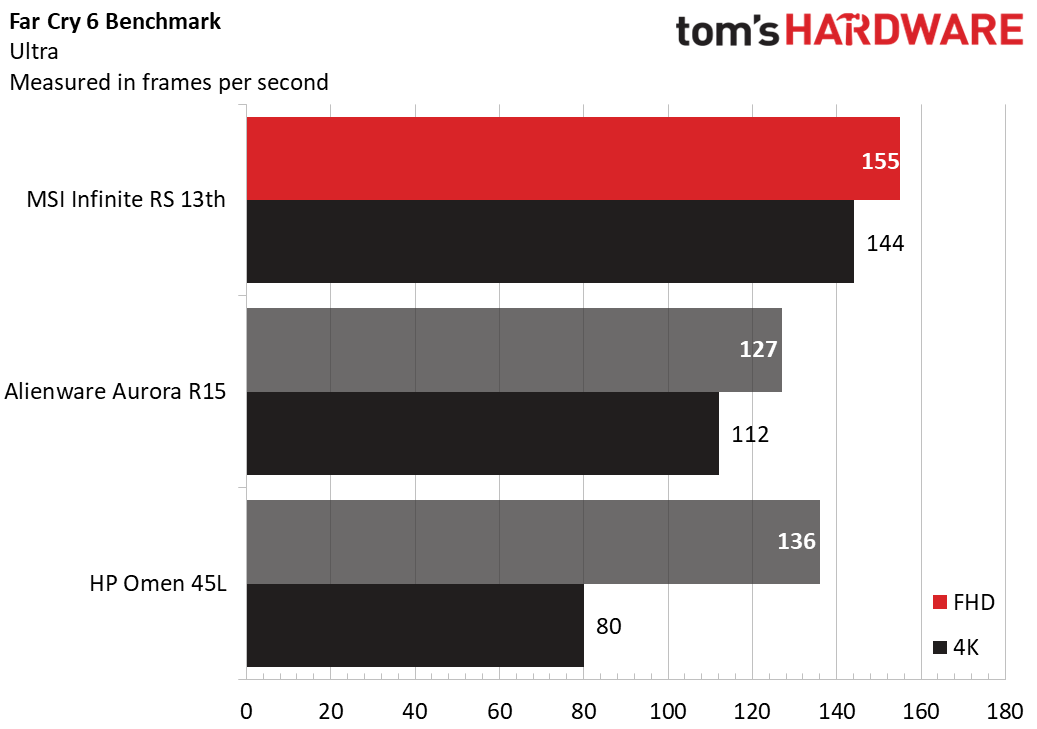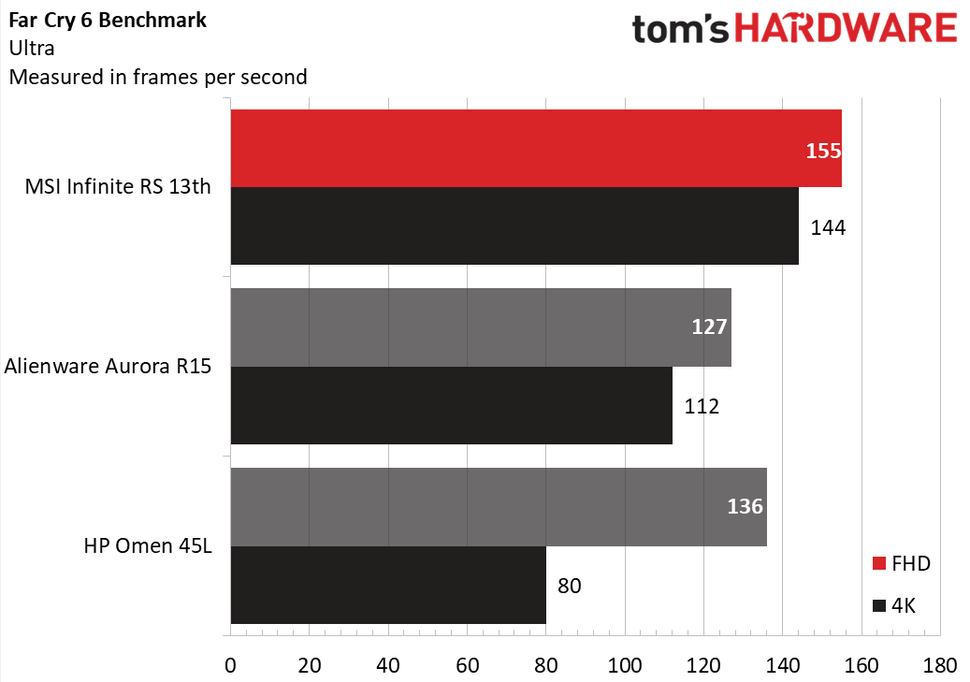 Shifting to our Far Cry 6 test (ultra settings), we saw the MSI notch its first clear win, running this game about 30 fps faster than the Alienware at 1080p and 4K. That said, we suspect there was some performance hiccup with the Alienware on this test, since its score was well behind even the older Omen at 1080p.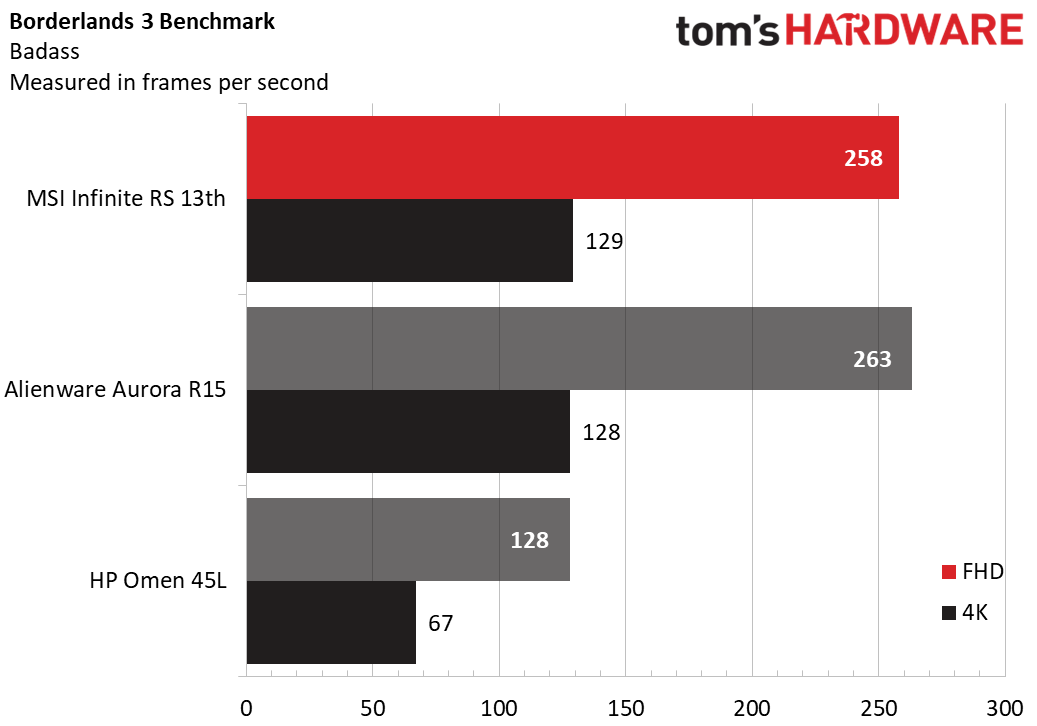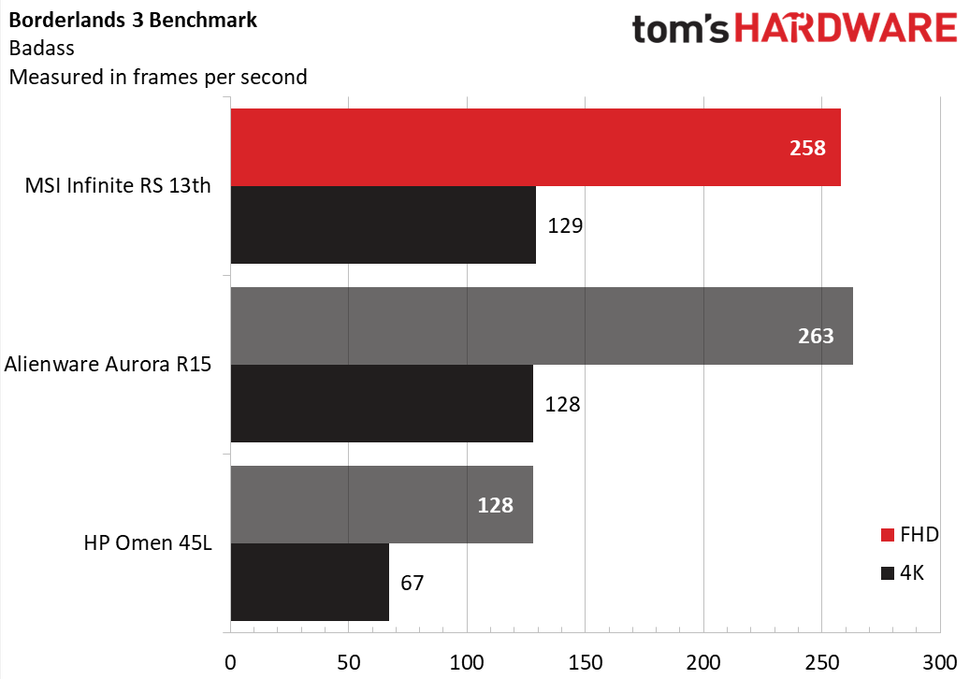 The MSI Infinite RS 13th got edged out by the Alienware Aurora R15 on Borderlands 3's "badass" preset at 1080p, but only by 5 fps. At 4K the MSI machine pulled a frame ahead of its otherworldly rival. And the Omen here looks about its worst, delivering roughly half the performance of the newer systems at both resolutions. What a difference a year and some new silicon makes.  
To stress-test systems, we also run Metro Exodus on the RTX preset at 1080p 15 times in a loop, which typically lasts about half an hour. The MSI system churned through the test with relative ease, averaging 115.43 fps, getting as high as 116.5 fps and on the second-to-last run, dipping once to 113.4 fps. 
During our test, the CPU's performance cores averaged 5.49 GHz, and the efficiency cores were more efficient (but still fast), clocking in at 4.27 GHz. The CPU package averaged 67.93 degrees Celsius, while the GPU ran at 2,647 MHz and averaged 48.78 C.
Productivity Performance on the MSI Infinite RS 13th
The extra cooling on the CPU and GPU didn't give MSI the definitive edge over the Alienware system in most of our gaming tests, but if the 360 mm Radiator MSI opted for (over the 240 mm on the Alienware) is going to deliver a significant performance boost anywhere, it's going to to be in productivity tests.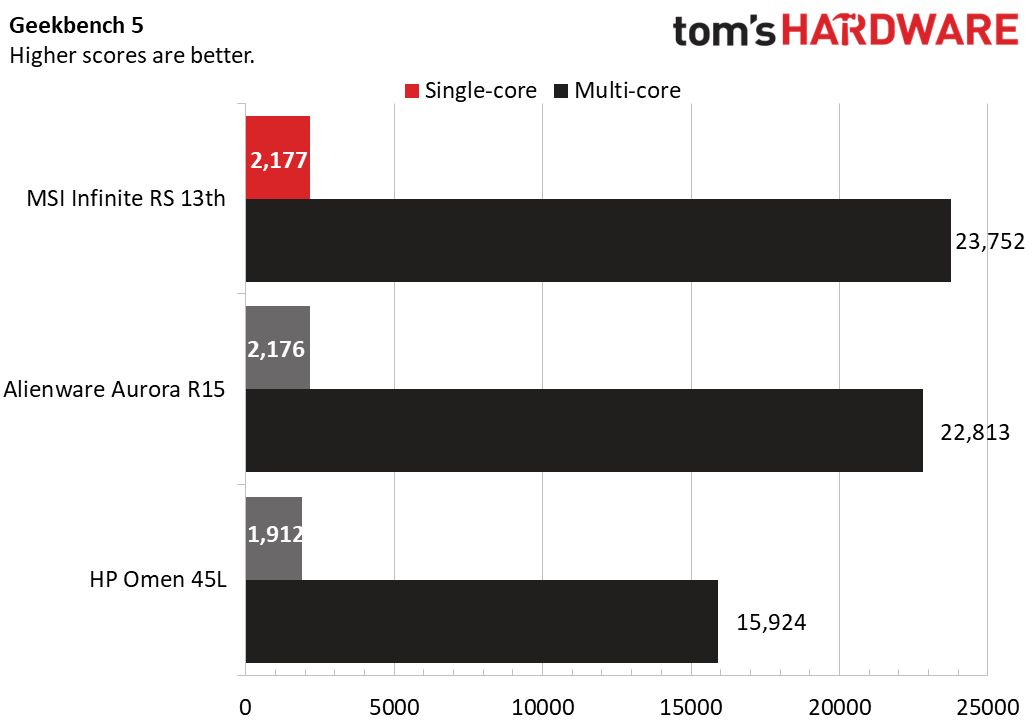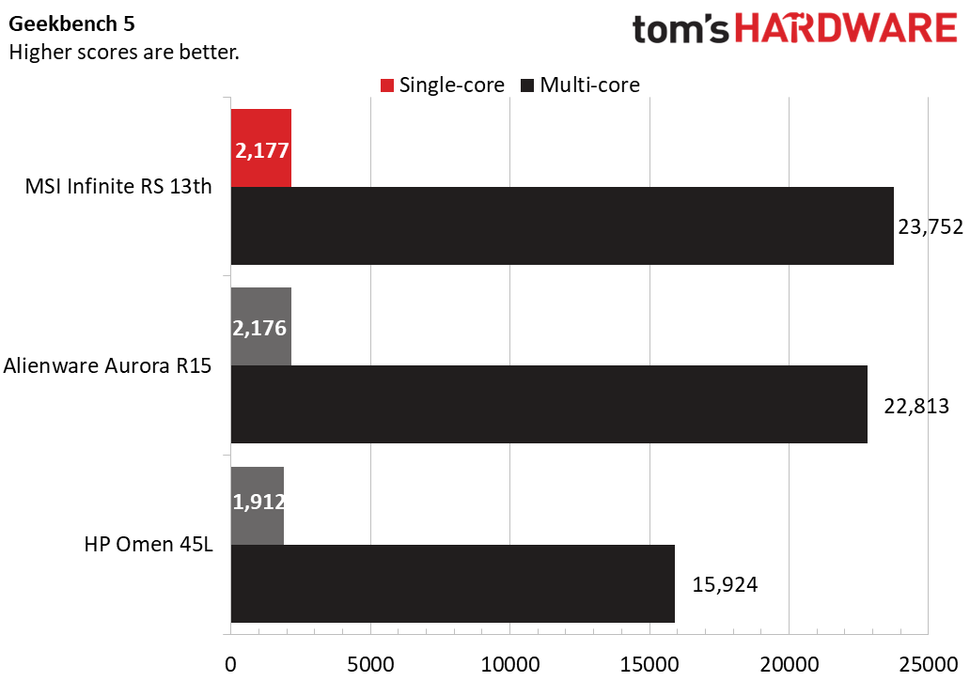 On Geekbench 5, the MSI system did manage to lead our pack, but only by a single point (2,177 for MSI vs 2,176 for the Alienware) on the single-core test, while doing about 4% better than the Aurora R15 on the multi-core test (23,752 for MSI versus 22,813 for the Alienware). And sure a 4% improvement isn't nothing, but note that the MSI system is also much larger. Last year's Omen isn't even close, especially on the multi-core test, where its score of 15,924 is about 33% less than what MSI delivered on the same test.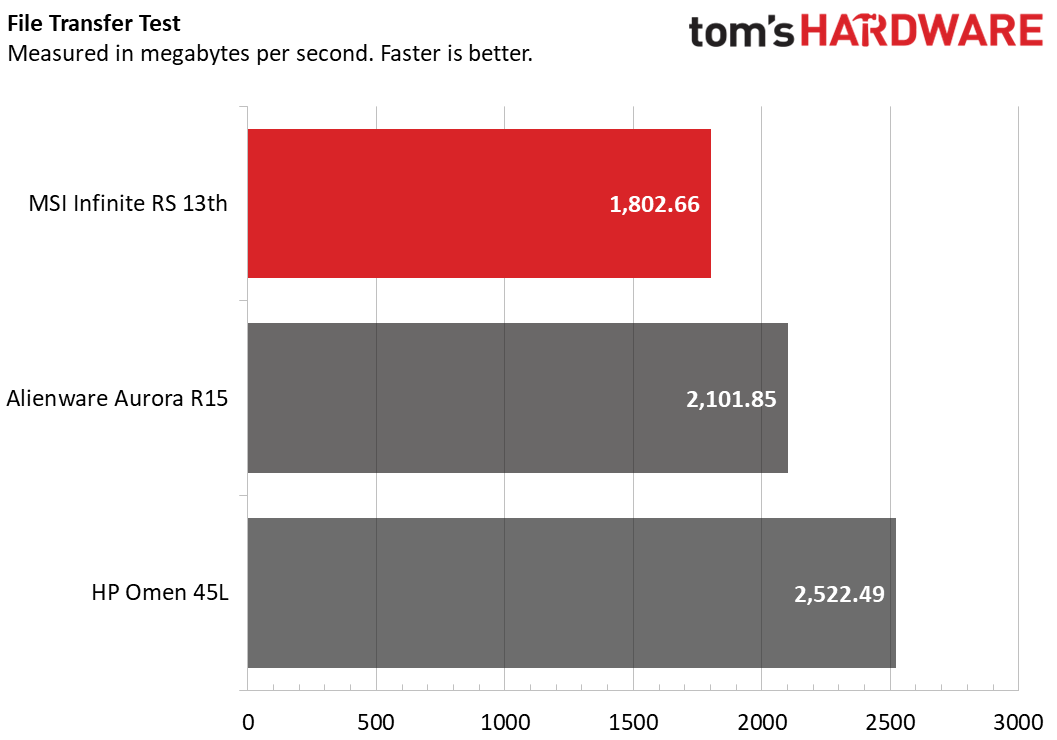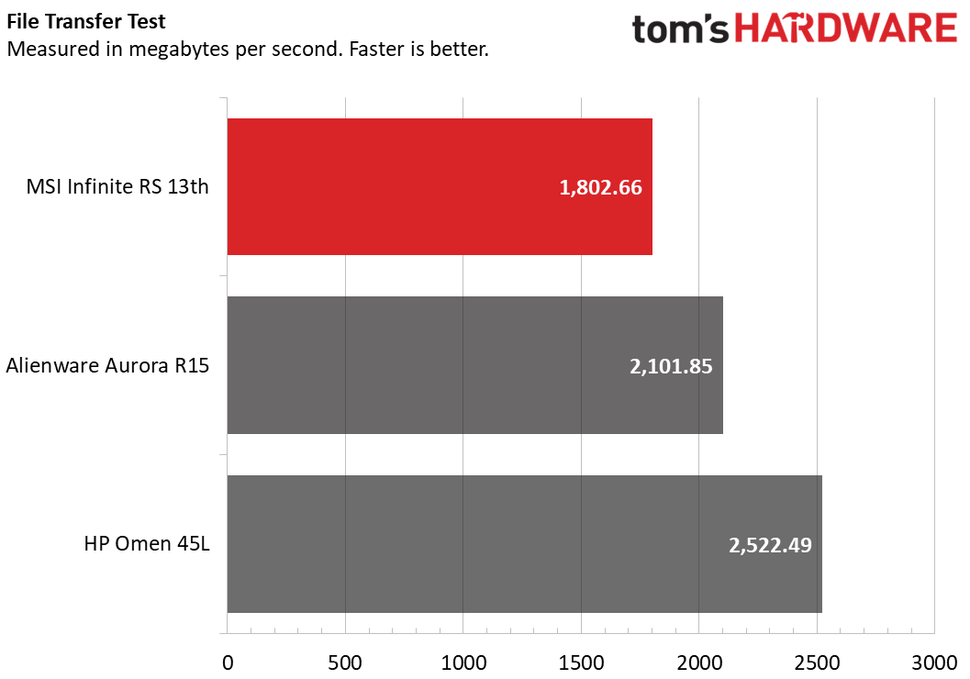 On our 25GB file storage test, the MSI Infinite RS 13th (at 1,803 MBps) was the slowest of its competitors (compared to 2,102 MBps for the Alienware and a speedier 2,522 for the HP). But MSI's drive is still fairly speedy, and its 2TB capacity is arguably more appealing than a bit of extra speed. The Alienware we tested had a 1TB SSD and, oddly, a 1TB hard drive. The Omen, though, achieved its lead by shipping with two 2TB WD SSDs.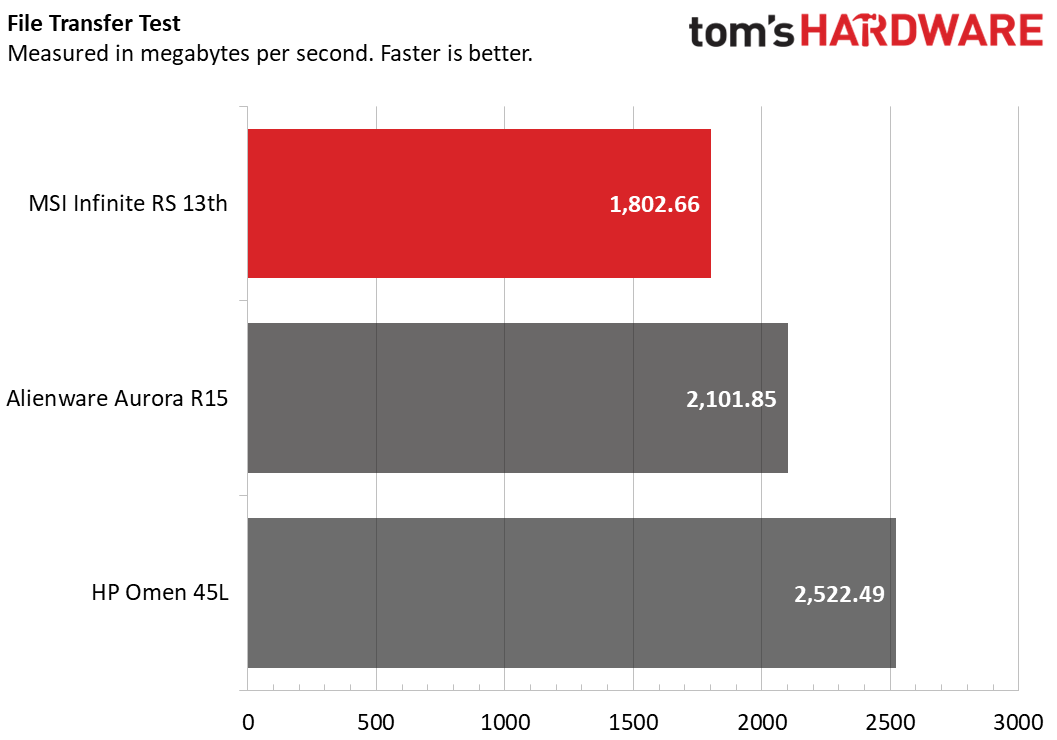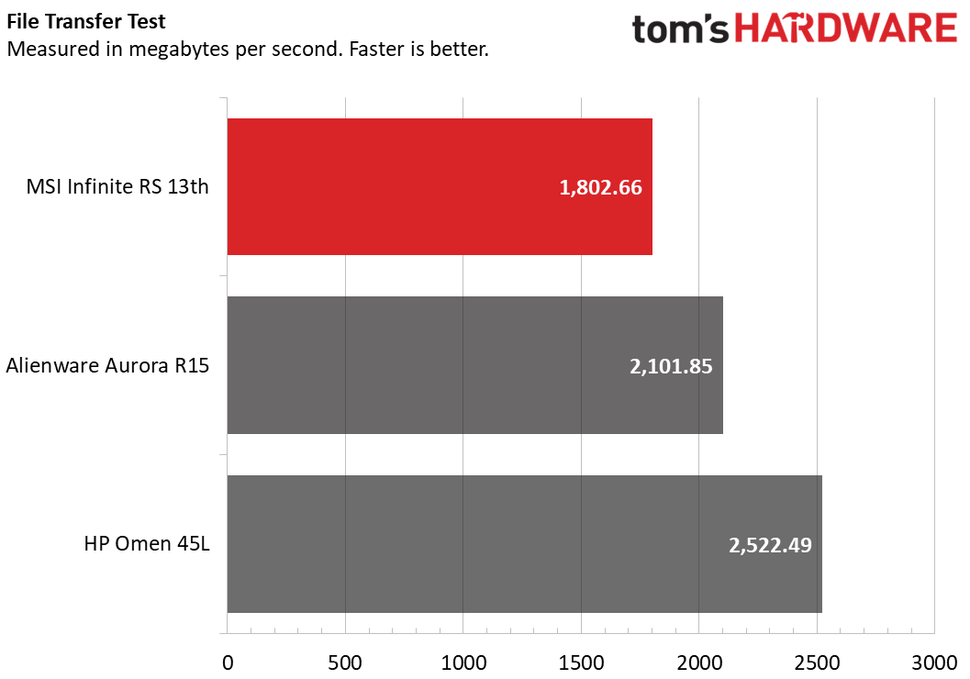 In our Handbrake test, which transcodes a 4K video to 1080p, we finally saw a substantive productivity win for the MSI Infinite RS 13th. It took just 2 minutes and 45 seconds to finish our test, while the Alienware (with the same CPU but lesser cooling) took 2 minutes and 56 seconds. The Omen, with its last-gen CPU, took 3:39. 
While the 11-second difference between the Alienware and MSI systems here might not seem like much, the disparity would be much more noticeable when working with larger, longer files. So if you often find yourself using your system to do CPU-related tasks that take several minutes or hours, the improved CPU cooling on the MSI system will save you lots of time. And there's no denying the MSI is quieter. But in short, bursty tasks or gaming, don't expect any substantive performance advantage with the MSI system if it's equipped with the same primary components as the Alienware.
Software and Warranty
As is usually the case with high-end gaming desktops, MSI doesn't overwhelm its boot drive with lots of third-party software. There is the usual Windows 11 cruft, like links to WhatsApp, Disney Plus, Prime Video, TikTok and more. And oddly, when I clicked on the WhatsApp shortcut, it installed Adobe Express, with the WhatsApp icon disappearing from the Start menu. I tried to see if I could replicate this issue, but the rest of the shortcuts I clicked on were pointed to the correct app targets. That's probably a Windows issue, not an MSI issue.
The main additional program on the MSI Infinite RS 13th is MSI Center. This used to be called Dragon Center and was significantly more aggressively designed and geared toward gamers. But MSI has skinned and tweaked the software, seemingly with more of an aim toward general PC appeal.
There is a lot packed into MSI Center, as with competing programs like Asus' Armoury Crate. You can monitor system speeds and temperatures from one tab, and get support and driver updates from another. But the Features tab is just jammed with things. There's Mystic Light for controlling the lighting; Gaming Gear for tweaking your MSI peripherals (which recognized the MSI mouse on this system but oddly not the keyboard); Gaming mode, which lets you customize several settings (power, lighting, audio, etc.) on a per-game basis; Graphics Fan Tool and FROZR AI Cooling for manual and automatic cooling control; and Game Highlights (which requires downloading a separate plugin, which I didn't install). There's also MSI Recovery for backups and User Scenario (extreme, balanced, silent, custom).
Again, there's a whole lot going on with MSI center, and the settings and features we tried mostly worked. But the Features tab is just overloaded with stuff, the software feels unnecessarily clunky and the graphics and general design looks bland. I preferred the old Dragon Center, which at least looked like it belonged on a high-end gaming PC. 
That said, all of these do-it-all PC hardware apps tend to feel bloated. And having one app with too much going on is probably still better in most cases than having a dozen different programs all doing their own thing.
MSI Infinite RS 13th Configurations
MSI currently offers the Infinite RS 13th in five configurations at various outlets as of this writing, although most sport an RTX 4090 and a Core i9-13900K. And as such, there isn't a major swing in prices. Our 13NUI-431US review configuration with a liquid-cooled GPU sells for $4,599 at B&H (opens in new tab) and Adorama (opens in new tab), but $4,799 at Newegg (opens in new tab). If you are willing to step down to a Core i7-13700KF CPU (which our CPU testing shows will offer effectively the same gaming performance) and an air-cooled RTX 4090 Gaming Trio GPU, the 13NUI-419US model sells for $4,199 at Newegg (opens in new tab). Other models increase the RAM to 64GB and opt for either the liquid-cooled Suprim card or the air-cooled Trio and sell for between $4,699 and $4,899. Like our review unit, all configurations that were available when we wrote this shipped with a 2TB PCIe 4.0 SSD.
Conclusion
Yes, all configurations of the MSI Infinite RS 13th are expensive at over $4,000, but with most RTX 4090s still selling for north of $2,000, and the Core i9 selling for around $600, this pricing is the norm. A similarly configured Alienware Aurora R15, with an air-cooled 4090 and other core specs comparable to our MSI system, sold for $4,699 when we wrote this. So depending on where you buy, you could spend $100 less for the MSI and get a standard motherboard, quieter operation under load, and a more premium-feeling case.
But note that you truly need the space for a big rig if you opt for the MSI Infinite, and you shouldn't expect far superior performance for the better cooling. In most of our gaming and productivity tests, the MSI and Alienware systems performed about the same, despite the MSI having better cooling overall, and liquid cooling on both the CPU and GPU. 
The main benefits of opting for the MSI, all other things being equal, are quieter operation, more expansion options and better performance for time-consuming CPU-intensive tasks.
MORE: Best PC Builds
MORE: Best Gaming PCs
MORE: How to Build a PC