Rather than tackling each Z790 flagship board in their own separate reviews, today we'll compare two motherboards head-to-head (as well as discussing Asus' competing option) to see which comes out on top. 
Fresh off our test bench is the Gigabyte Z790 Xtreme ($899) and the MSI Z790 Godlike ($1,199). Both boards are current flagship options, and offer a plethora of features, from high-end appearance, premium audio solutions, overbuilt VRMs, and generally the fastest other bits, including Thunderbolt 4 Type-C ports and native 10 GbE. In all, boards like this (including the Asus ROG Maximus Extreme, which didn't arrive in time for this article) set the high bar for the platform and show off all it has to offer. 
Both boards (all three if you include the ROG Maximus Extreme) accomplish this at a significant price increase over the rest of their product stack. The Aorus Extreme is the least expensive option at $799.99, with the ROG Maximus Extreme sitting at $999.99 and the MSI Godlike the most expensive at $1,199.99. That's quite a price difference, but MSI tries to make up for it by including its M-Vision Dashboard (a magnetic USB-C-powered LCD touchscreen) and offering seven M.2 sockets. Still, most users will probably find anything above $1,000 offputting, even for a flagship-class SKU.
When comparing the general specifications of these two contestants (as well as the Asus), there mostly isn't a significant difference. While VRM count may vary (26+2 with 105A SPS MOSFETs on the Godlike, 20+1 with 105A SPS MOSFETs on the Xtreme), these configurations are overkill, even if you decide to use sub-ambient cooling methods. M.2 socket count is different (with MSI offering two more), but most users won't use more than four M.2 drives. The audio codec is also critical, with all flagships offering some form of the Realtek ALC 4082 codec, along with ESS DAC/Amps, so most users will be satisfied on that front. 
All three boards offer at least one PCIe 5.0 M.2 socket and PCIe 5.0 AIB slots, so you're set on that front. Regarding performance between them, on average, the MSI Godlike performs better across our testing suite, though the difference between it and the Aorus board in most tests is negligible.
To be blunt here early in the article, the MSI Z790 Godlike is just too expensive to make our Best Motherboards list (though it has the features and hardware), without a much more compelling reason to make up the $400 price difference. Still, the Aorus Extreme and its lower price (but flagship-class everything else) is compelling and has a chance to earn a spot on our list. Read on for more details on the boards, including how they performed in our benchmark testing. But first, here are the specifications and features from the MSI and Gigabyte. 
Specifications: MSI Z790 Godlike
Swipe to scroll horizontally
| | |
| --- | --- |
| Socket | LGA1700 |
| Chipset | Z790 |
| Form Factor | E-ATX (305 x 310mm) |
| Voltage Regulator | 28 Phase (26x 105A SPS MOSFETs for Vcore) |
| Video Ports | (2) Intel Thunderbolt 4 (Type-C) |
|   | (2) Mini-DisplayPort Input (TB passthrough) |
| USB Ports | (2) Thunderbolt 4 Type-C (40 Gbps) |
|   | (1) USB 3.2 Gen 2×2, Type-C (20 Gbps) |
|   | (7) USB 3.2 Gen 2 (10 Gbps) |
| Network Jacks | (1) 10 GbE |
|   | (1) 2.5 GbE |
| Audio Jacks | (5) Analog + SPDIF |
| Legacy Ports/Jacks | ✗ |
| Other Ports/Jack | ✗ |
| PCIe x16 | (2) v5.0 (x16, or x8/x8) |
| PCIe x8 | ✗ |
| PCIe x4 | ✗ |
| PCIe x1 | ✗ |
| CrossFire/SLI | Supports AMD Multi-GPU |
| DIMM Slots | (4) DDR5 7800+(OC)*, 128GB Capacity |
|   | • 1DPC 1R Max speed up to 7800+ MHz |
|   | • 1DPC 2R Max speed up to 6600+ MHz |
|   | • 2DPC 1R Max speed up to 6400+ MHz |
|   | • 2DPC 2R Max speed up to 5600+ MHz |
| M.2 Sockets | (1) PCIe 5.0 x4 (128 Gbps) / PCIe (up to 110mm) |
|   | (3) PCIe 4.0 x4 (64 Gbps) / PCIe (up to 80mm) |
|   | (1) PCIe 4.0 x4 (64 Gbps) / PCIe (up to 110mm) |
|   | (1) PCIe 4.0 x4 (64 Gbps) / PCIe + SATA (up to 80mm) |
|   | (1) PCIe 3.0 x4 (64 Gbps) / PCIe + SATA (up to 80mm) |
|   | (NVMe supports RAID 0/1/5/10) |
| SATA Ports | (6) SATA3 6 Gbps (Supports RAID 0/1/5/10) |
| USB Headers | (2) USB v3.2 Gen 2×2, Type-C (20 Gbps, 60W PD/QC4+) |
|   | (2) USB v3.2 Gen 1 (5 Gbps) |
|   | (2) USB v2.0 (480 Mbps) |
| Fan/Pump Headers | (10) 4-Pin (CPU, Pump, System) |
| RGB Headers | (3) aRGB (3-pin) |
|   | (1) AURA RGB (4-pin) |
| Diagnostics Panel | (1) Debug Code LED |
|   | (1) EZ Debug LED |
| Internal Button/Switch | Power/Reset buttons, BIOS and LED switches |
| SATA Controllers | ASMedia ASM1061 |
| Ethernet Controller(s) | (1) Intel (2.5 GbE) |
|   | (1) Marvell AQX113CS-B1-C (10 GbE) |
| Wi-Fi / Bluetooth | Intel Wi-Fi 6E (2×2 ax, MU-MIMO, 2.4/5/6 GHz, 160 MHz, BT 5.3) |
| USB Controllers | Genesys Logic GL3590, GL3523, GL850 |
| HD Audio Codec | Realtek ALC4082 (ESS SABREES9280AQ DAC/HPA) |
| DDL/DTS | ✗ / ✗ |
| Warranty | 3 Years |
Inside the Box of the MSI MEG Z790 Godlike 
The Z790 Godlike includes a slew of accessories, including several cables and bits designed to help get you started. Unique to the accessory stack are the removable M-Vision Dashboard display, thermistor cables and DP to Mini-DP cables for those who plan to use Thunderbolt capabilities for video. Below is a complete list of the included accessories.
M-Vision dashboard
Wi-Fi antenna
USB drive (drivers)
M-Vision cable
(3) SATA cables
1 to 2 RGB LED extension Y cable
ARGB extension cable
1 to 3 ARGB Gen 2 extension cables
(2) DP to Mini DP cables
EZ Front panel cable
Metal Dragon badge
M.2 screw/standoffs EZ M.2 clips
Cable Stickers
Quick Installation Guide
Design of the Z790 Godlike
Taking the Godlike out of the box, one of the first things we noticed, along with its mass, is the size. It's listed as E-ATX and is 12.2 inches (310 mm) wide, so be sure the chassis you choose can handle the board. The rear of the board is protected by a backplate that also doubles as a passive heatsink on the rear of the VRMs. The Godlike presents an all-black appearance, with a brushed aluminum finish on the heatsinks and shrouds, along with tasteful branding implemented in your typical locations (I/O area, chipset, VRM and M.2 heatsinks). All of the connections on the right side of the board stick out horizontally, which helps with cable management, while the bottom headers/connectors are all vertical. 
If you're looking for integrated RGBs, only the IO area has what you're looking for. If you need more, you can add them through the four headers. Control over the RGB is managed through the MSI Center software and Mystic Light. Overall I like the black-with-gold-accents appearance. It will match most all builds themes and gives off that premium high-end vibe you want with a flagship-class device.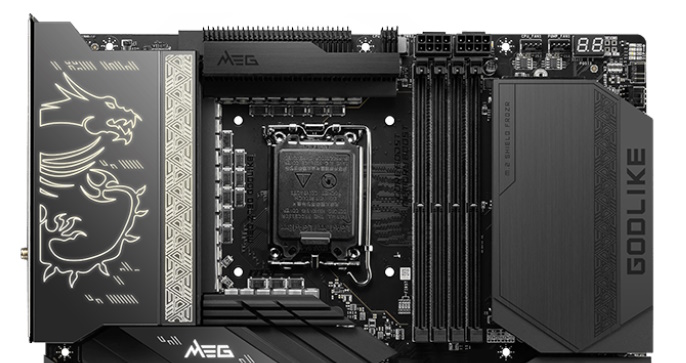 Focusing on the top half of the board, starting with the left side above the IO area, is an Illusion Lighting effect that allows the board to display two distinct patterns (MSI Gaming Dragon and symbol) in the same space. It's better than the dot-matrix look on the ROG Extreme, but falls short of the LCD on the Aorus Extreme. The VRMs connect via heatpipe with the top heatsink using a wavy fin design to increase surface area.
To the right of the socket area and just above the DRAM slots are two 8-pin EPS connectors (one required) to power your Intel CPU. The four DRAM slots below support up to 128 GB of RAM, with speeds listed to DDR5-7800+(OC) (though that's using one DIMM). We didn't have any issues with our 'base' kits (DDR5-5600 and 6000), and it was plug-and-play with the Teamgroup DDR5-7200 kit, the fastest in our arsenal at the moment.
Continuing to move right, next we hit the first two (of seven) M.2 sockets, hidden under a heatsink. These are PCIe 4.0 x4 (64 Gbps) sockets that support up to 80mm PCIe modules. The extra wide form factor allows a unique implementation for additional M.2 storage. Above that, we spy the first two (of 10) 4-pin fan headers. The CPU_Fan and System fan headers default to auto (will run with PWM or DC) and output up to 2A/24W, while the pump fan headers default to PWM mode and output a whopping 3A/36W each. You shouldn't have any issues running your cooling system, even custom liquid cooling, from the motherboard. Finally, in the corner is the Debug LED, four voltage read points and the EZ Debug LEDs.
Shifting focus down the right edge, all connections in this area are horizontal to help with cable management – or at least to help things look cleaner. Starting at the top is the first 3-pin ARGB connector, followed by the first three System Fan headers. Below these is the 24-pin ATX Power connector and a 6-pin PCIe connector (required to support 60W PD charging on the front port). After that are two USB 3.2 Gen 2×2 (20 Gbps) Type-C front panel ports.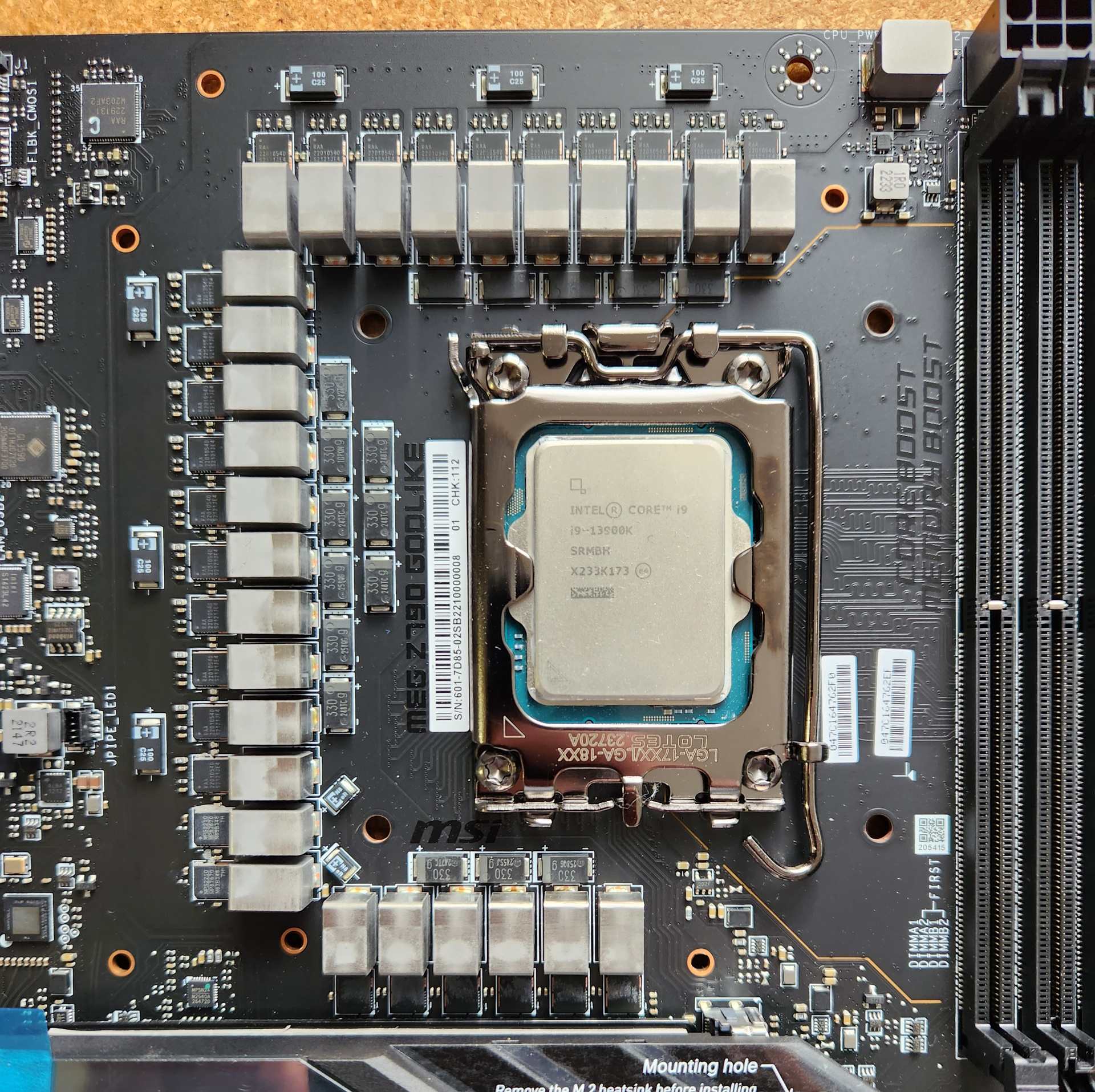 For power delivery, the Godlike has, well, Godlike VRMs. Power travels down from the EPS connector(s), onto a Renesas RAA229131 controller to the 26x 105A Renesas RAA22010540 SPS MOSFETs in a teamed configuration. The 2,730A available for the CPU is the most I can recall seeing on a motherboard and won't get in the way of any type of overclocking, including using LN2 (liquid nitrogen). You're limited by the cooling method, just as you are with most mid-range boards.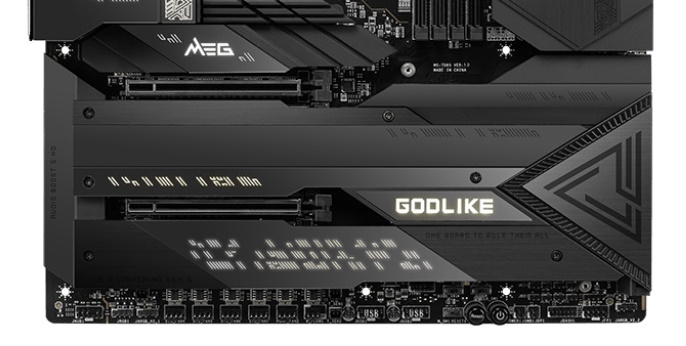 The bottom half of the board is where a majority of the M.2 sockets reside, along with tons of headers, connectors, and even a couple of switches. The audio section on the left houses a Realtek ALC4082 codec, along with ESS ES9280AQ combo DAC/HPA. This is the flagship codec with a DAC and Amp combo and one of the better audio implementations for the platform.
Moving on to the M.2 sockets, five are hidden below the heatsinks in this area. For details on their bandwidth, see the specifications above. What's worth mentioning here is how these break down. When the M2_4 (the PCIe 5.0 x4 socket) is populated, PCI_E2 (the second PCIe slot) is unavailable. If you're using a SATA- or PCIe-based drive in M2_5, SATA ports 5-8 are unavailable, leaving you with just two functioning SATA ports left. The PCIe slots mixed in among the M.2 sockets are simple. Both are reinforced and PCIe 5.0. The top slot supports up to x16 speeds, but both run at PCIe 5.0 x8 speeds when the second slot gets populated. Last, along the right edge, are two USB 3.2 Gen 1 (10 Gbps) headers and six SATA ports.
Across the bottom of the board are several exposed headers, all vertical. You'll find the usual and quite a bit more: additional USB ports, RGB headers, fan headers, custom water cooling headers (for flow and temperatures), power/reset buttons, and more. Below is a complete list from left to right.
Front panel audio
4-pin RGB
3-pin ARGB
(6) 4-pin fan/pump headers
(2) 2-pin temperature headers
(2) USB 2.0 headers
Power/Reset buttons
BIOS/LED/M switches
M-Vision connector
Front panel

The rear IO plate on the Z790 Godlike comes preinstalled to the motherboard. It has a black background with light-grey labels on the ports, making them relatively easy to read. There are a total of 10 USB ports:  two Thunderbolt 4 Type-C (40 Gbps, passes video as well), seven 3.2 Gen 2 (10 Gbps, one Type-C) ports, and one USB 3.2 Gen 2 (10 Gbps) Type-C port. On the left are three buttons: Clear CMOS, BIOS Flash, and the Smart button. The latter is programmable, letting you use to do things like reset the PC, boot into Safe Mode, control fans and lighting, etc. Around the USB ports are the Marvell 10 GbE and Intel 2.5 GbE ports. Off to the right are the two Thunderbolt 4 Type-C ports and the Mini-DisplayPort inputs for video. Last but not least are the Wi-Fi antenna connections and the five-plug plus SPDIF audio stack.
Firmware
MSI's BIOS for the Godlike is not much different than the Z790 Tomahawk we reviewed previously. The menus reside on the sides, and information up top, with a black and red background. It's a unique look compared to the competition. For Z790, the only updates were functionality for the new processors and chipset. The color scheme is still easy to read, and there's the usual informative Easy Mode that displays various information about the system and allows for some changes (boot order and XMP enabled). Though different than other UEFIs, it is easy to get around; everything has a place, and most frequently used options are readily available, not buried within sub-menus.
Software
MSI has a single utility, MSI Center, that covers quite a bit of functionality. From hardware monitoring to RGB control with Mystic Light, there are many applets to choose from within the software and a one-stop shop to download all of the company's utilities. I wish there were some overclocking options here, but for those looking to use the Gamebar feature, Super Charger, or any other utilities MSI offers, they will all be at your fingertips in MSI Center.
MORE: Best Motherboards
MORE: How To Choose A Motherboard
MORE: All Motherboard Content