The ASRock Z790 Livemixer is a uniquely styled motherboard that hails from the affordable side of ASRock's product stack – and Z790 boards in general. This SKU is truly new and unique, not based on another board with just a different aesthetic. Sitting above the Pro RS and below the Steel Legend, the $252.99 Livemixer offers a blend of features designed for content creators, including a PCIe 5.0 M.2 socket and card slots, a slew of available USB connectivity, and a VRM capable of powering the flagship Intel CPUs – at least in stock configuration. But the real reason to get this board is for the appearance, as it doesn't look like anything else I've seen over the past 10-plus years. It does remind me of DFI Lanparty boards, though. 
ASRock's Z790 lineup (at the time of this writing) consists of 13 different motherboards. There you'll find all the standard sizes and wide-ranging prices, with familiar names like the Taichi, Steel Legend, Riptide, Pro, and our LiveMixer SKU. Prices range from $499.99 (opens in new tab) (Taichi Carrara) to the ASRock Z790M PG Lightning/D4 at $179.99 (opens in new tab). There are plenty of options in the existing lineup, although we're still waiting to see a water-cooled Aqua down the road.
Regarding performance, the Livemixer was average to below average across most of our tests. In part, it performed this way due to heavy thermal throttling at its default settings. We tried setting the BIOS to the 240/280mm cooling option while using our 360mm AIO and still saw significant throttling. You'll have to use a negative voltage offset to get the most out of this board, to prevent the throttling we experienced during testing. That said, most tests were just slightly slower than average, and nothing was significantly out of line, even if this was the slowest tested board in a couple of benchmarks.
Below, we'll dig into the details of the board and see whether it deserves a spot on our Best Motherboards list. Before we get into our testing and board details, though, we'll start by listing the specifications from ASRock's website. 
Specifications: ASRock Z790 Livemixer
Swipe to scroll horizontally
| | |
| --- | --- |
| Socket | LGA1700 |
| Chipset | Z790 |
| Form Factor | ATX |
| Voltage Regulator | 16 Phase (14x 60A MOSFETs for Vcore) |
| Video Ports | (1) HDMI (v2.1) |
|   | (1) DisplayPort (v1.4) |
|   | (1) eDP (v1.4) |
| USB Ports | (2) USB 3.2 Gen 2 (10 Gbps) |
|   | (2) USB 3.2 Gen 2 (10 Gbps) |
|   | (4) USB 3.2 Gen 1 (5 Gbps) |
|   | (6) USB 2.0 (480 Mbps) |
| Network Jacks | (1) 2.5 GbE |
| Audio Jacks | (2) Analog + SPDIF |
| Legacy Ports/Jacks | ✗ |
| Other Ports/Jack | ✗ |
| PCIe x16 | (1) v5.0 (x16, or x8/x8) |
|   | (2) v4.0 (x4) |
| PCIe x8 | ✗ |
| PCIe x4 | ✗ |
| PCIe x1 | (1) v3.0 (x1) |
| CrossFire/SLI | AMD CrossFire |
| DIMM Slots | (4) DDR5 7000+(OC)*, 128GB Capacity |
|   | *1DPC 1R Up to 7200+ MHz (OC), 4800 MHz Natively. |
|   | 1DPC 2R Up to 6000+ MHz (OC), 4400 MHz Natively. |
|   | 2DPC 1R Up to 5600+ MHz (OC), 4000 MHz Natively. |
|   | 2DPC 2R Up to 4800+ MHz (OC), 3600 MHz Natively. |
| M.2 Sockets | (1) PCIe 5.0 x4 (128 Gbps) / PCIe (up to 80mm) |
|   | (3) PCIe 4.0 x4 (64 Gbps) / PCIe (up to 80mm) |
|   | Supports RAID 0/1/5 |
| SATA Ports | (4) SATA3 6 Gbps (Supports RAID 0/1/5/10) |
| USB Headers | (1) USB v3.2 Gen 2×2, Type-C (20 Gbps) |
|   | (2) USB v3.2 Gen 1 (5 Gbps) |
|   | (2) USB v2.0 (480 Mbps) |
| Fan/Pump Headers | (7) 4-Pin (CPU, CPU/Water Pump, Chassis/water pump) |
| RGB Headers | (3) aRGB (3-pin) |
|   | (1) RGB (4-pin) |
| Diagnostics Panel | (1) Post Status Checked (4 LEDs) |
| Internal Button/Switch | ✗ |
| SATA Controllers | ✗ |
| Ethernet Controller(s) | (1) Realtek Dragon RTL8125BG (2.5 GbE) |
| Wi-Fi / Bluetooth | ✗ |
| USB Controllers | ASMedia ASM1074, ASM3042 |
| HD Audio Codec | Realtek ALC897 |
| DDL/DTS | ✗ / ✗ |
| Warranty | 3 Years |
Inside the Box of the ASRock Z790 Livemixer
Inside the retail packaging, below the motherboard, are a couple of accessories – literally a couple. You get two SATA cables and five screws for the M.2 sockets (along with a manual).
Design of the ASRock Z790 Livemixer
ASRock's Z790 Livemixer sits on a black PCB with white and purple paint splatters, along with purple heatsinks and shrouds that yield a unique appearance, or at least color scheme, for motherboards. There's Livemixer branding written in a graffiti-type font along the bottom of the board and again on the large VRM heatsinks. The purple theme isn't as neutral as some other boards with a more basic black color scheme, so make sure this is what you want inside your chassis.
If you're into RGB lighting, the Livemixer has four RGB LEDs on the backside of the board, by the SATA ports, which give off a bright glow that shines inside your chassis. You control the RGBs with ASRock's Polychrome RGB application. If these adornments aren't enough, you can add more RGB lighting through the 4-pin or 3-pin RGB headers.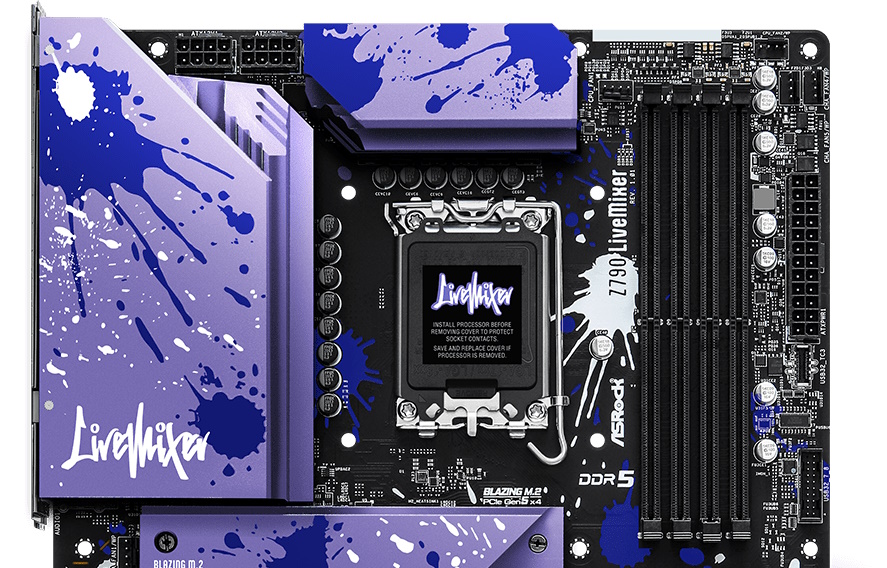 Starting in the upper-left corner of the board, we get a better look at the large, purple-and-white VRM heatsink and the graffiti-style appearance. The VRM heatsinks have a lot of mass and a fair amount of surface area, so they should do a decent job on the MOSFETs below, but we'll see how well that pans out in or testing below. Just above the left VRM heatsink are two 8-pin EPS connectors (one required) to power the CPU.
Moving past the clean socket area, we run into four unreinforced DRAM slots with locking mechanisms on both sides. ASRock lists support of up to 128GB at speeds listed to DDR5-7200+(OC). Of course, your mileage will vary, but we did not run into any issues with our basic DDR5-5600 kit or our middle-of-the-road DDR5-6000 kit.
In the upper-right corner (just to the left of the DRAM slots) are the first four (of seven) 4-pin fan headers. The CPU_FAN1 header supports up to 1A/12W, while the CPU_FAN2/EP and CHA_FAN1-5/WP headers all support up to 2A/24W. CPU_FAN2/WP and CHA_FAN1-5/WP can auto-detect if a 3-pin or 4-pin fan is in use, while you'll have to manually set the others. There are enough headers and power output to support your fans and custom watercooling pumps. Control over these devices is handled through the BIOS or ASRock's A-Tune software.
Looking down the right edge, we run into the 24-pin ATX power connector for the board, the USB 3.2 Gen 2×2 (20 Gbps) Type-C front panel header, and a USB 3.2 Gen 1 (5 Gbps) header.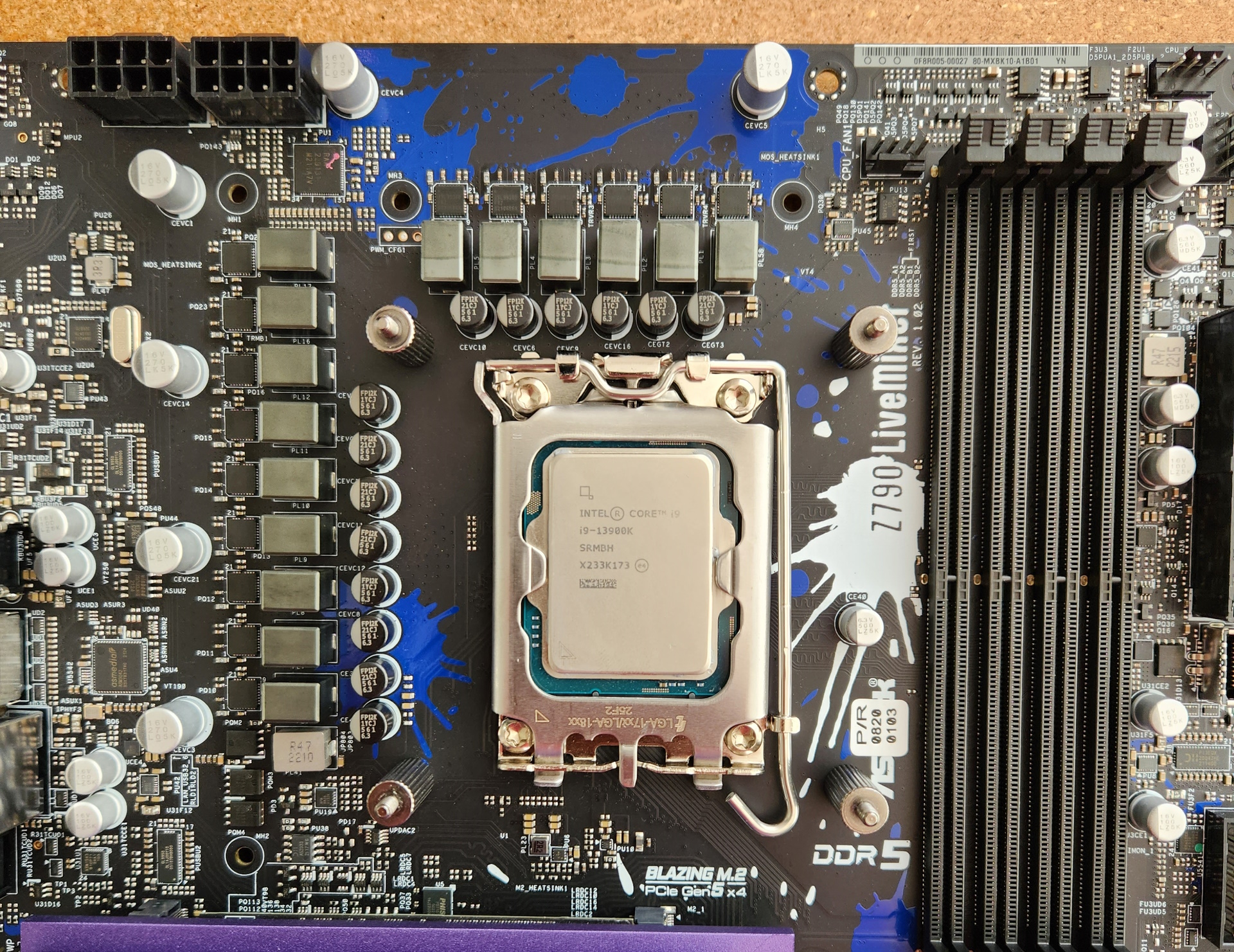 The power delivery on our Livemixer consists of 16 total phases, with 14 dedicated to Vcore. Power comes from the 8-pin EPS connector(s) onto the Renesas RAA229131 20-phase PWM controller. From there, it heads to the 14x 60A Intersil ISL99360 SPS MOSFETs. While the 840A available for the processor is less than we've seen in our previously reviewed boards on this platform, it shouldn't get in the way of stock or most overclocked operations with the flagship Intel i9-13900K (although thermal throttling does).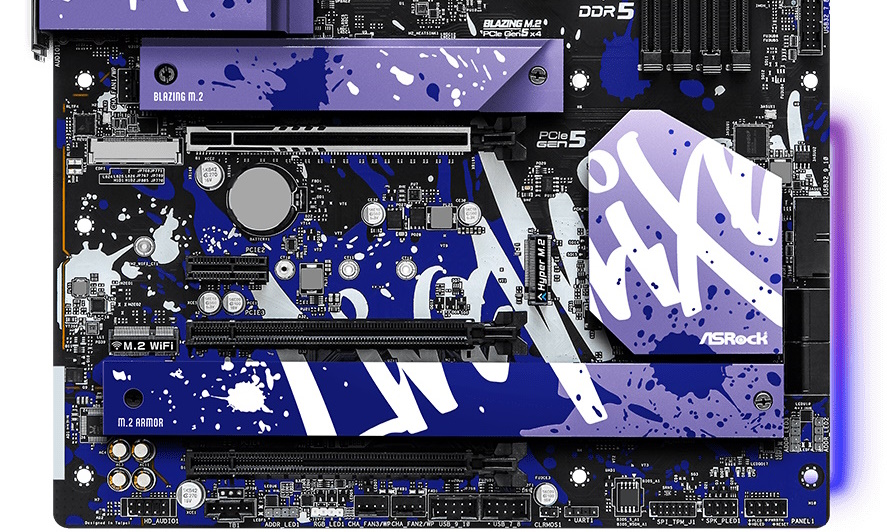 On the bottom of the board, starting on the left side, we spy the dated Realtek ALC897 audio codec. There's an audio separation line, but you can forget about third-party DACs and Amps at this price point. The ALC897 is a budget codec, so discerning listeners, even content creators this is intended for, might be disappointed and want to use a superior external audio solution.
For those who want to use Wi-Fi, the M.2 Key-E Wi-Fi socket for CNVio/CNVIo2-based devices (sold separately) is located just to the left of the PCIe slots. Just above that is a unique connection called Embedded DisplayPort (eDP). As the name implies, the eDP connector is for an LCD monitor that supports eDP. This connector supports eDP 1.4 and a maximum resolution of FHD (1080p) at 60 Hz. ASRock's 13.3-inch side panel kit is the perfect accessory for this connector.
In the middle of the board are four PCIe slots, three full-length with the top/primary slot reinforced. That top slot supports PCIe 5.0 x16 speeds from the CPU (assuming nothing populates the M2_1 socket, otherwise, it drops back to PCIe 5.0 x8). The other two full-length slots get their bandwidth from the chipset and run at a maximum of PCIe 4.0 x4. The x1 slot in the middle also sources lanes from the chipset and runs at PCIe 3.0 x1 speeds.
Scattered among the PCIe slots are five total M.2 sockets. The top socket connects through the CPU and runs up to PCIe 5.0 x4 (128 Gbps) speeds, supporting up to 80mm modules. The PCIE1 slot drops back to PCIe 5.0 x8 speeds when this socket is in use. Three of the four other sockets (M2_2/3/4/5) all source their PCIe 4.0 x4 (64 Gbps) lanes through the chipset and support up to 80mm devices. All but one M.2 socket has a heatsink to keep the devices below from getting too warm.
Interestingly, ASRock states that M2_1 and M2_2 cannot be populated simultaneously. The only reason I can think of offhand to do this is to give the user the option to run the full PCIe 5.0 x16 speeds on the primary slot. According to the company's chipset diagram from the Livemixer webpage, the 4.0 socket (M2_2) has its own line to the CPU, while the PCIe 5.0 M.2 socket shares bandwidth with the PCIe slot. In short, you can only run four of the five M.2 sockets concurrently, which should be enough for most people.
A second USB 3.2 Gen 1 (5 Gbps) connector and the four SATA ports are on the right edge of the board. The SATA ports support RAID0/1/5/10, while the M.2 sockets support RAID0/1/5 modes.
Across the bottom of the board are several exposed headers. You'll find the usual, including additional USB ports, RGB headers, and power/reset buttons. Below is a complete list from left to right.
Front panel audio
5-pin Thunderbotl AIC connector
3-pin RGB header
4-pin ARGB header
(2) System Fan headers
(2) USB 2.0 headers
Clear CMOS jumper
TPM header
Speaker header
Dr. Debug display
System panel header

The rear IO plate on the Z790 Livemixer comes preinstalled to the motherboard. It sports a black and purple background against white writing and the Livemixer graffiti-like branding. Content creators tend to use many USB ports, and the Livemixer is here to help. There's a total of 14 USB ports scattered across the rear IO. You get two USB 3.2 Gen 2 (10 Gbps) Type-C ports and two 10 Gbps Type-A ports. There are four more 3.2 Gen 1 (5 Gbps) ports and six USB 2.0 (480 Gbps) ports. Additionally, the board has dedicated Lighting gaming USB ports that use a separate controller for a more stable USB signal and less latency, according to ASRock. On the video side, the Livemixer has HDMI and DisplayPort ports for thoughts with non-KS chips wh don't want to use a graphics card. Last is the 2.5 GbE and the two-plug plus SPDIF output that make up the audio stack.
MORE: Best Motherboards
MORE: How To Choose A Motherboard
MORE: All Motherboard Content