Although unit shipments of PCs decreased by around 15% in 2022 compared to the prior year and are expected to drop further in 2023, sales of Arm-based notebooks increased last year and will increase again this year, reports Counterpoint Research. Apple dominated the Arm-based laptop market last year with a 90% share, but as MediaTek and Qualcomm introduce their latest Arm system-on-chips for Windows PCs, such processors will gain even more share and will be in 25% of notebooks by 2027, the report says. 
Counterpoint Research predicts that Arm-powered laptops will "show a comparatively resilient demand throughout the coming quarters" due to success of Apple's MacBooks, a vanishing performance gap with x86 CPUs and strong ecosystem support. Indeed, while the whole PC market contracted by 28.1% in Q4 2022 compared to the same quarter a year before, unit shipments of Apple's PCs declined by 2.1%, according to IDC. Meanwhile, the company's PC shipments increased by 2.5% year-over-year in 2022 and commanded 9.8% of unit shipments, based on data from IDC.  
Given Apple's focus on laptops as well as steady demand for Arm-powered Chromebooks, 13% of mobile PCs sold last year used an Arm-based SoC, says Counterpoint. The share of notebooks with Arm inside is expected to increase to 15% this year, according to analysts. 
But while Apple's success with its Arm-based Macs is indisputable, most people use Windows machines, so once companies like MediaTek and Qualcomm introduce  their new Arm-powered SoCs for Windows in 2024, migration of mobile computers to Arm from x86 CPUs will accelerate. As a result, the share of Arm-based laptops will increase to 21% already in 2025 and then to 25% in 2027, predicts Counterpoint.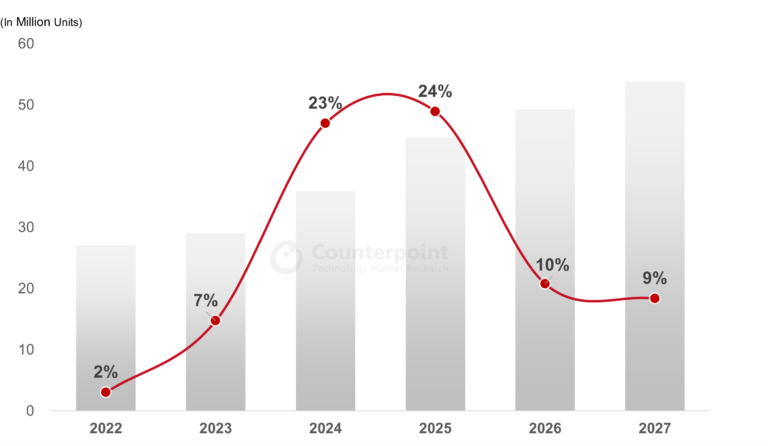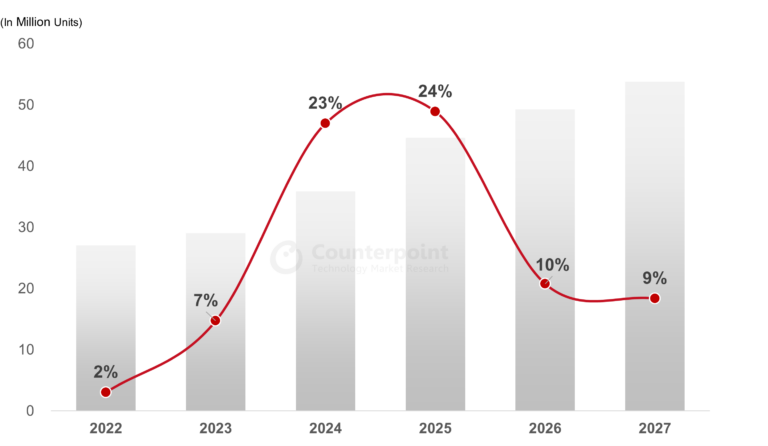 Indeed, Qualcomm has very high hopes for its Snapdragon SoCs featuring Qryon general-purpose cores designed by Nuvia. These processors are now sampling with PC OEMs and the company claims that they intend to use these chips for laptops aimed at both consumer and enterprise users. 
"Our next-gen PC platform, with integrated custom Qualcomm Oryon CPUs and upgraded AI engine, has sampled on time and is exceeding our internal KPIs, delivering disruptive CPU performance per watt across tiers," a recent statement by the company reads. "We are now engaged with major PC OEMs, with multiple platform design wins across their product roadmaps for consumer and enterprise."
While Apple, MediaTek and Qualcomm will keep pushing performance and features of their Arm-based SoCs forward in the coming years, AMD and Intel will not stand still and watch how Arm is eating their lunch. Intel says that its laptop-focused Lunar Lake SoCs featuring a multi-tile design and a brand-new microarchitecture will offer performance-per-watt leadership.