The best gaming keyboard is a tall order — but we might've found it. And it's only been a month!
We knew the Asus ROG Azoth keyboard was good when we first saw it at CES 2023, which is why we gave it our Best In Show award. But… damn. Not only does the Azoth look great, with a monochromatic black-and-gray aesthetic that's surprisingly refined for the normally aggressive, gamer-oriented, angry-red-eye branding of Asus' ROG line, it sounds and feels fantastic. It's like a high-end enthusiast custom keyboard kit went on a bender and got addicted to Fortnite and I'm absolutely here for it. 
It's not cheap, naturally — the ROG Azoth is available now for $250 — but it's one of the best gaming keyboards you can get.
Design and Construction of the ROG Azoth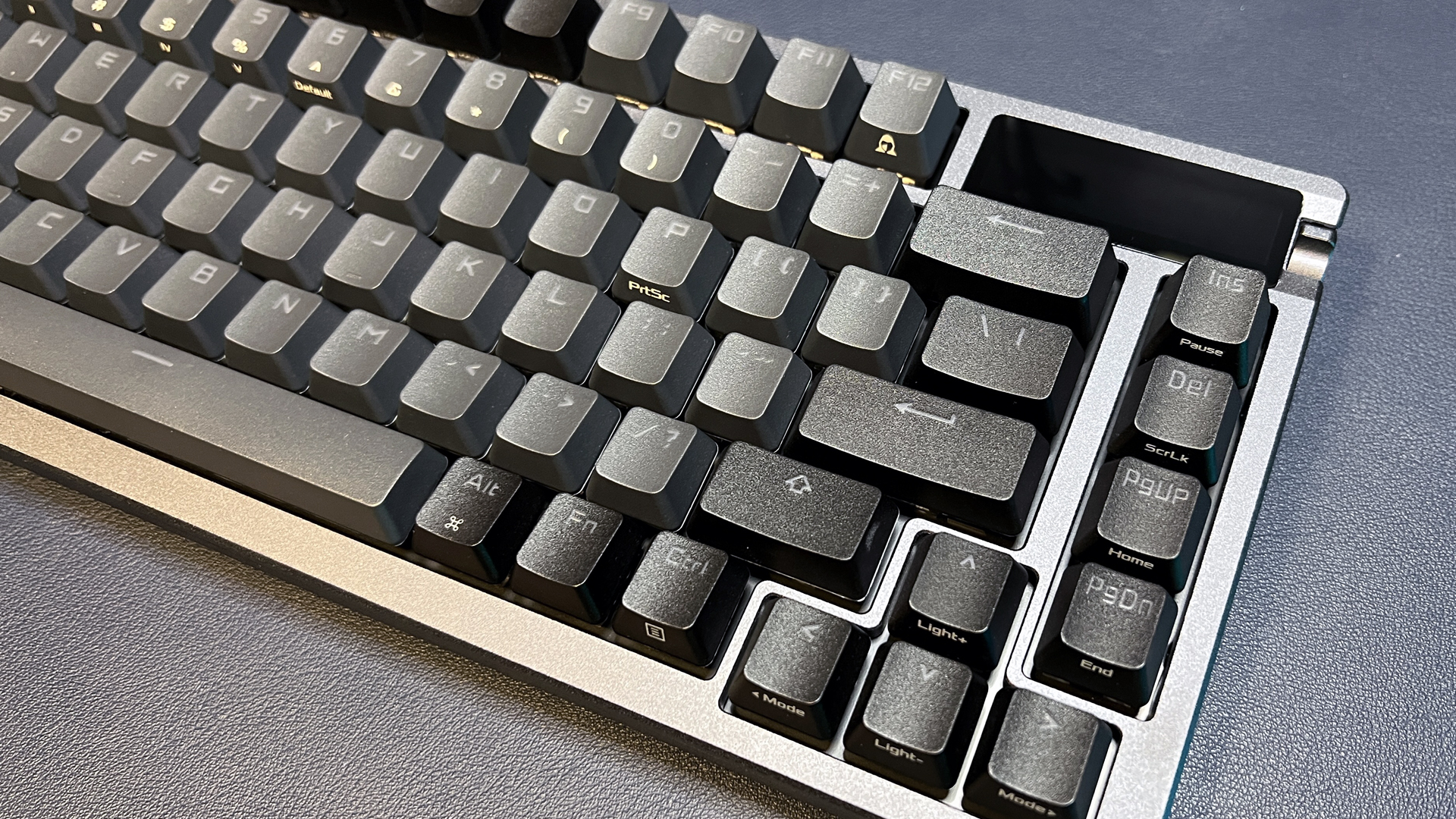 The ROG Azoth is a wireless, gasket mount mechanical keyboard with a 75 percent form factor. It's smaller than a TKL (tenkeyless, or 87 percent) layout, with just one column of four navigation keys rather than the standard three-by-three. This layout allows the Azoth to have a smaller footprint — the keyboard measures just 12.83 inches (326mm) long, which is over an inch shorter than the SteelSeries Apex Pro TKL's length of 14 inches — without sacrificing as much as a 60 percent or even a 65 percent keyboard.
The ROG Azoth may be small, but it's built like a beast. It sports a hefty metal top plate in a sleek gunmetal gray color under dual-tone doubleshot PBT keycaps. Underneath the top plate, the Azoth's chassis is plastic — necessary, according to Asus, for the keyboard to maintain peak wireless performance levels.
It's a very sturdy plastic chassis, however, and it doesn't detract from the keyboard's build quality at all. The Azoth weighs a hefty 2.61 pounds (1186g) and feels solid all around. On the back of the board are two sets of flip-out feet for additional height.
A two-inch, animated grayscale OLED screen occupies the upper right corner of the keyboard. Next to the screen is a three-way control knob and button combo, which you can use to tweak a number of onboard settings (e.g. brightness, lighting effects) and control multimedia. The screen can display a variety of things, including keyboard info (battery life, etc.), system parameters, and custom visuals and animations, which you can set up using Asus' peripheral software, Armoury Crate.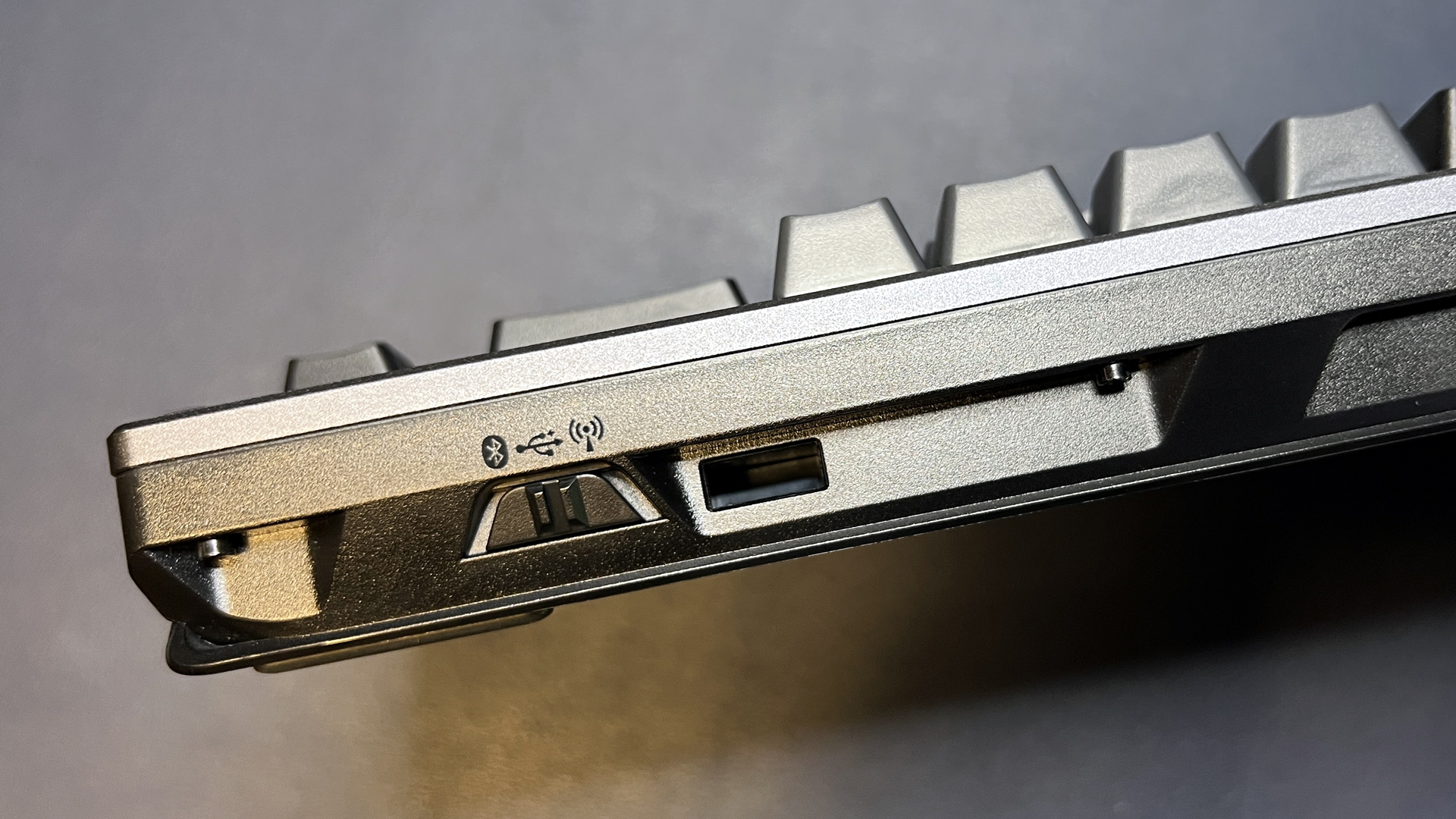 Along the backside of the Azoth you'll find the keyboard's connectivity controls: A power switch that toggles between 2.4GHz wireless and Bluetooth, a 2.4GHz wireless dongle plugged into a storage port, and a USB-C port for charging and a wired connection.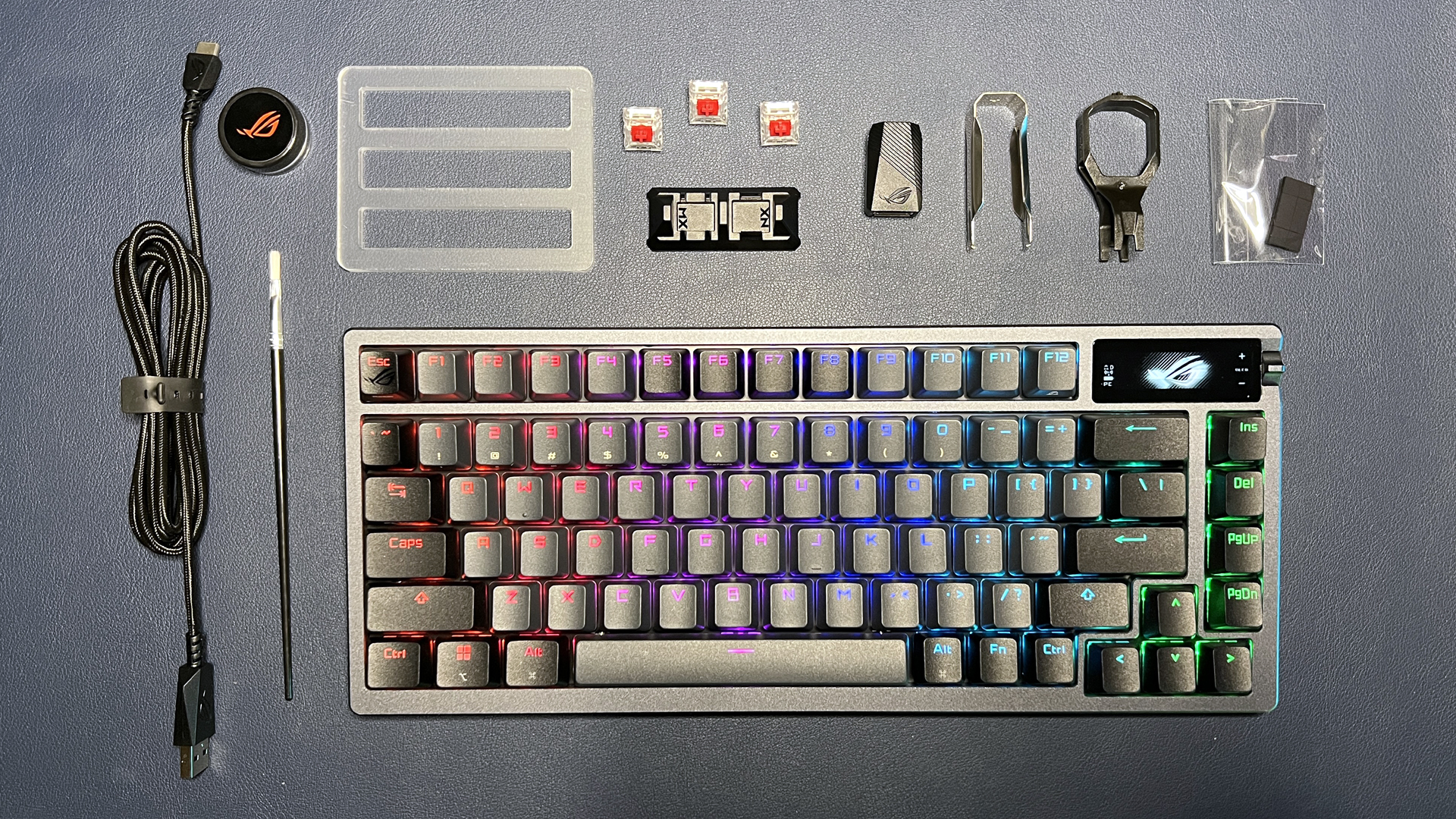 The keyboard comes with an entire box of accessories. These include a 6.5-foot (2m) braided USB-C to USB-A cable, a USB extender, a keycap puller, a switch puller, and a DIY switch lube kit. The lube kit includes lubricant (Krytox GPL205-GD0), a switch opener, a lube station, a brush, and a handful of extra switches. (Don't worry, Asus also includes a QR code that links to a video tutorial on how to use the lube kit.) The accessory kit isn't made up of particularly pricey or difficult-to-obtain items, but it's a very nice touch — especially for a premium, mainstream gaming keyboard.
Specs
Swipe to scroll horizontally
| | |
| --- | --- |
| Switches | ROG NX Red |
| Lighting | Per-key RGB |
| Onboard Storage | Yes; up to 6 profiles |
| Media Keys | OLED Screen with control knob/button |
| Game Mode | Yes |
| Connectivity | 2.4GHz wireless, Bluetooth, wired (USB-C) |
| Additional Ports | None |
| Keycaps | Double-shot PBT |
| Construction | Metal top plate, plastic chassis |
| Software | Armoury Crate |
| Dimensions (LxWxH) | 12.83 x 5.35 x 1.57 inches / 326 x 136 x 40mm |
| Weight | 2.61lbs / 1186g |
| MSRP | $250.00 |
Typing and Gaming Experience on the ROG Azoth
The ROG Azoth sports a gasket mount design — silicone gaskets cushion the PCB, while three layers of dampening foam and silicone absorb echo and case ping, resulting in a keyboard that sounds excellent, especially for a mainstream gaming keyboard. That's not to say that premium mainstream gaming keyboards such as Razer's Huntsman V2 or SteelSeries' Apex Pro TKL sound terrible — but the Azoth is on a different level.
Even my husband commented on how the Azoth sounded. All he said was that it sounded "good," and "better than whatever you were using before," but that's pretty high praise — he normally only ever mentions how my keyboards sound when asking snarky questions like "did you get some sort of aftermarket keyboard mod equivalent to a muffler delete" or "is this auditory revenge on the neighbor who asked if 'writer' was a euphemism for 'unemployed'?"
Typing on the Azoth also feels next-level; the gasket mount design offers just enough flex for comfort, but not so much as to be overwhelming. Our review model came with Asus' ROG NX Red (linear) switches, which feature straight, smooth keypresses with no tactile bump or audible click (the Azoth can also be purchased with NX Brown (tactile) or NX Blue (clicky) switches.
The NX Reds have a 40g actuation force and a 1.8mm actuation point, making them slightly lighter and shorter than the popular Cherry MX Red linear switches (45g actuation force, 2mm actuation point). The NX Reds were a little too light and hollow-feeling for me, so I swapped them out for clicky Kailh Box White switches using Asus' included keycap puller and switch remover.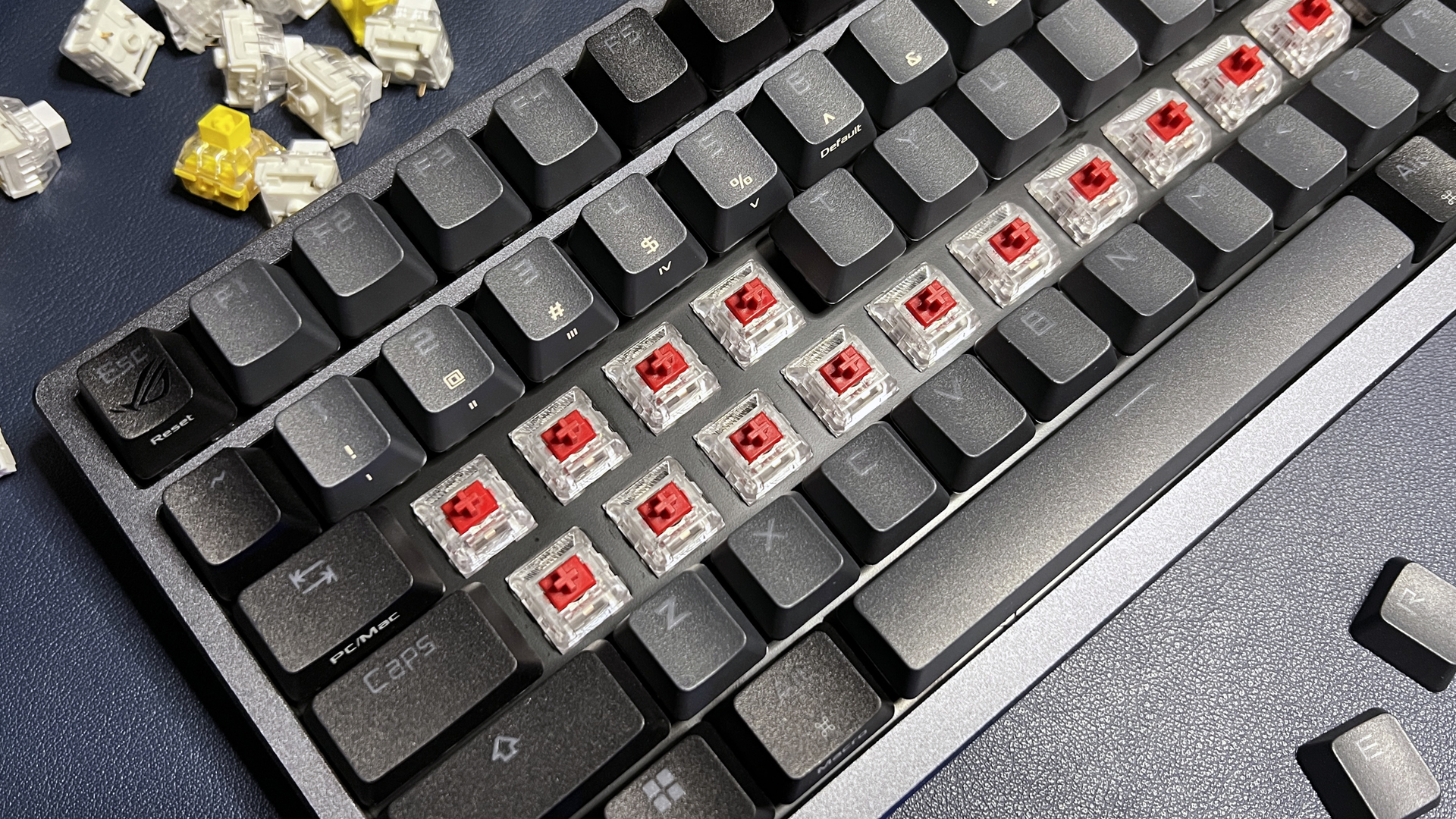 Once I swapped switches, typing on the Azoth was outstanding. All of my keystrokes felt consistent and measured, with just the right amount of flex without being too bouncy. I was especially impressed with the consistency and stability of the spacebar, as well as the shift and enter keys, which feature pre-lubed ROG-branded stabilizers that have been "specially tuned with gamers in mind."
The Azoth has matte black keycaps with shine-through primary legends and printed secondary legends. The keycaps are mid-height, which Asus describes as "similar to Cherry profile keycaps," and have curved, lightly-textured tops. They're made from doubleshot PBT but they're a little slippery; I didn't have any issues with finger slipping or accuracy, but if you're prone to sweating, I'd recommend swapping in better keycaps.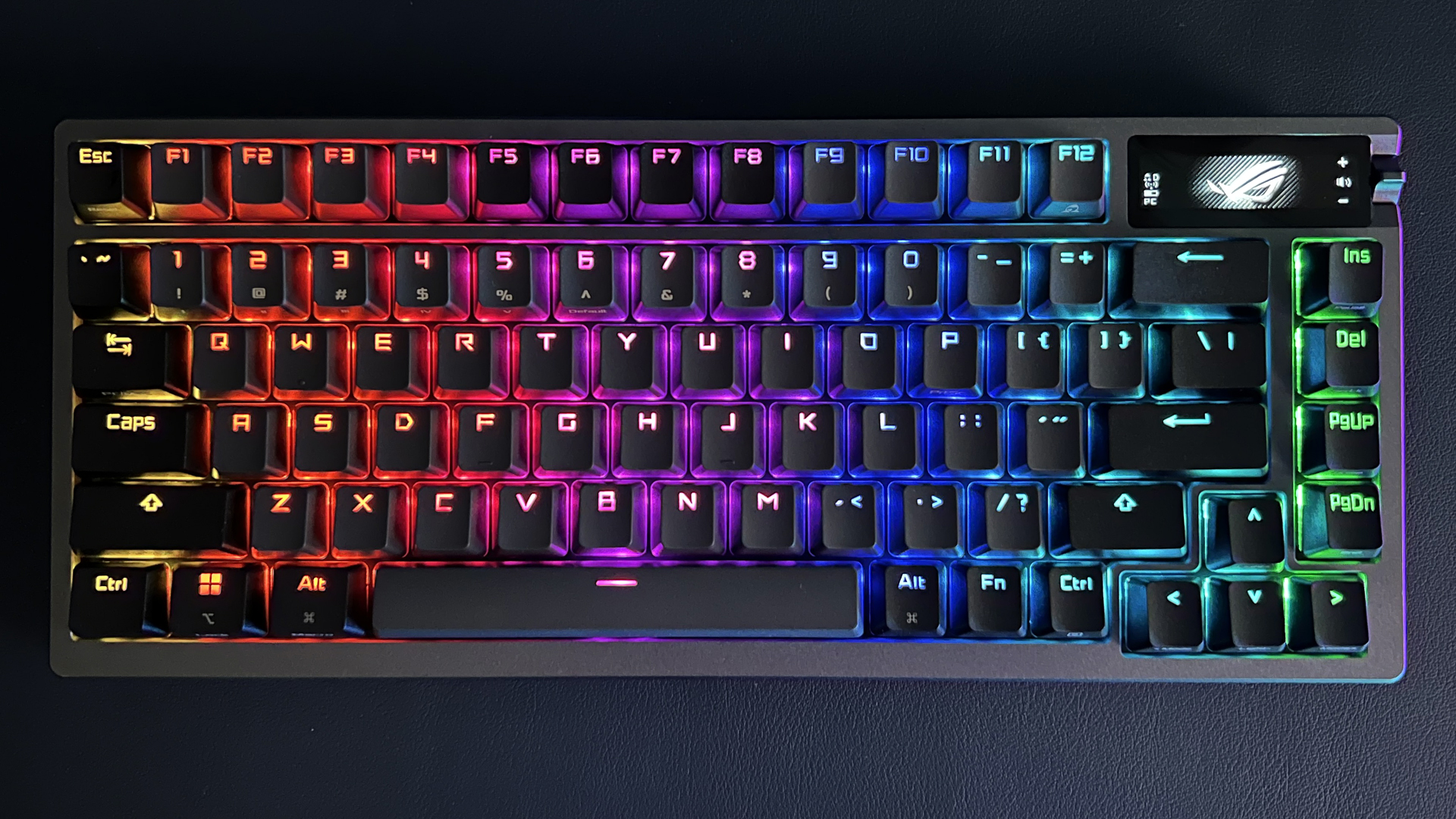 Don't let the Azoth's enthusiast-level typing experience fool you, though — this is still a gaming keyboard, through and through. Its specs are in line with other top-of-the-line wireless gaming keyboards: n-key rollover, a 1,000 Hz polling rate, tri-mode connectivity with low-latency 2.4GHz wireless, and fully programmable keys with on-the-fly macro recording.
The Azoth is quick, responsive, and reliable while gaming, whether you're plugged into your PC or connected wirelessly. I managed to get just sick enough to where I wasn't able to focus on work but I was able to play through a backlog of something like 23 impromptu Steam sale games — and I had no missed keypresses, nor did I experience even the slightest connection lag throughout.
Features and Software of the ROG Azoth
The Azoth has a handful of preset secondary keybinds (Fn shortcuts) which are printed on the south-facing side of the keycaps. These include profile switching, macro recording, and lighting mode/brightness. Combine these shortcuts with the Azoth's OLED screen, and you can do quite a bit directly from the keyboard, without needing to install any software. However, if you want to do things like customize keybindings, lighting modes, or the OLED screen, you'll need to install Asus' peripheral software, Armoury Crate.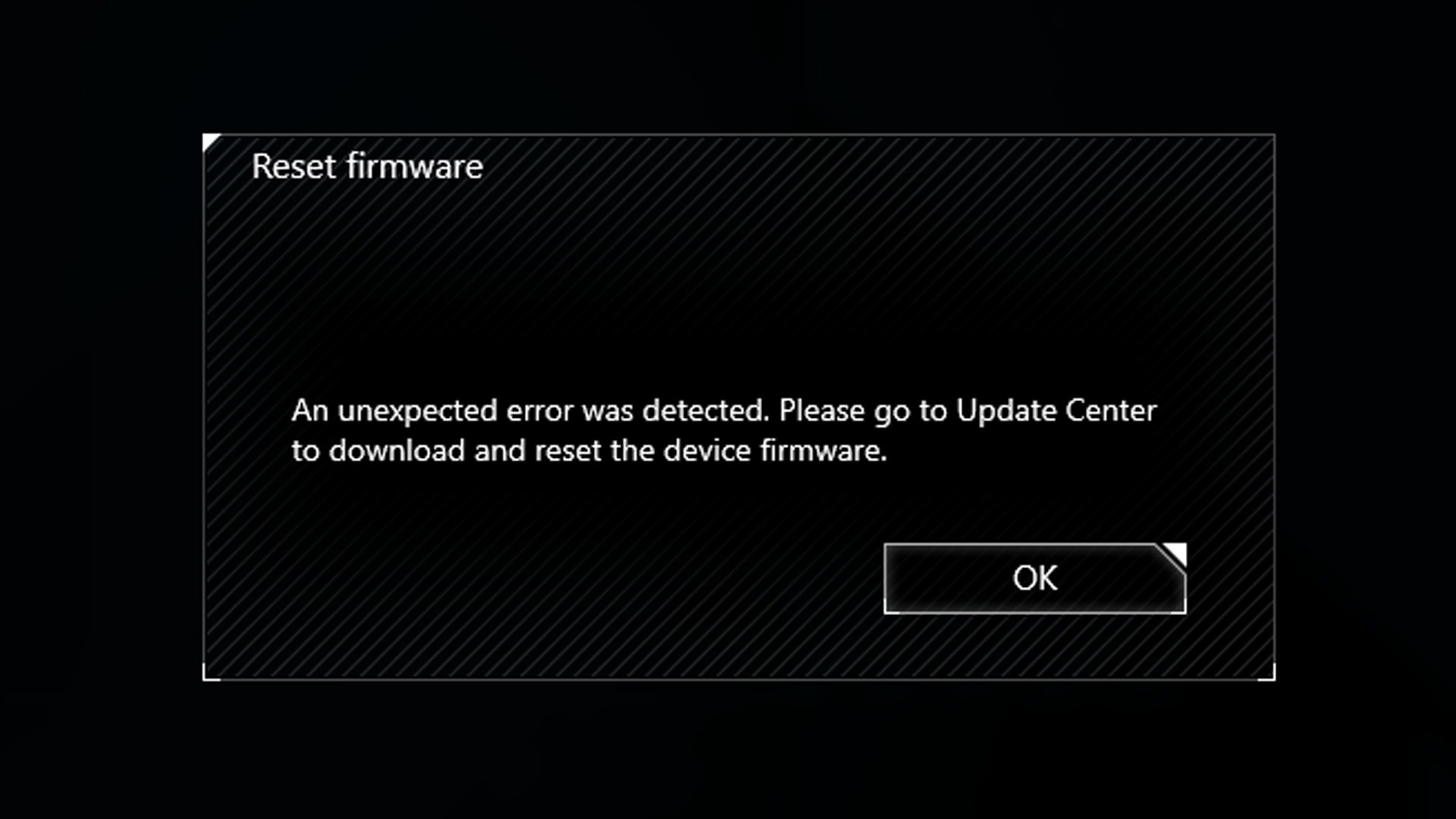 I hate Armoury Crate. I can honestly say I've never had a good experience with Armoury Crate, which is such a bloated, convoluted disaster of a program that I don't even like to have it installed on my PC unless absolutely necessary. I held out for as long as I possibly could before I installed it this time, and I was immediately met with an unsurprising barrage of issues. (Namely, it kept prompting me to update the Azoth's firmware and then crashing when it tried to read the current version.)
Several restarts, three clean installs, and a lot of tedious troubleshooting that involved unplugging all peripherals and switching between computers several times later, I finally managed to get Armoury Crate to figure out its firmware situation for long enough that I was able to dig into the Azoth's settings.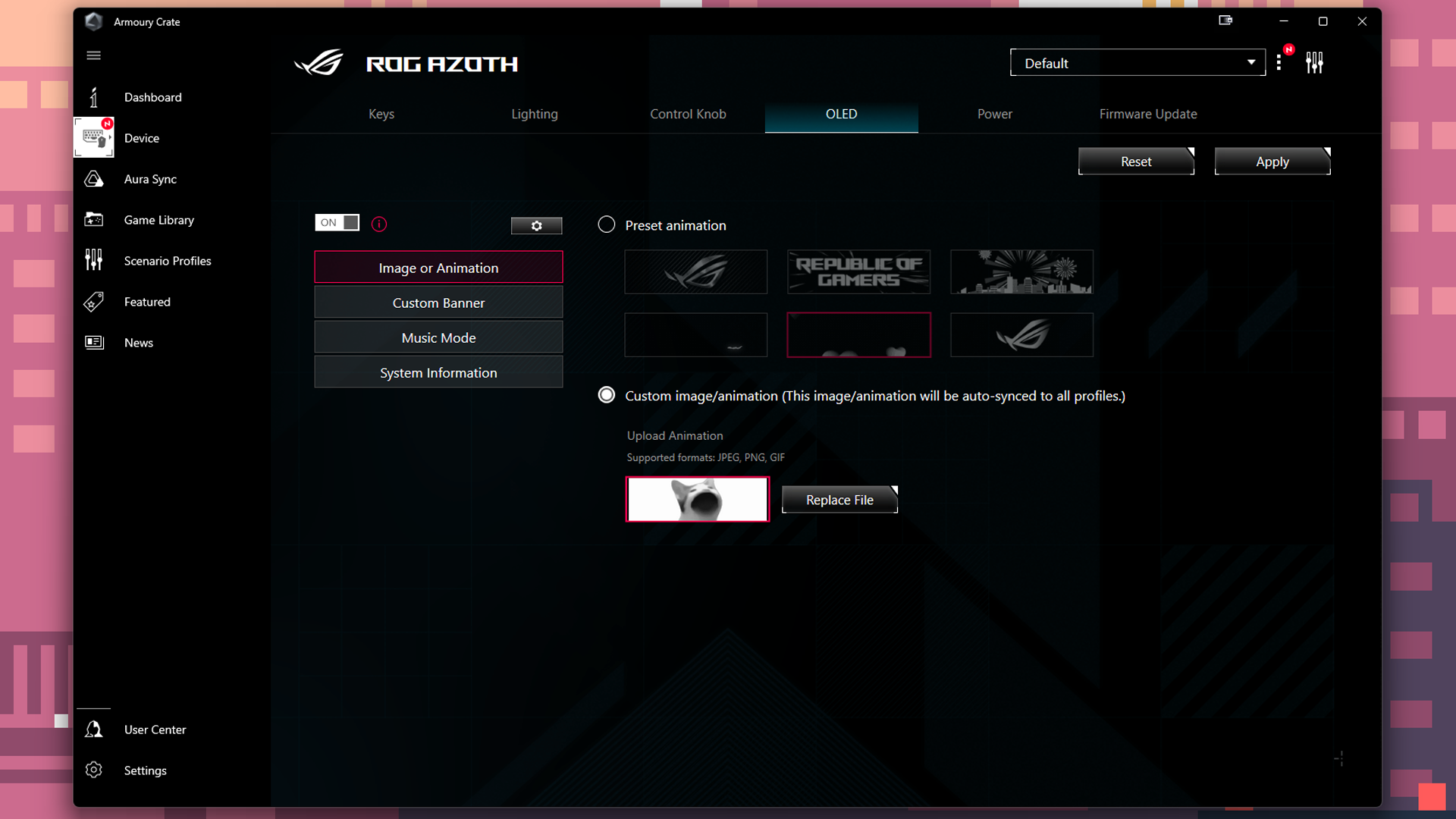 Almost all of the Azoth's keys (minus the Fn key) are programmable — but only the first layer, which is a little disappointing. There doesn't appear to be a way to program any secondary keybinds (e.g. Fn key shortcuts), which seems like a pretty big oversight considering the keyboard's 75 percent size (it's not tiny, but it's on the smaller side). This is something that could probably be fixed via firmware update (assuming Armoury Crate is capable of delivering said update without crashing).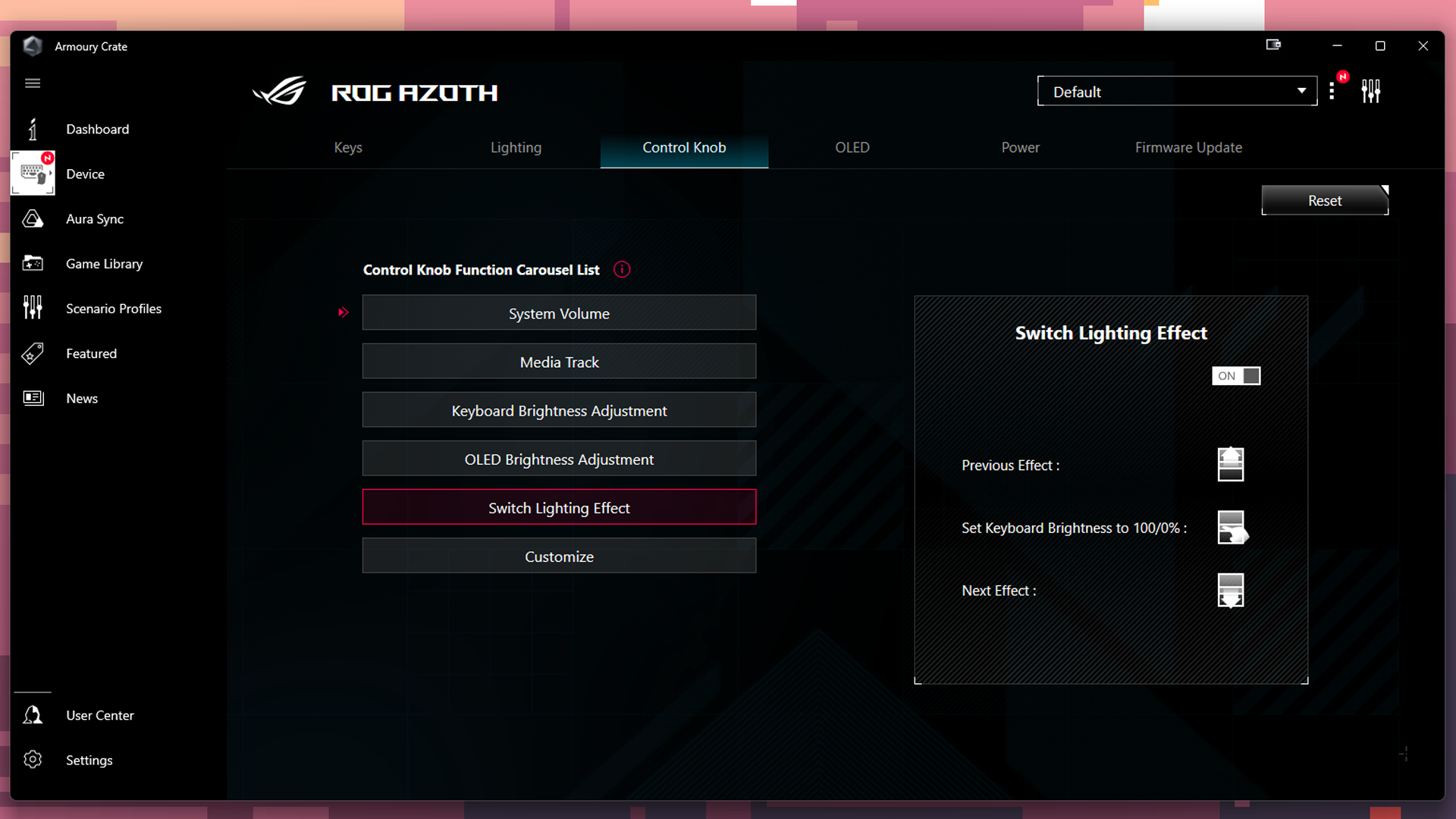 You can also use Armoury Crate to set up the control knob and customize the OLED screen on the Azoth. The control knob can be set up to cycle through a list of six functions: system volume, media track, keyboard brightness, OLED brightness, switch lighting effect, and a custom option you can program.
As for the OLED screen, you can customize it to display an image/animation (preset or custom), a custom text banner, media info (or an audio visualizer), or date/time/system info. I uploaded the first animation I found on my PC, which was this pop cat GIF.
Wireless Experience and Battery life of the ROG Azoth
The ROG Azoth has three forms of connectivity: 2.4 GHz wireless, Bluetooth, and wired (USB-C). Asus says the keyboard can get up to a whopping 2,000 hours of battery life over a 2.4GHz wireless connection — with the OLED screen and lighting turned off, of course.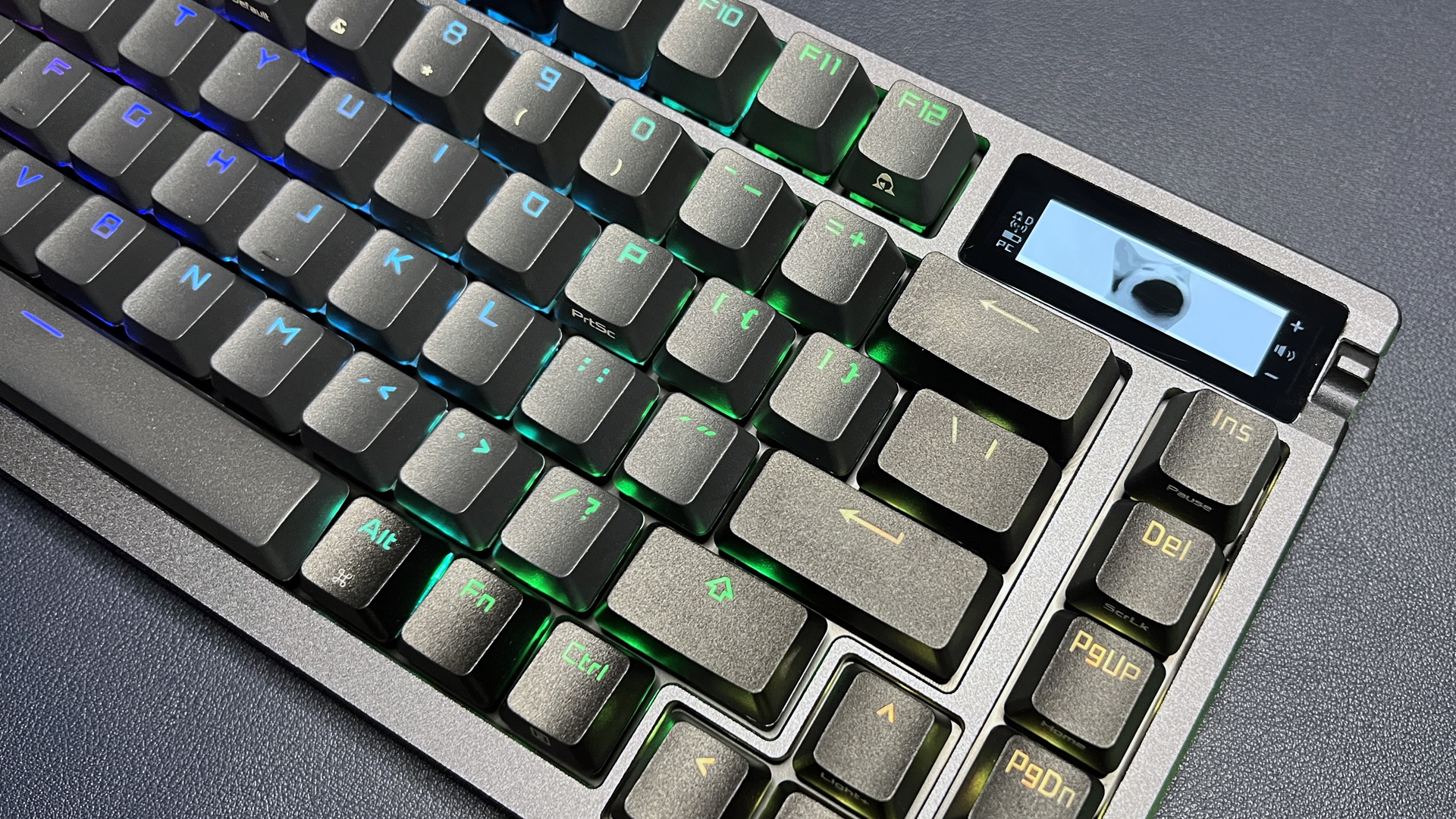 I've been using the Azoth for about 15 hours now since the last full charge, and according to Armoury Crate I still have almost 70% of my battery left. And this is with the RGB lighting at 75% brightness and a GIF of a cat popping its mouth open three times a second playing constantly — it's not 2,000 hours, but I'm definitely impressed.
The Bottom Line
The Asus ROG Azoth isn't cheap — its retail price of $250 puts it right at the top of the gaming keyboard market, alongside similarly-sized flagships such as the Logitech G915 TKL Wireless and the SteelSeries Apex Pro TKL Wireless. But in addition to low-latency wireless gaming prowess and impressively long battery life (even with all the bells and whistles pumped to the max), the Azoth also gives gamers a taste of the enthusiast side with hot-swappable switches, an exceptional typing experience, and a slew of accessories for fine-tuning sound and feel.
A wireless gaming keyboard with gamer-oriented features such as on-the-fly macro recording that also satisfies your inner typing enthusiast is surprisingly hard to find. And Asus doesn't just pull it off in the Azoth, it knocks it out of the park. The Azoth is an excellent piece of hardware — too bad Asus isn't similarly committed to revamping its software.
MORE: Best Gaming Keyboards
MORE: How to Pick Keycaps for Your Mechanical Keyboard
MORE: All Motherboard Content