The Elegoo Neptune 3 Max has all the latest features that we've started to expect in a modern 3D printer: direct drive, a flex plate, auto leveling, and a touch screen. It's also a beast of a machine with a 420 x 420 x 500mm build volume that's perfect for printing large props and costume pieces. At a price point of $470, the Neptune 3 Max is an excellent choice for cosplayers looking for a more expansive second printer without breaking the bank.
What it might break, however, is your table. The Neptune 3 Max is a gigantic 39 pound bed slinger requiring nearly a square meter of work surface. Because the build plate moves back and forth along the Y axis, you'll need 8 additional inches behind the machine and 5 inches in front, for a total of 39 inches (990mm).
The Neptune 3 Max is the latest in a series of upgraded Elegoo FDM printers, each one earning top marks for ease of use and reliability. This is by far one of our favorite printers and one we can easily recommend as one of the best 3D printers for prop makers and cosplayers.  
Specifications: Elegoo Neptune 3 Max
Swipe to scroll horizontally
| | |
| --- | --- |
| Build Volume | 420 x 420 x 500 mm (16.5 x16.5 x 19.7 inches) |
| Material | PLA/PETG/TPU/ABS (up to 260 degrees) |
| Extruder Type Bowden | Direct Drive |
| Nozzle .4mm MK8 | .4mm MK8 |
| Build Platform | PEI textured spring steel sheet, heated |
| Bed Leveling | Automatic, Inductive |
| Filament Runout Sensor | Yes |
| Connectivity | microSD card, USB Type A |
| Interface | Color touch screen, removable  |
| Machine Footprint | 658 x 632 x 740 mm (25.9 x 24.8 x 29.1 in) |
| Machine Weight | 17.7 KG (39 lbs) |
Elegoo Neptune 3 Max: Included in the Box
The Neptune 3 Max comes with everything you need to get your printer set up. You get tools to build and maintain the printer, side cutters, a plastic scraper, 2 spare nozzles, and a microSD card with a USB adapter. There's also a small sample of white PLA to print your first model. 
The microSD card has a very helpful short video on assembling the printer. You also get a PDF copy of the manual, a copy of Elegoo Cura and a sample model in both pre-sliced .gcode and .stl format.
Design of the Elegoo Neptune 3 Max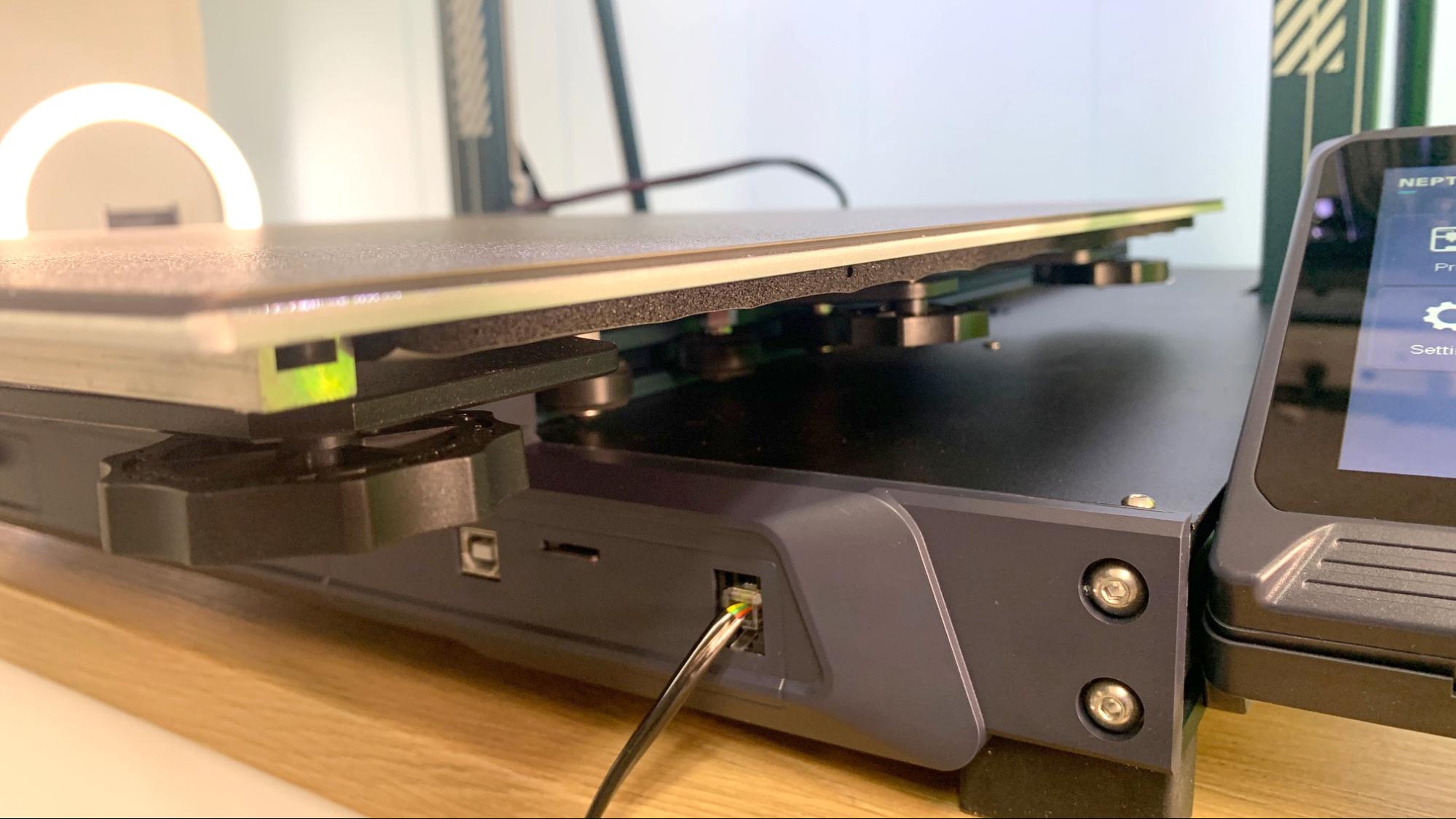 The Neptune 3 Max looks exactly like its two little siblings, just way, way bigger. Neptune's standard black frame has been swapped for gray aluminum with painted stripes and their new motto "Create the Future" stamped on the front.  
The Max also shares the exact same tool head of the Pro and Plus, which is a shame because this monster machine would really benefit from a high-flow hotend and Volcano style nozzle. There's nothing wrong with the dual gear direct drive that comes with this machine – it's actually very good on TPU – it's just a little underpowered for the user who bought a Max with images of Iron Man helmets dancing in their head. 
The power supply is underneath the bed, giving it a low center of gravity much needed for this towering beast. Dual Z rods keep the gantry steady and I didn't have any problem maxing out the 500mm build height. 
Let's talk about the elephant in the room, shall we? The Neptune 3 Max is huge. And it's a bed slinger. That means when you're looking for a spot to park it, you need to account for the back and forth motion of the bed – all 39 inches of it. This printer will not fit on a shelf built for an Ender and neither will it fit on a standard sized kitchen counter. Our test unit is currently sitting on an air hockey table in my rec room, next to the Anycubic Kobra Max.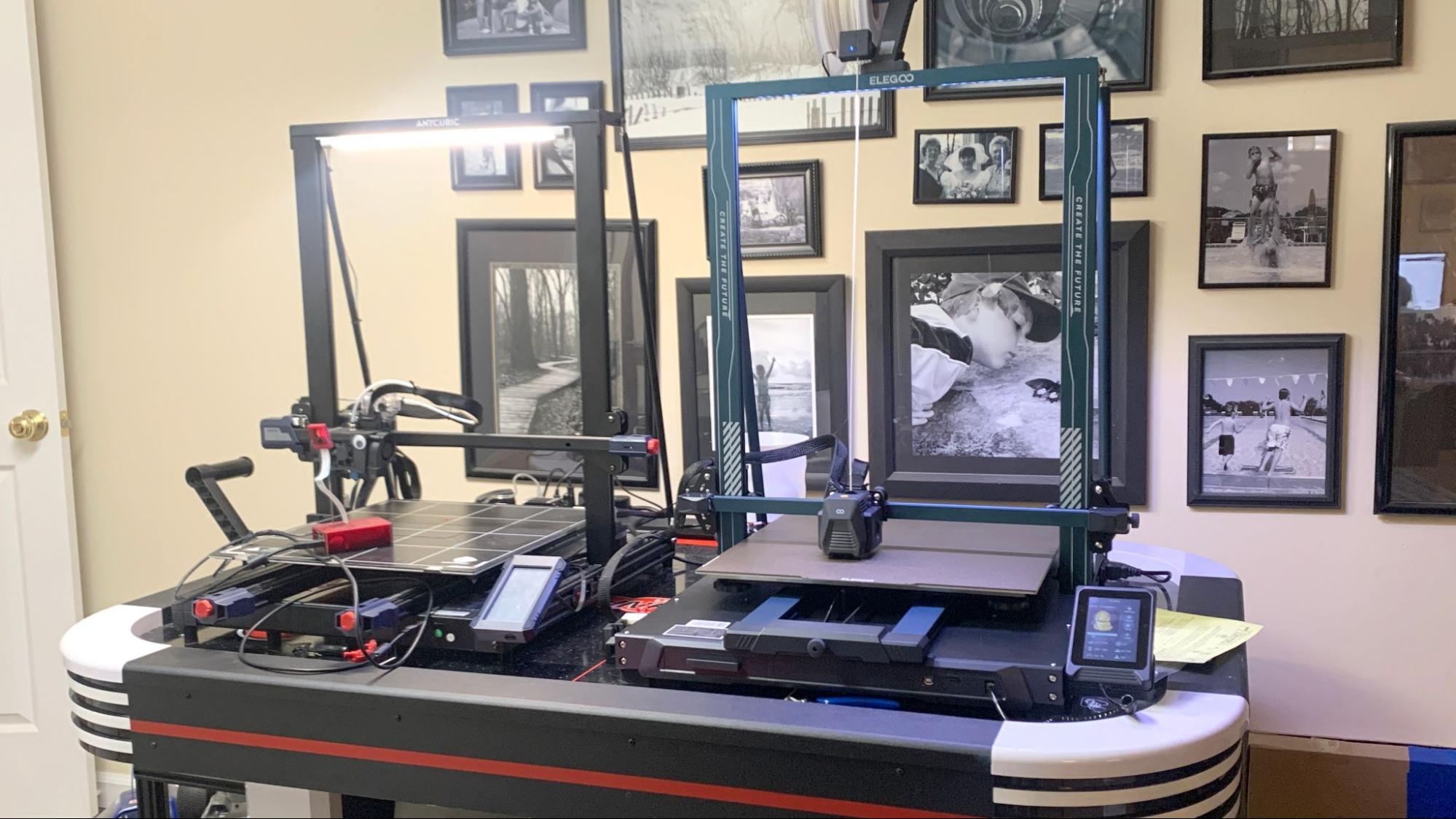 The Neptune 3 Max brings its own light to the party, so at least you don't have to worry about seeing your prints. The LED is tucked up inside the top gantry extrusion and is turned on and off through the control pad. It's a nice premium touch that I really appreciate.
The control pad is a hefty removable unit on a magnetic base, similar to the other Neptune 3s. I still haven't figured out why you need a removable control screen, but it's there if you need it. What's more important is the graphic menu is large and easy to understand. 
The Neptune 3 Max has an auto bed leveling system that uses an inductive probe to sense the metal surface of the flexible build plate. This is combined with a six, yes six point, manual leveling system to achieve perfect tramming.
The spool holder is mounted on top, just like the smaller machines, which makes the footprint a bit less wide than the Anycubic Kobra Max. It has a standard run out sensor at the top that does not interfere with loading TPU or any other filament.
Assembling the Elegoo Neptune 3 Max
The Neptune 3 Max comes mostly assembled, only needing a few bolts to put the machine together. The upper frame is attached to the base with 4 bolts that come up through the bottom. A diagonal rod braces the gantry and is screwed into the frame at both ends. The touch screen base screws into the side.
All the electrical connections are labeled – or extremely obvious where they need to go. 
The video included on the microSD card is helpful – and Elegoo was thoughtful enough to mention the video twice in the printer's documentation, so that users are aware of it.
Leveling the Elegoo Neptune 3 Max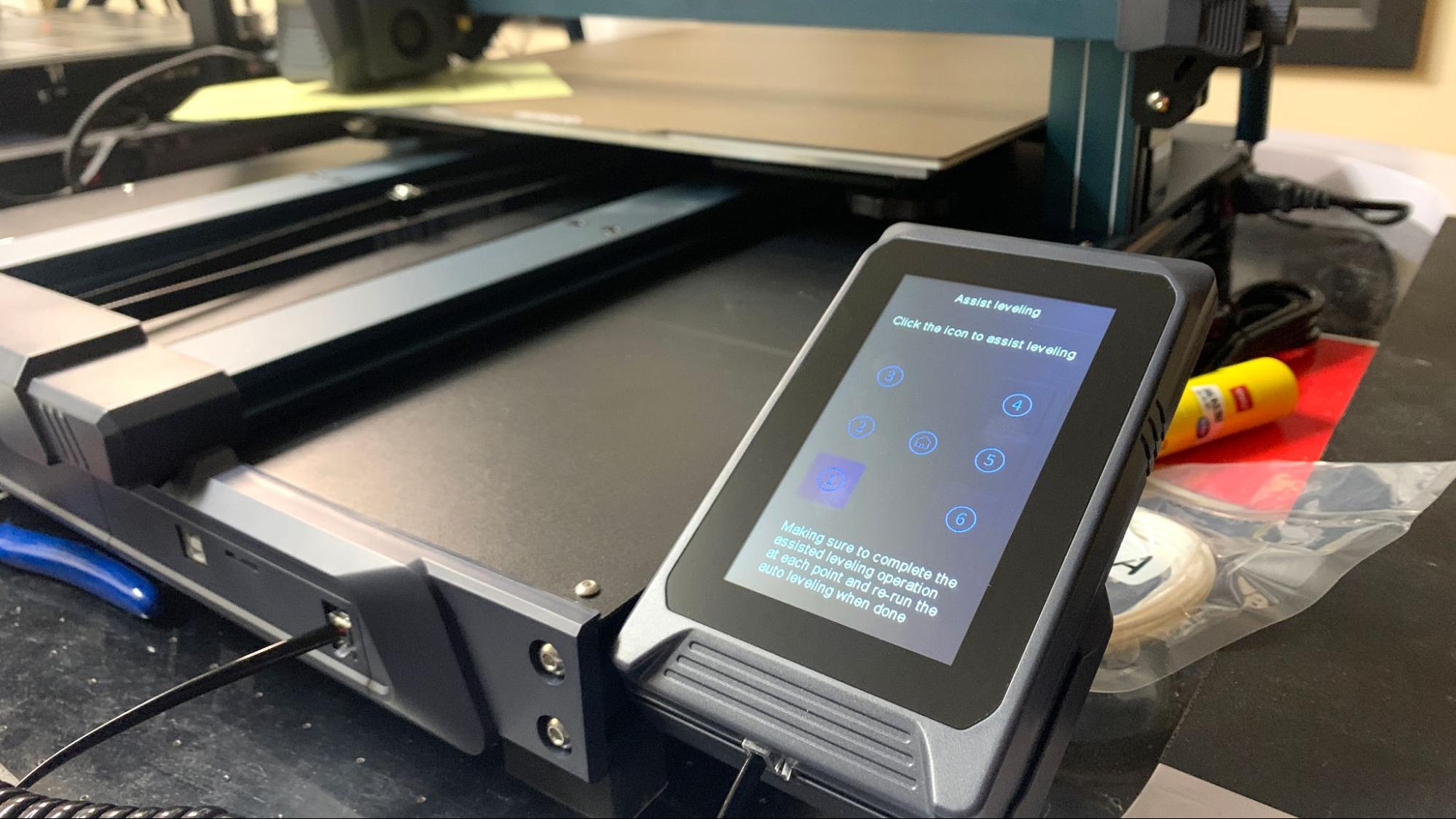 The Neptune 3 Max has an interesting six point manual leveling system, augmented with an inductive probe for a perfect level. To level – or tram – the surface you'll need to first manually level the plate. The extra two knobs makes the task more involved, but thankfully the screws are stiff enough to hold the plate in place for weeks. 
Once you have it manually leveled as best you can, select Level on the main menu and the printer will heat up to 140 degrees on the nozzle and 60 C on the bed. After it homes, it will tap 63 points across the bed.
It will then stop at the center of the bed and wait for you to double-check the Z height. Do this by placing a piece of ordinary paper under the nozzle and lowering or raising it with the buttons on the touch screen until the nozzle just scrapes the paper.
You can also fine tune the Z height from the print menu while running a print, however I didn't find this necessary.
Loading Filament on the Elegoo Neptune 3 Max
The Neptune 3 Max is a direct drive printer with its extruder and hotend all in one spot. To load filament, tap Prepare on the main menu, then Temperature and select the one of four presets that match your filament. Once the hotend is warmed past 190 degrees, you can insert the filament into the top of the extruder and let the wheels pull the filament through. 
To unload or change colors, simply reverse the process.
Preparing Files / Software for Elegoo Neptune 3 Max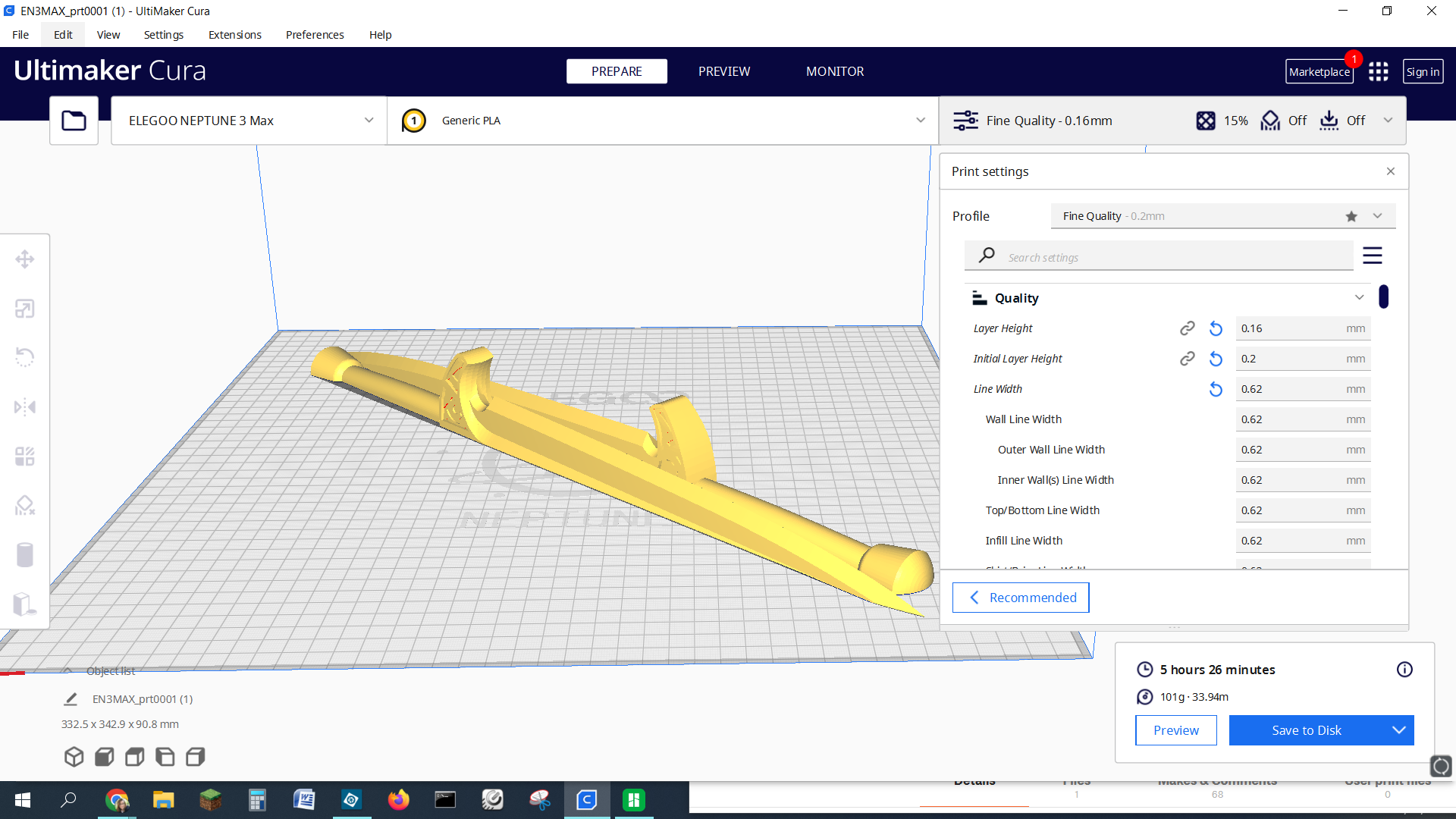 The Neptune 3 Max comes with a copy of Elegoo Cura, which has profiles for all of Elegoo's machines. It also has the built-in ability to create a thumbnail of your model to display on the printer's screen. The profiles are not yet been  included in standard Cura or Prusa Slicer, however, all of Elegoo's profiles have been posted on Github. YouTuber Bryan Vines has directions on how to install the files on Cura here. If you want to take advantage of Cura's more recent improvements, it's well worth the download.
Printing on the Elegoo Neptune 3 Max
The Neptune 3 Max printed wonderfully right out of the box, however, I was disappointed that it came with a standard .4 mm nozzle. This machine is purpose-built for large models and you can shave hours off your print time by simply switching to a larger nozzle. All the prints shown – accept the very first supplied test print – use a .6mm nozzle. 
My first print was the pre-sliced Buddha Elegoo provided on the microSD card (and the stock nozzle). I used the supplied sample PLA and it turned out very smooth. The sample PLA was only enough to print one test file, so you'll definitely want to order a few rolls of filament right away. Check out our guide to the best filaments for 3D printing for examples of our favorite materials to add to your supply.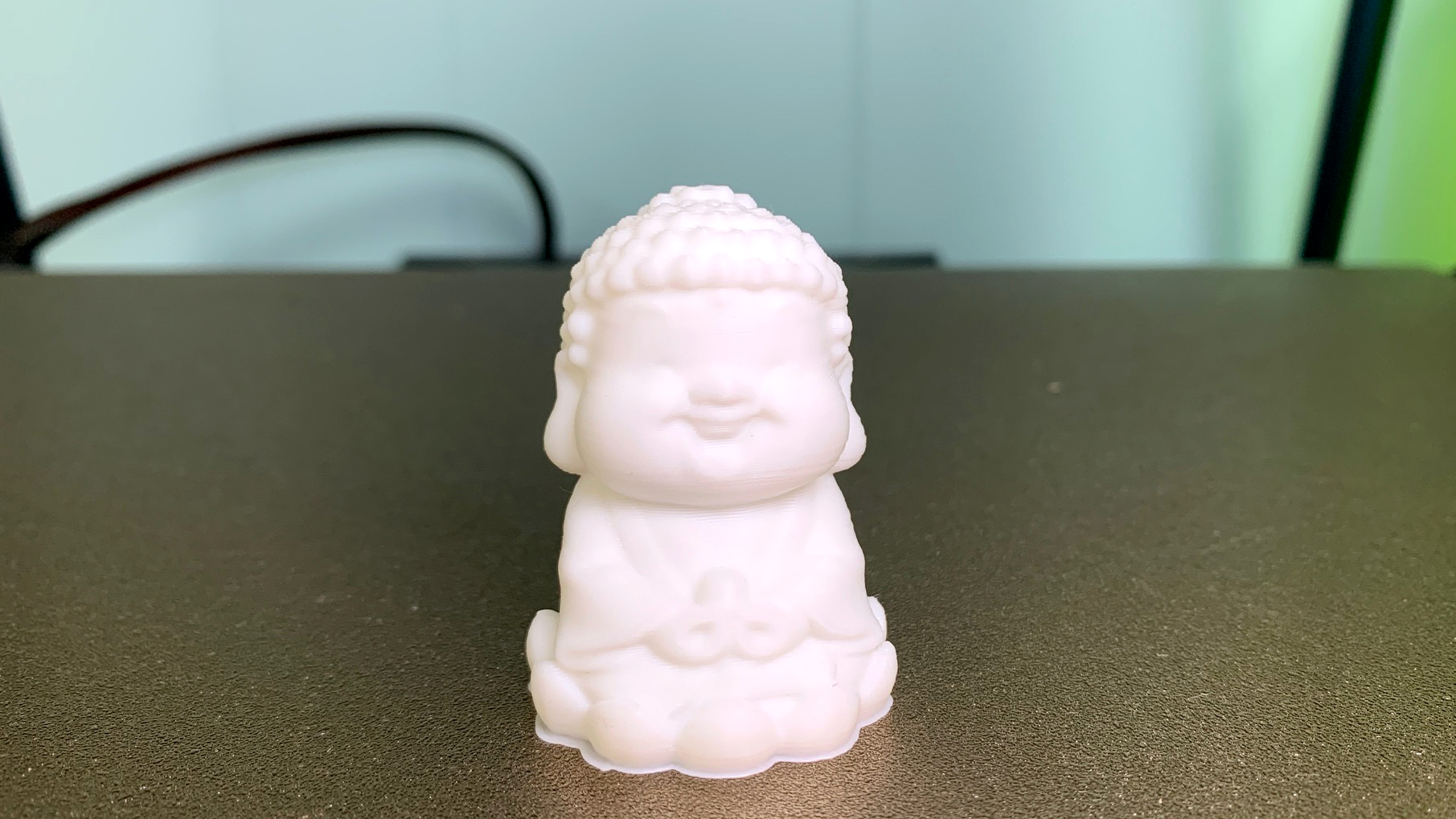 This printer is an obvious choice for cosplayers wanting to print costume pieces and props. But can it print a sword? Not in one piece – but I did print a really nice Skyrim dagger by splitting it down the middle length wise. The model is 450mm (17.7 inches) long and needed to be rotated diagonally on the build plate to fit. The two pieces were reunited with the help of 3D Gloop, (opens in new tab) an adhesive made for PLA that melts the plastics together for a lasting bond. Please note that the print is rough from the seam and would need a little sanding and paint to properly finish it off.
This was printed in Inland Silver PLA+ (opens in new tab), using a .16mm layer height for smoother details. I also turned on Cura's experimental "make overhangs printable" which flared out a few details on the hilt so that supports would not be needed. This took 7 hours and 14 minutes to print at a 65mm/s speed.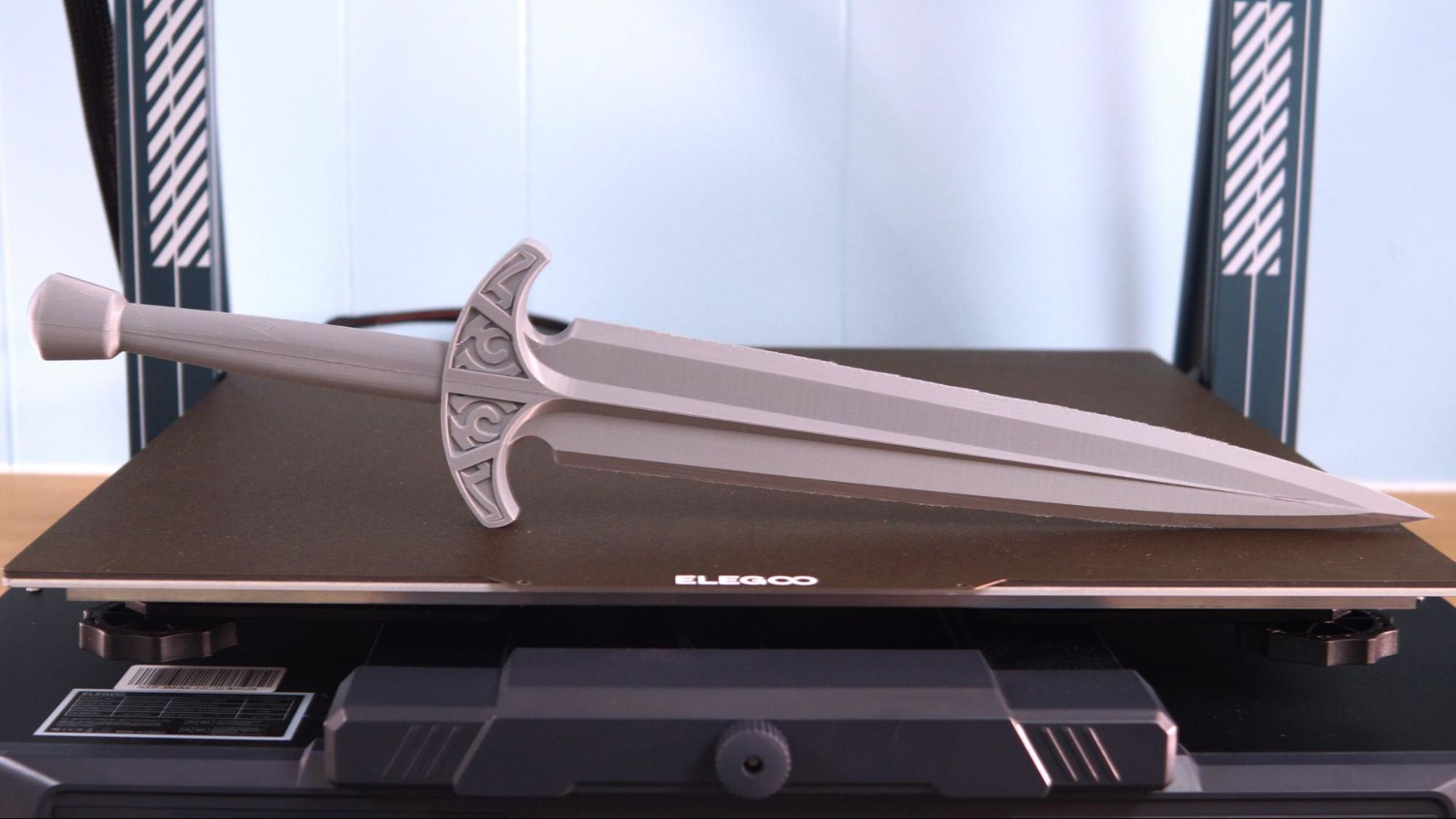 Here's a great example of a large print done in PLA: Fotis Mint's Miles Morales Spiderman. Because the print is blown up to 200% there's no noticeable loss in detail while using the .6mm nozzle. There is a little under extrusion along the chest which may improve with a warmer nozzle temperature or slower speed.
The bust and stand printed separately, both using a .2mm layer height, 15% lightning infill and 150mm/s speed and took 24 hours, 16 min altogether to print, a savings of 6 hours compared to similar settings with a .4mm nozzle. I printed it in Galaxy Black PLA (opens in new tab) from Prusament.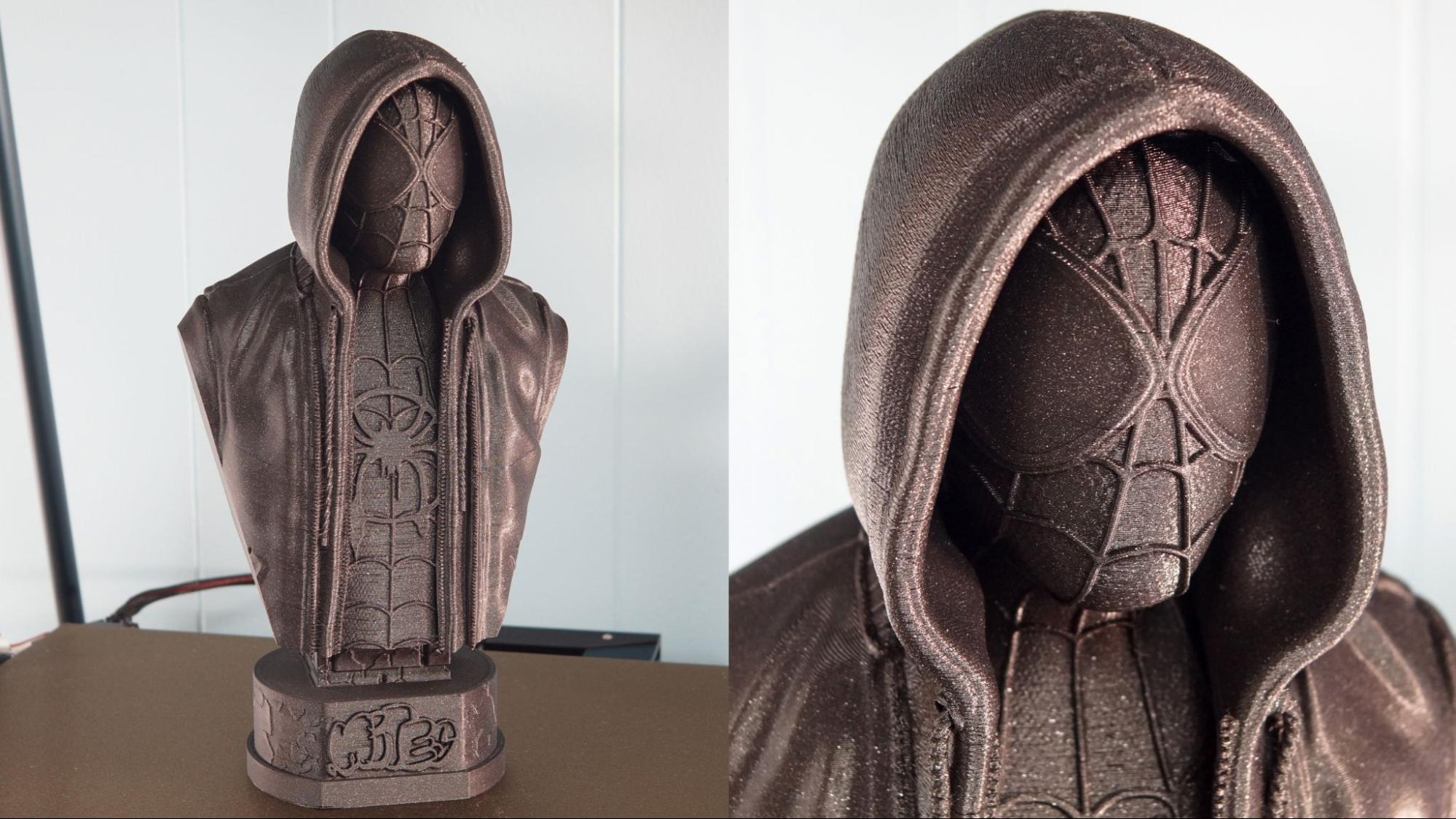 To test the full build height, I maxed out this classic Aria the Dragon to 500mm and ran it in PETG. The Neptune 3 Max has a textured PEI sheet, so you don't need glue stick to avoid damaging the plate, and the PETG released on its own once it was cool. 
I experimented with lightning infill, which only puts infill where it's needed– in this case, at the top of the pillar and the horizontal vanes on the wings. This left the dragon largely hollow, which looks really great with transparent filament. I used a brim and .2mm Z hop for extra stability, as my first attempt without brim failed at the top most inch of the print when it got too wobbly. This print took 18 hours and 14 minutes with a .28 layer height, 6mm nozzle and 60mm/s speed. The filament is GreenGate3D recycled PETG in Translucent Purple.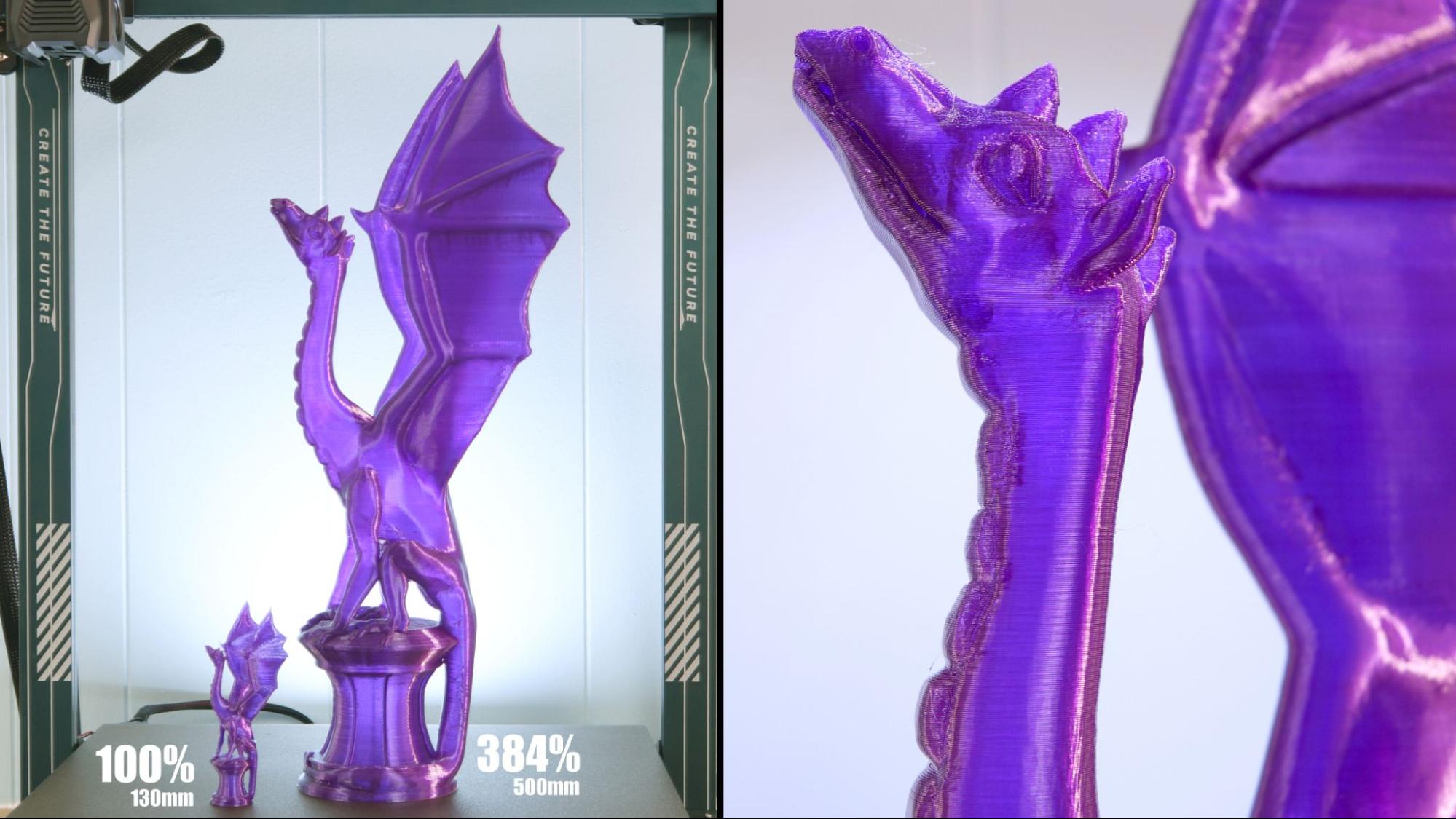 For TPU testing, I printed a vase mode trash can, because why not? The Neptune 3 Max can certainly create large practical prints with its generous build volume. This printed fantastically in Matterhackers Build Series Translucent Green TPU (opens in new tab), using a .6mm nozzle, .28 layer height and vase mode. It took 14 hours and 22 minutes to print. The white marks are reflections from the lights.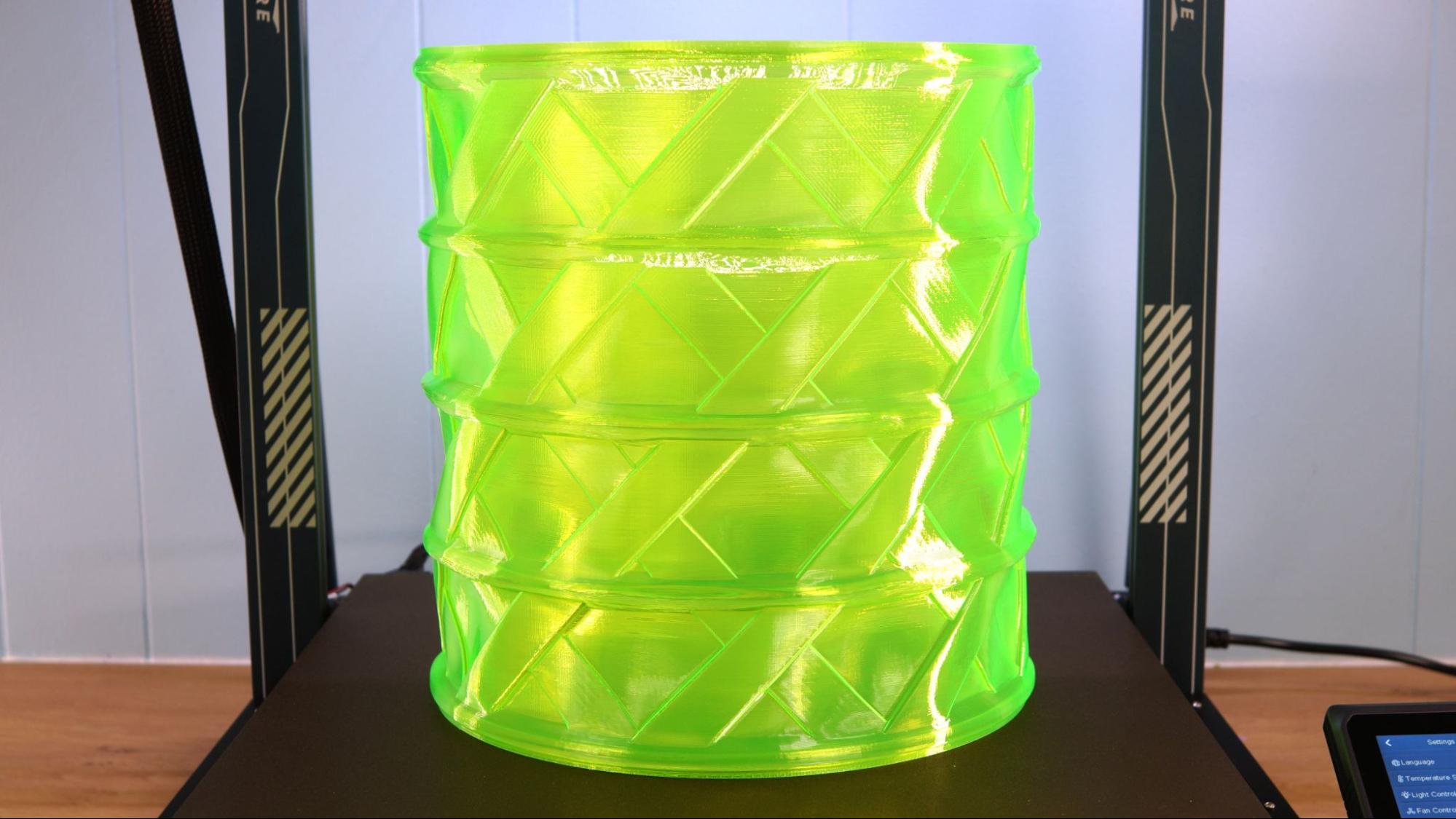 Bottom Line
The Neptune 3 Max is a beast of a machine that should be on every cosplayer's and prop maker's wish list. It's as easy to use as the smaller Neptune 3 Pro, but needs a considerable amount of table space to set up.
The extra set of leveling knobs combined with auto bed leveling ensures that even the biggest first layer can go down smoothly. It can handle extremely tall prints if you take a little caution – a brim and slower speed kept prints from wobbling into disaster. Best of all, we really liked the PEI flex plate which makes removing prints simple and doesn't need a protective layer of glue stick before running PETG.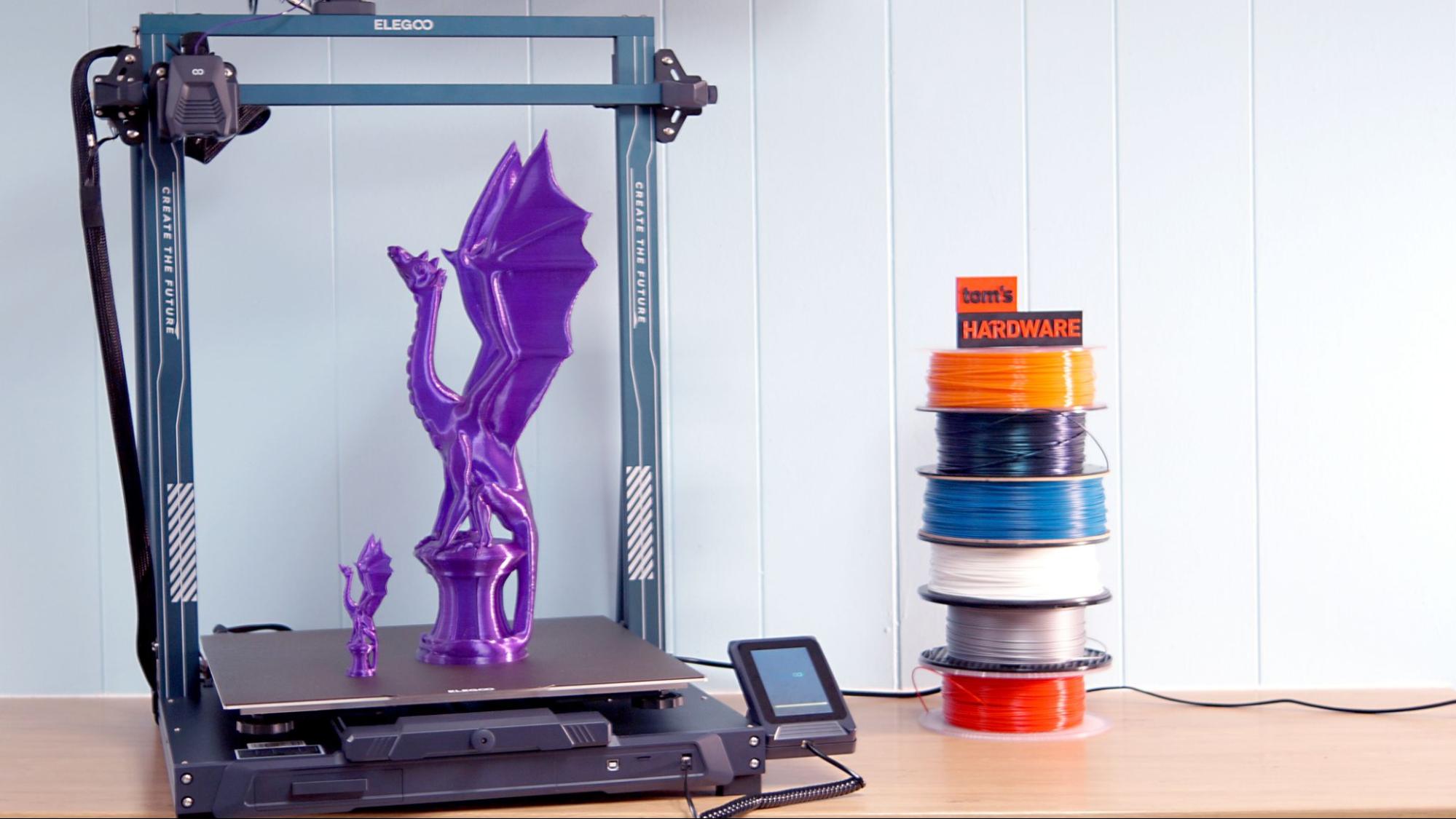 The Neptune 3 Max has the deluxe features we're coming to expect in a modern 3D printer: a direct drive, flex plate, auto leveling and touch screen at a reasonable price point for the size. Retailing at $470, the Neptune 3 Max would make a good second machine for someone who feels restricted by the average build plate.
If you don't have the space for a massive 3D printer, but still need a little more elbow room, check out the Elegoo Neptune 3 Plus, which has a 320mm x 320mm x 400mm build volume for $350. If you prefer a glass plate, then Anycubic Kobra Max, priced at $529, is a worthwhile super-sized machine.
MORE: Best 3D Printers
MORE: Best Resin 3D Printers