Microsoft has admitted that it has erroneously been offering Windows 11 updates on ineligible devices. The software and devices maker's newest OS has a long way to go to catch up with Windows 10, so it is keeping the pressure on with promotions, ads, and upgrade offers. However, in its efforts to boost Windows 11 adoption, it seems that Microsoft has been mistakenly dangling the upgrade carrot in front of owners of ineligible systems. Thankfully, Microsoft's above described Windows 11 upgrade offer issue has now been fixed.
"Some hardware ineligible Windows 10 and Windows 11, version 21H2 devices were offered an inaccurate upgrade to Windows 11," wrote Microsoft in the most recent update to its known issues and notifications (opens in new tab) portal. "These ineligible devices did not meet the minimum requirements to run Windows 11. Devices that experienced this issue were not able to complete the upgrade installation process."
Affected systems were running Windows 10, version 22H2; Windows 11, version 21H2; Windows 10, version 21H2; and Windows 10, version 20H2. Microsoft says it first became aware of this upgrades issue on Thursday, and pats itself on the back for putting a sticking plaster on this self-inflicted wound "on the same day."
Breaking down a user's will enough that they submit to the Windows 11 upgrade process, then snatching it away, isn't ideal. Moreover, this process could have wasted some considerable time for end users, chaperoning them through the upgrade process only for it to be unable to complete. We don't know exactly how far the upgrade process progressed before it was halted, and whether the previous installations were in any way impacted, potentially causing even greater inconvenience. However, one Windows user reported that the sizable updater files started downloading in preparation for installation.
According to the latest StatCounter figures measuring website visitors worldwide, Windows 11 users account for approximately 18% of desktop Windows users. Windows 10 users make up 69% of users, and some people are still holding tightly to Windows 7 ( 9.5%), but hardly anyone now uses Windows 8.X or Windows XP and is active on sites StatCounter monitors. Pondering over the StatCounter chart for the last year it looks like the point where Windows 11 eventually passes 10 is still a long way off.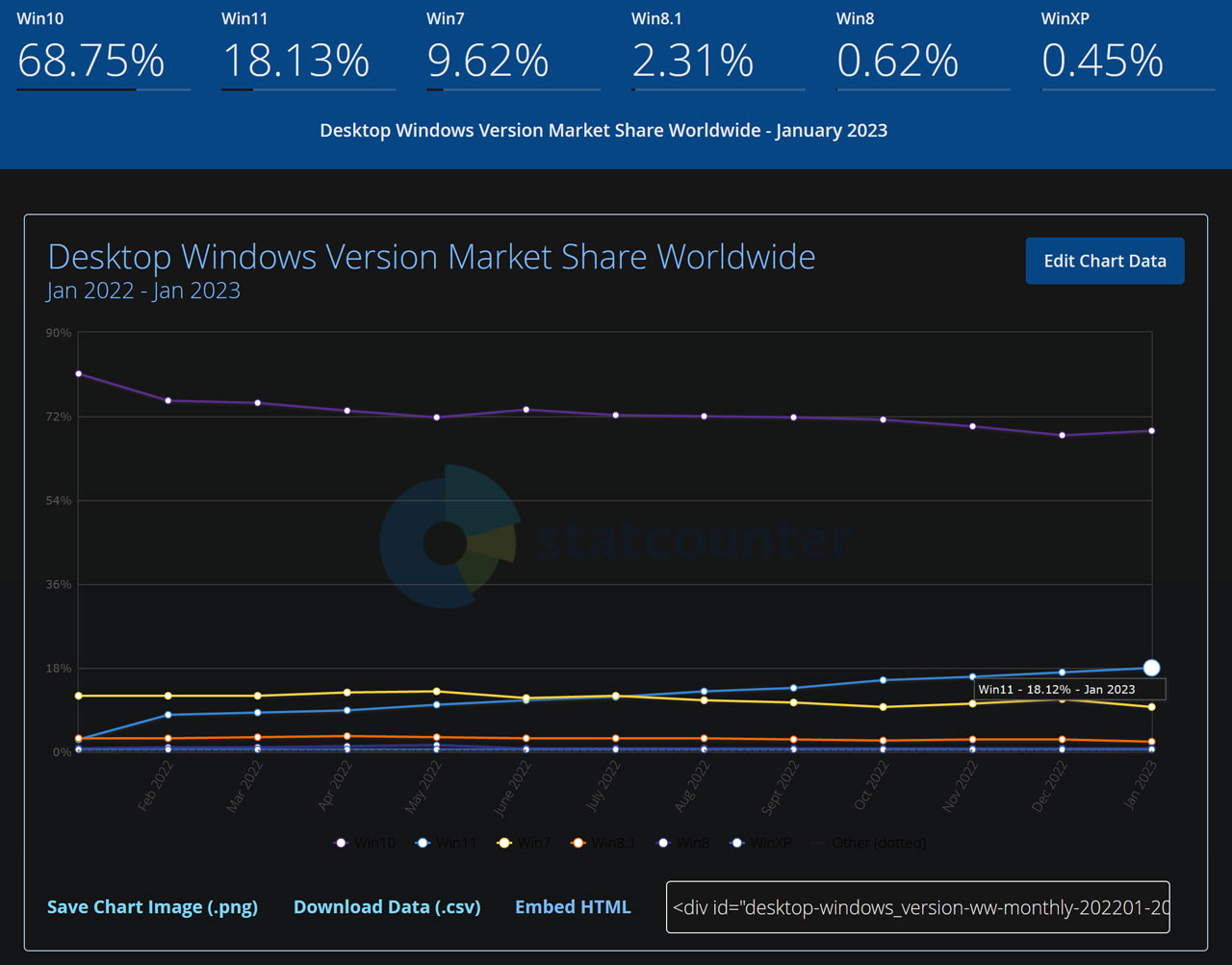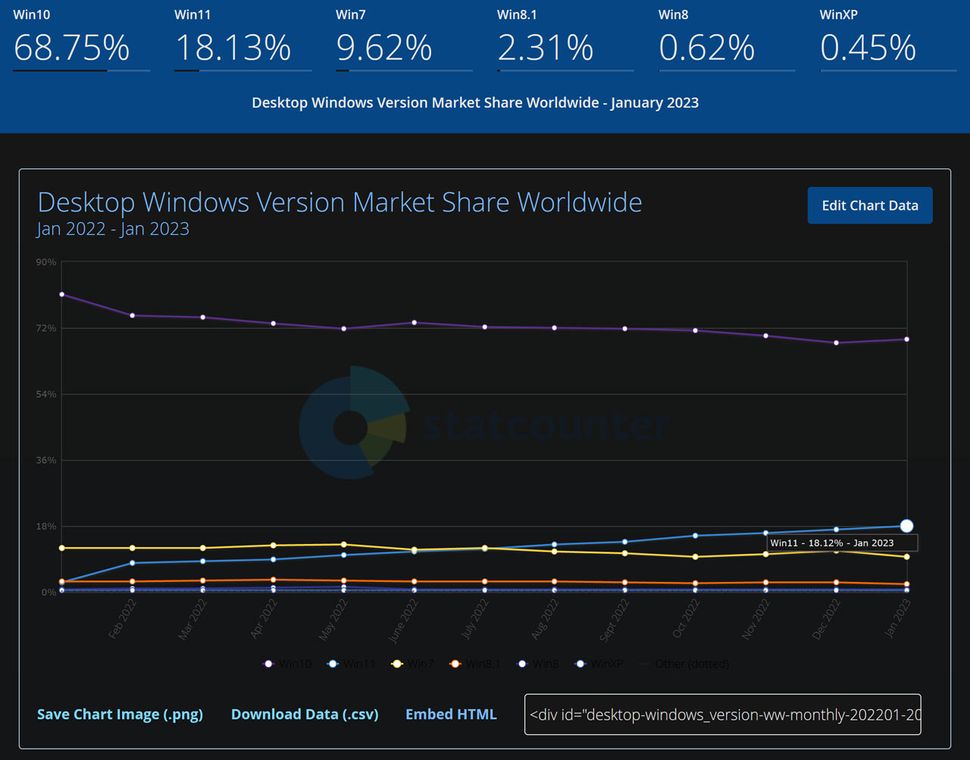 Microsoft must hope that compelling new devices with Windows 11 preinstalled and the end of support for Windows 10 Home and Pro in October 2025 will accelerate the changing of the guard. Windows 11 might have got off to a rocky start but it gained some important tweaks in December, when it was reported its gaming performance issues had at last fully been addressed.
In other recent Windows 11 news, we reported that the OS is soon going to get a proper search box on the taskbar. However, Microsoft was again ruffling feathers with its decision to show watermarks on systems running Windows 11 despite not meeting all the hardware requirements.