For every gaming PC with a massive case or a spaceship-inspired design, there's something a bit more subtle. In some ways the Lenovo Legion Tower 7i ($3,349.99) follows the lead of office mid-towers with a gray, boxy design. But it also emulates some of the best gaming PCs with bog standard parts and plenty of options for upgradeability.
Powering the Tower, in the only configuration as of this writing, is an Intel Core i9-13900KF and an Nvidia GeForce RTX 4080, which proved to be a powerful combination at both 1080p and 4K in our gaming tests.
The Legion is worthy of consideration for anyone willing to drop $3,000 on a pre-built PC.  here are some issues with RAM speed to address, though they didn't seem to affect gaming performance too much in our experience.
Design of the Lenovo Legion Tower 7i (Gen 8)
The Legion Tower 7i is a bit of a mashup between an office desktop, a gaming rig and maybe even the Mac Pro. The most striking feature, for better or worse, is a large, cheese grater-style design, but with squares rather than circles. If you like that on the Mac Pro, maybe you'll like it here, but it's less polished here. The front also has an RGB Legion logo, turned vertically.
Lenovo's 34-liter chassis is largely a gray (sorry, "storm" gray) box. I'm OK with that — PC gamers are used to utilitarian chassis that are largely designed to house their parts. I do think that Lenovo could zhuzh it up a bit, though. While some of it is metal, large amounts of it are plastic, and that doesn't look or feel premium.
The top of the box has a cutout to allow airflow in or out of the chassis (Lenovo has two exhaust fans up there). I wish that there was a dust filter built into that top part, or even just a cheap reusable one. The dust filters at the front and the top should have some tighter tolerances.
There's a glass side panel on the left side of the Legion, letting you see your parts and any RGB effects you've got going. On our unit, the GPU, water cooler pump and fans all lit up, and there's a white light strip above the glass door to provide some brightness. I liked turning the light strip off, which brought out more of the colors. 
You can change the settings in Lenovo Vantage (though I had to wait for the software to update the first time around), but it doesn't yet control the RGB on the GPU, which is stuck in a rainbow pattern (this messed up the all-green look I was going for). Lenovo says more lighting effects will be available when its Legion Spectrum software releases later in 2023. (There are also lighting options in the BIOS, but that also doesn't feature GPU effects as of this writing.)
At 19.37 x 18.27 x 8.31 inches, I imagine the Legion Tower 7i is just big enough that most people will keep it on the floor under a desk. It's not quite as big as other recent RTX 40-series desktops we've reviewed, like the Alienware Aurora R15 (20.8 x 20.1 x 8.86 inches) and the MSI Infinite RS 13th (23.03 x 10.12 x 21.14 inches).
Specifications on the Lenovo Legion Tower 7i (Gen 8)
Swipe to scroll horizontally
| | |
| --- | --- |
| Processor | Intel Core i9-13900KF |
| Motherboard | Lenovo 376A (Intel Z790, ATX) |
| Memory | 32GB DDR5-4400 |
| Graphics | OEM GeForce RTX 4080 (16GB GDDR6X,  2,505 MHz boost clock) |
| Storage | 1TB Samsung PM9A1 PCIe Gen 4 x4 SSD |
| Networking | Intel Wi-Fi 6E AX211, Bluetooth 5.3  |
| Front Ports | 2x USB 2.0 Type-A, 2 USB 3.2 Gen 1 Type-A, headphone jack, microphone jack |
| Rear Ports (Motherboard) | 2x USB 2.0 Type-A, 4x USB 3.2 Gen 1 Type-A, USB 3.2 Gen 2 Type-C, USB 3.2 Gen 2 Type-A, Audio ports with SPDIF, Ethernet |
| Video Output (GPU) | 3x DisplayPort, 1x HDMI |
| Power Supply | 850W, Fully modular |
| Cooling | AIO CPU cooler with 360mm radiator, 3x 120 mm case fans |
| Operating System | Windows 11 Home |
| Dimensions | 19.37 x 18.27 x  8.31 inches / 492 x 464 x 211 mm |
| Price as Configured | $3,349.99 |
Ports and Upgradeability on the Lenovo Legion Tower 7i 
Lenovo has four USB ports on the top of the Legion Tower: two USB 2.0 Type-A ports, and two newer USB 3.2 Gen 1 Type-A ports. Personally, I would have liked to see a Type-C port as well, but four is more than I see on many prebuilt. There are also separate ports for headphones and a microphone.
On the back of Lenovo's motherboard, there are two USB 2.0 Type-A ports. four USB 3.2 Gen 1 Type-A ports, a single USB 3.2 Gen 2 Type-A port and USB 3.2 Gen 2 Type-C port. That's a decent amount of connectivity. There's also an Ethernet jack and audio ports, including SPDIF.
If you want to add or replace parts, getting into the Legion is pretty easy. The left panel is held on by two thumb screws that are captive in the glass door, and the right back panel comes off in a similar fashion.
From here, the world is your oyster. Sure, you can get to the RAM, the cooling and the three-slot-thick Nvidia GeForce RTX 4080 (maybe Lenovo should include a support for it). But it also appears that Lenovo is using a standard ATX motherboard here, suggesting it could be replaced and that you could continue to use this case down the line. Everything here seems to be industry standard, and some of Lenovo's rivals (looking at you, Dell) could learn from this.
The motherboard has four m.2 slots. In ours, two were taken up: one with the Wi-Fi card and one with a 1TB SSD. The other two are yours to add to later.
Cable management is decent, considering Lenovo is dealing with Nvidia's 12VHPWR adapter. There may have been some cases where I would have tried to jam more cases through the back of the system, though Lenovo has pushed the grommets in the system to their limit here. One's rubber coating was slipping off out of the box. But whoever built this system took full advantage of the case's mounting points for cable ties. The PSU is covered by a shroud, so you can only see all of the extra cables there from the back.
The back of the case also offers more room for storage upgrades, including a hard drive caddy and a pair of mounting points for 2.5-inch SATA SSDs or HDDs.
On the rear of the system, there are two vertical PCIe slots covers, suggesting that someone with a modding hobby (or at least a PCIe extension cable) could mount a two-slot GPU vertically in this case.
Gaming and Graphics on the Lenovo Legion Tower 7i (Gen 8)
Configured with an Nvidia GeForce RTX 4080 and an Intel Core i9-13900KF, the Lenovo Legion Tower 7i can power through many games at their highest settings and at 4K resolution. At 1080p, which uses the CPU more, it sometimes ends up on par with systems with the more powerful RTX 4090.
The Tower 7i can handle Control (which continues to be a punishing game after all these years)  at its best, albeit not at 60 fps. At 4K on the high graphics preset and high ray-tracing settings, the game ran at around 50 frames per second while fighting to cleanse an object of power, and at a near constant 80 fps in the Astral Plane (but these sections are short, few and have all-white backgrounds) and at as low as 40 fps in intense combat sequences with tons of effects (which are far more common).
On the Shadow of the Tomb Raider benchmark (highest preset), the Legion achieved 236 fps at 1080p and 93 fps at 4K. That's less than the RTX 4090-toting Alienware and MSI, but the difference was far larger at 4K. The Lenovo also showed off strong generational improvements over the iBuypower Revolt 3, which we tested with an RTX 3080.
Grand Theft Auto V's benchmark produced interesting results. At very high settings and 1080p resolution, the Legion, MSI Infinite and Alienware Aurora all hit the same 186 fps, even though the latter competitors have a more powerful RTX 4090. That's partially because Grand Theft Auto V has always been notoriously CPU bound, and that's almost always the case at lower resolutions. It might also suggest that today's top-end cards are hitting some sort of limit for the game. At 4K, the Legion hit 57 fps, falling behind the 4090 desktops, and only a single frame ahead of the iBuypower.
We saw a similar pattern on Far Cry 6's benchmark at ultra presets. At 1080p, the Legion tied the Alienware at 127 fps (which had slightly surpassed the MSI) at 4K, but fell behind in 4K, at 92 fps. (We weren't running this benchmark when we tested the iBuypower, so it's excluded from the chart.)
The RTX 4090-based systems took a clear lead in Red Dead Redemption 2. While the Lenovo Legion hit a respectable 166 fps at 1080p and 57 fps at 4K on medium settings, the MSI and Alienware surpassed it by more than 20 fps in each resolution.
On the Borderlands 3 benchmark's "badass" preset, the Legion Tower achieved 228 fps at 1080p and 92 fps at 4K, falling behind the MSI (258 fps at 1080p /129 fps at 4K) and Aurora (263  fps at 1080p/128 fps at 4K)
We stress systems by running Metro Exodus at its RTX preset for 15 runs, which lasts roughly half an hour. The Tower 7i hit an average of 119.12 fps and was fairly constant from run to run. The Core i9-13900KF's performance cores ran at an average of 5.3 GHz and the efficiency cores ran at an average of 4.3 GHz. The CPU measured an average of 58.24 degrees Celsius. The GPU ran at an average of 2,529.89 MHz and measured 54.25 degrees Celsius.
Productivity Performance on the Lenovo Legion Tower 7i (Gen 8)
When you're not gaming on your PC, the Legion Tower 7i should be plenty competent as a workhorse thanks to its Intel Core i7-13900KF and 32GB of RAM, as well as a 1TB SSD. Lenovo states that the Legion Tower 7i has DDR5-5600 RAM, and yes, there are two 16GB DIMMS that meet that specification. 
But in our review unit, those DIMMs didn't run at those speeds, but rather at 4,400 MHz. Lenovo claims that "there are limitations that the chipset inherently has depending on the number of modules [that] are installed. Essentially, the clock speeds are automatically restricted to lower values when leveraging dual and quad channel memory setups."  That's not an issue we've seen with other systems running two DIMMs, but Lenovo did recreate it on their end.
On Geekbench 5, the Legion Tower 7i was within a point or two of the MSI infinite RS and the Alienware Aurora R15 on the single-core test at 2,178. The Legion achieved a multi-core score of 22,275, ever so slightly behind the Aurora 15 and trailing the Alienware.
The Legion we tested came with a 1TB Samsung PM9A1 PCIe Gen 4 x4 SSD, which transferred 25GB of files at a rate of 1,152.26 MBps. That's slower than both the MSI and Alienware, though it's far better than the iBuypower from last year.
The Legion took the top rank in Handbrake, converting a 4K video to 1080p in 2 minutes and 18 seconds, faster than anything else in the field.
Keyboard and Mouse with the Lenovo Legion Tower 7i (Gen 8)
If you don't already own a keyboard and mouse, the pack-ins that come with the Legion Tower should get you started. Once you're started, you should invest in a different keyboard and mouse.
The pack-ins are office-grade plastic, not suitable for gaming. The membrane keyboard is soft and squishy, and the wired mouse, while fine for general browsing, isn't comfortable enough for long gaming sessions. It's one thing if these come with a cheap system, which will let someone on a tight budget get by while they save up for their next splurge, but even the cheapest gaming gear you can find would be an improvement, especially when you're spending over $3,000 on the rig itself. Check out our lists of the best gaming keyboards and best gaming mice.
Software and Warranty on the Lenovo Legion Tower 7i (Gen 8)
Lenovo has been expanding its software footprint on all of its devices, including Legion, for better or worse. Lenovo Vantage is still the primary app, showing CPU and GPU usage, overclocking options and letting you change your lighting. Now a separate piece of software, called Arena, acts as a library to store all of your games from across different launchers. There's also Lenovo Welcome, which tries to sell you upgraded support services, download partner apps and add a desktop shortcut to Lenovo's own Legion Game Shop, which overall feels like more of an ad than a useful piece of software.
Steelseries' Nahimic is the on-bpoard software to adjust audio, which is useful. The only other piece of third-party software is a trial of McAfee LiveSafe.
Unfortunately, Lenovo has put some bookmarks in the Edge browser (a growing practice from a number of manufacturers these days) with links to Lenovo's website, its support site, and McAfee.
Windows 11, of course, still has links to some bloat, which will download apps like WhatsApp, TikTok, Spotify, ESPN or Instagram if you click them in the Start menu.
Lenovo sells the Legion Tower 7i (Gen 8) with a one-year warranty that can be upgraded for an additional cost. Lenovo bundles its "ultimate support" for Legion with this desktop, including 24/7 availability through phone, chat and email, next business day support onsite and support for hardware, software and accessories.
Lenovo Legion Tower 7i (Gen 8) Configurations
We tested the Lenovo Legion Tower 7i (Gen 8) with an Intel Core i9-13900KF, 32GB of DDR5 RAM, an Nvidia GeForce RTX 4080 and a 1TB PCIe SSD. At the moment, this is the only configuration that Lenovo offers, with a $3,349.99 price tag.
As of this writing, many other retailers are still selling older generation Legion Towers with older Intel CPUs, though some have the latest Nvidia graphics.
Bottom Line
The Lenovo Legion Tower 7i is a capable gaming machine with plenty of upgrade possibilities down the line. The RTX 4080 is capable of playing games at 4K, and the motherboard's swatch of m.2 slots mean there's a ton of room to add storage.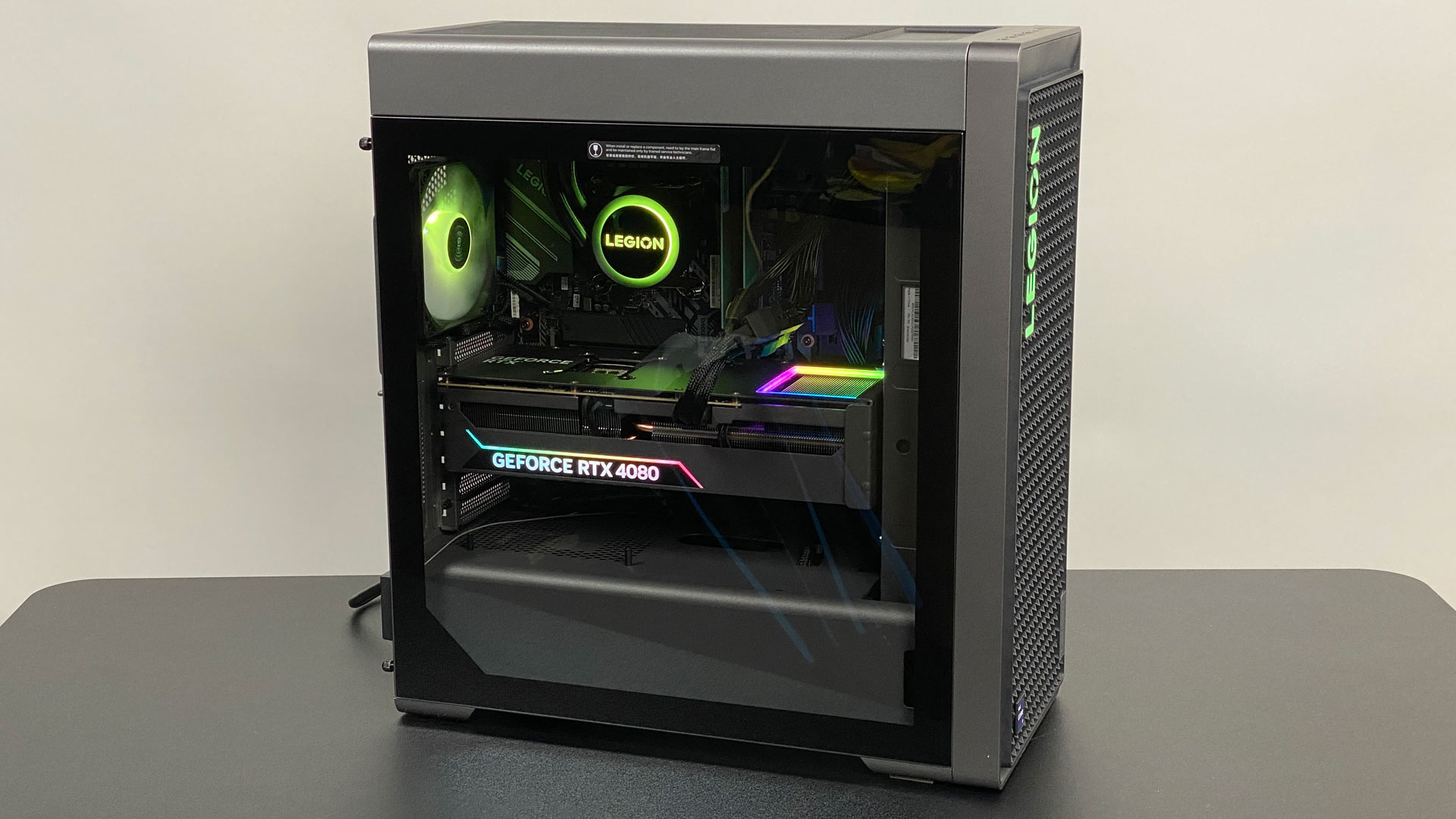 As of this writing, the Core i9-13900KF/RTX 4080 is the only configuration of the machine that Lenovo is selling. Those who need the power of the RTX 4090 (and willing to pay the price for it) in a prebuilt will need to go to other vendors, like Alienware or MSI.
While Lenovo is leaning harder on preinstalled software than it used to, I'm happy to see a standard case with standard parts here. There's plenty of options to make this PC your own for years to come.
MORE: Best Gaming Laptops
MORE: Best PC Builds