Major PC tech YouTube channel Linus Tech Tips has been hacked and is unavailable at the time of publishing. From the events that have unfolded, it looks like hackers gained access to the YouTube creator dashboard for various LTT channels. After publishing some scam videos and streams, control of the account was regained by the rightful owners, only to fall again to the hackers. Now the channels are all throwing up 404 pages.
Hackers who took over the LTT main channel, as well as associated channels such as Tech Quickie, Tech Linked and perhaps others, were obviously motivated by the opportunity to milk cash from over 15 million subscribers.
Among the spammy videos the hackers quickly started to stream, were promotions for Bitcoin giveaways seemingly backed by the likes of Elon Musk and Tesla. The Bitcoin giveaway scam appeared to be phishing for people to reveal their crypto wallet details, reassured by a big brand like LTT and Tesla. You can see in the images that the channel names and logos were also edited by hackers, changing channels to 'Tesla' or 'LinusTechTipsTemp'.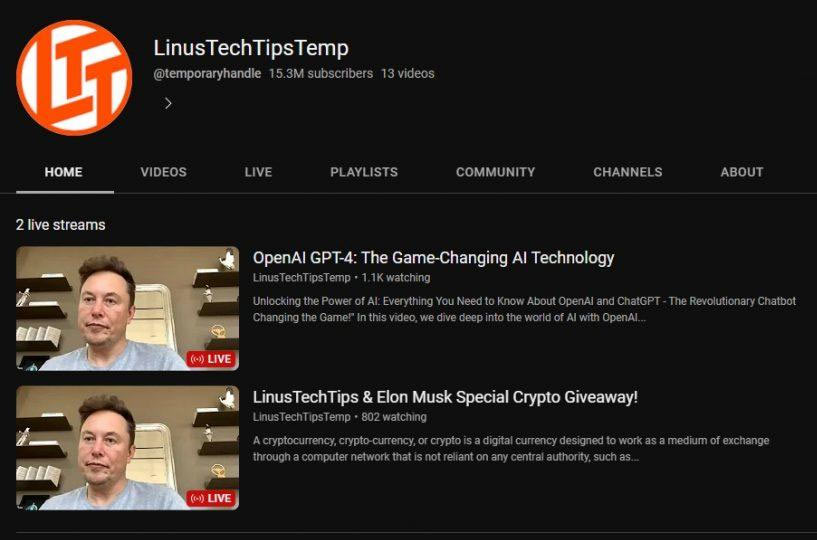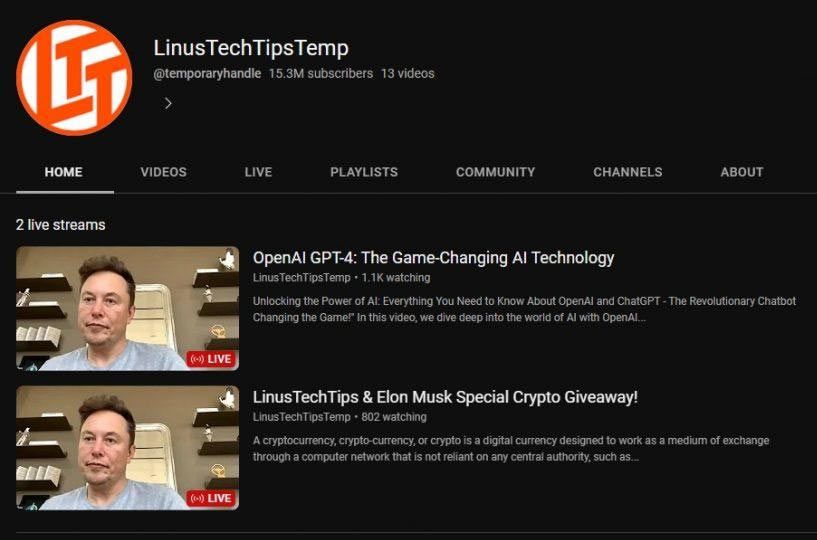 This story is still developing, and while this is unfortunate for LTT, the fact that the channels are locked down suggests normal service will be resumed in due course. We have heard complaints about YouTube security over recent weeks, with at least one well-known tech channel complaining about potential exploits in the comments section. Even more seriously, the eTeknix channel was hacked a few weeks ago, but has now been fully restored.
Surely some people are very busy in the background at both LTT and YouTube, with channel owner Linus Sebastian tweeting a slightly exasperated statement "Yes I know -_-".
More revealing information was released to the LTT Floatplane channel (pay wall), with Sebastian stating that everything is now "locked down," and that LTT is working with Google's team to help ensure this kind of hack isn't going to become more common.