AMD has introduced its new Radeon Pro W7000 lineup of professional graphics cards that not only significantly increase performance compared to predecessors, but bring support for DisplayPort 2.1/UHBR 20 output (the industry's first) that enables compatibility with next generation displays featuring resolutions of up to 12K. Support for sophisticated next generation monitors will come particularly handy for computer aided design and digital content creation.
Up to 61 FP32 TFLOPS of Graphics Performance
AMD's Radeon Pro W7900 and Radeon Pro W7800 graphics cards carry the company's latest Navi 31 graphics processor featuring the RDNA 3 microarchitecture with all of its advantages like new stream processors, higher rasterization/geometry performance, and AI acceleration. The range-topping Radeon Pro W7900 is based on a full-fat Navi 31 GPU with 6144 stream processors (96 compute units) and 384-bit 48GB GDDR6 ECC memory subsystem enabled by six memory controller dies (MCDs), whereas the Radeon Pro W7800 uses a cut-down Navi 31 with 4480 SPs/70 CUs and a 256-bit 32GB GDDR6 ECC memory subsystem using four MCDs. 
From a performance point of view, the Radeon Pro W7900 delivers 61 FP32 TFLOPS, which is in line with what gaming-oriented Radeon RX 7900 XTX provides. To offer this rather unprecedented level of performance, AMD had to equip its top-of-the-line ProViz board with a triple-slot cooling system, an industry's first. While the wide cooler will not allow installation of the board into some machines, the product will remain compatible with the vast majority of workstations. Meanwhile, it will likely be less noisy than a dual-slot cooler which has to dissipate 295W of power.  
As for the other member of the RDNA 3 ProViz family, the Radeon Pro W7800 offers 45 FP32 TFLOPS, which is slightly below performance levels featured by the Radeon RX 7900 XT graphics card (which is not surprising as it also has fewer stream processors/ALUs). This board comes with a standard dual-slot cooler and will fit into virtually all workstations except the most compact ones.
The Killer Feature
But while performance and architectural advantages of AMD's Radeon Pro W7900 and Radeon Pro W7800 graphics cards will of course be welcome by users of performance-hungry professional visualization programs, these boards have one exclusive feature that no other cards — including those from Nvidia — have. This is fully enabled DisplayPort 2.1 support with UHBR 20 mode for up to four monitors.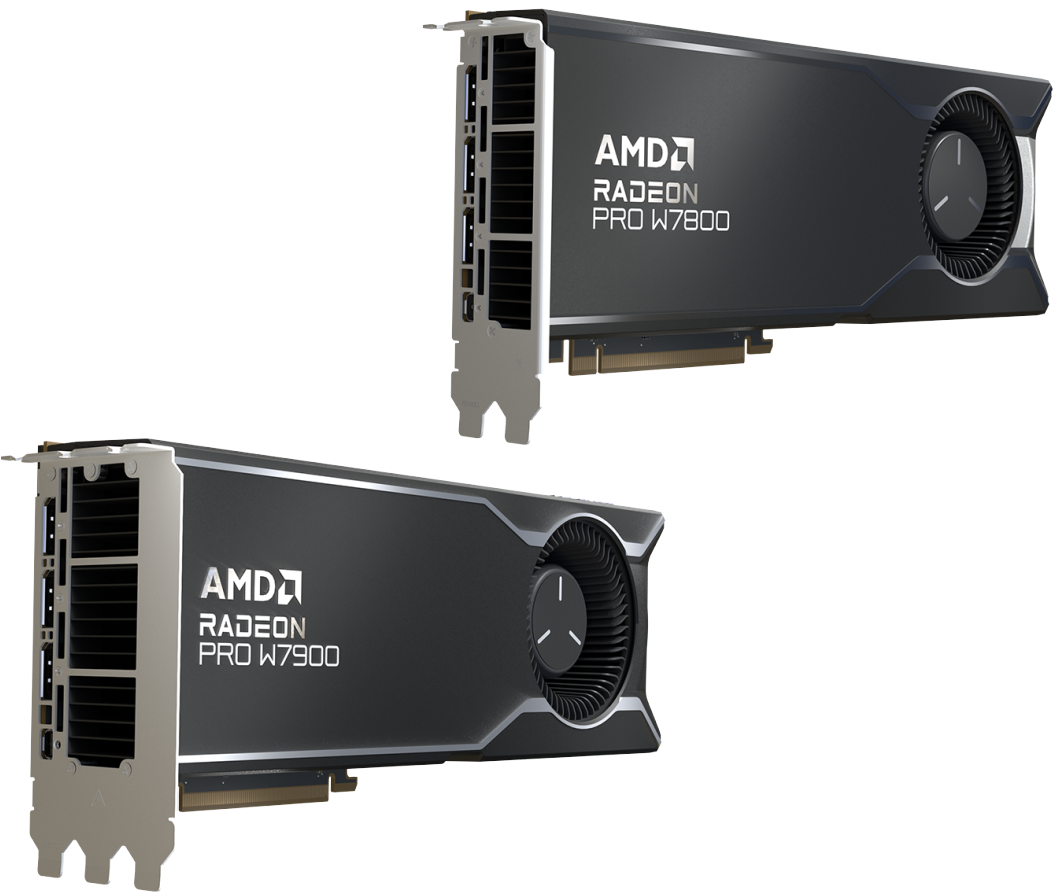 A DisplayPort 2.0/2.1 output that is compatible with UHBR 20 transmission mode (which has a bandwidth of 80.00/77.37 raw/effective Gbit/s) is capable of supporting resolutions up to 7680×4320 at 60Hz with 10bpc colors and 4:4:4 chroma subsampling, even without the use of display stream compression (DSC). Additionally, with DSC enabled, it can support even higher resolutions, such as 12K. Of course, to properly handle signal, one will need to use one will need to use VESA-certified DP80 cables for UHBR 13.5 and UHBR 20 modes. 
For now, there are no professional-grade 8Kp60 HDR monitors, so DP 2.1/UHBR 20 support is somewhat a forward-looking feature. Building such displays is not easy as in addition to high-quality display panels, they are going to require an all-new scaler that supports up to 80 Gbps transmission rates with Forward Error Correction (FEC) support to eliminate artifacts. Meanwhile, AMD's marketing materials say that Acer, Asus, Dell, Samsung, and LG are all prepping 'next-gen displays' though they do not elaborate on specifications. 
For now, DisplayPort 2.1 with UHBR 20 is exclusively supported by two of AMD's professional Radeon Pro W7800 and W7900 graphics cards. AMD's Navi 31-based Radeon RX 7900 XT/RX 7900 XTX boards for gamers only feature a slightly slower DP 2.1/UBHR 13.5 mode that is still enough to handle an 8K HDR mode with a 60Hz refresh rate, but this time either with DSC or some chroma subsampling compromises.
Pricing and Availability
AMD's Radeon Pro W7000-series boards will not be cheap: the Radeon PRO W7900 is priced at a suggested price of $3,999, while the AMD Radeon Pro W7800 is priced at an SEP of $2,499 USD. AMD expects these boards to be available from retailers already in the second quarter of 2023, but large workstation OEMs and system integrators are expected to offer them only in the second half of 2023 when they qualify them properly.