AMD on Tuesday posted its first quarterly loss in years due to weak sales of processors for client PCs. Overall, AMD's chip sales dropped 64%. AMD's data center and gaming hardware shipments remained strong and were flat year-over-year, which is quite an achievement given the slowing purchases of servers and weak demand for gaming hardware among consumers. While AMD's management expects the CPU market to start recovering in the second half of the year, the company's outlook for Q2 is not that optimistic.
Mixed Bag
In the first quarter of FY2023, AMD's revenue amounted to $5.353 billion, which is a 9% decrease compared to the same period in the previous year and a slight decrease compared to the previous quarter. Unfortunately, the company slipped into the red with a $139 million net loss as compared to a $786 million net income in Q1 FY2022. Additionally, AMD's gross margin decreased from 48% in Q1 FY2022 to 44% in Q1 FY2023.
"We executed very well in the first quarter as we delivered better than expected revenue and earnings in a mixed demand environment," said AMD Chair and CEO Dr. Lisa Su.
Indeed, AMD's results were a mixed bag as all of the company's business units except its Client Computing business remained more or less flat compared to the first quarter of FY2022, and even remained profitable. In fact, AMD's Data Center unit even managed to modestly increase its revenue, yet its profitability declined.
"Our strategically important Data Center and Embedded segments contributed more than 50% of revenue in the first quarter," said AMD EVP, CFO, and Treasurer Jean Hu.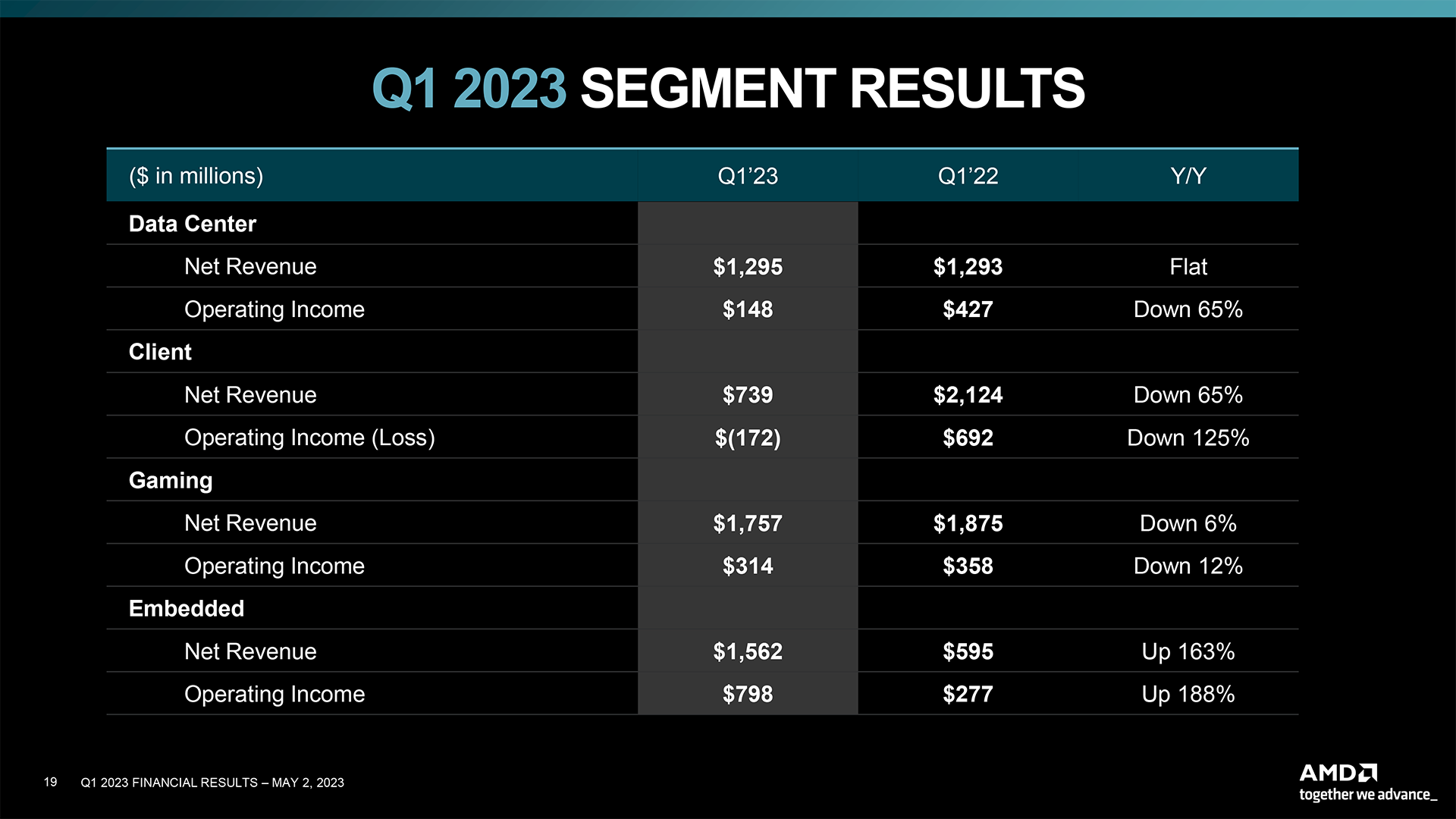 Consumer CPU Sales Nosedive, Data Center Hardware Remains Strong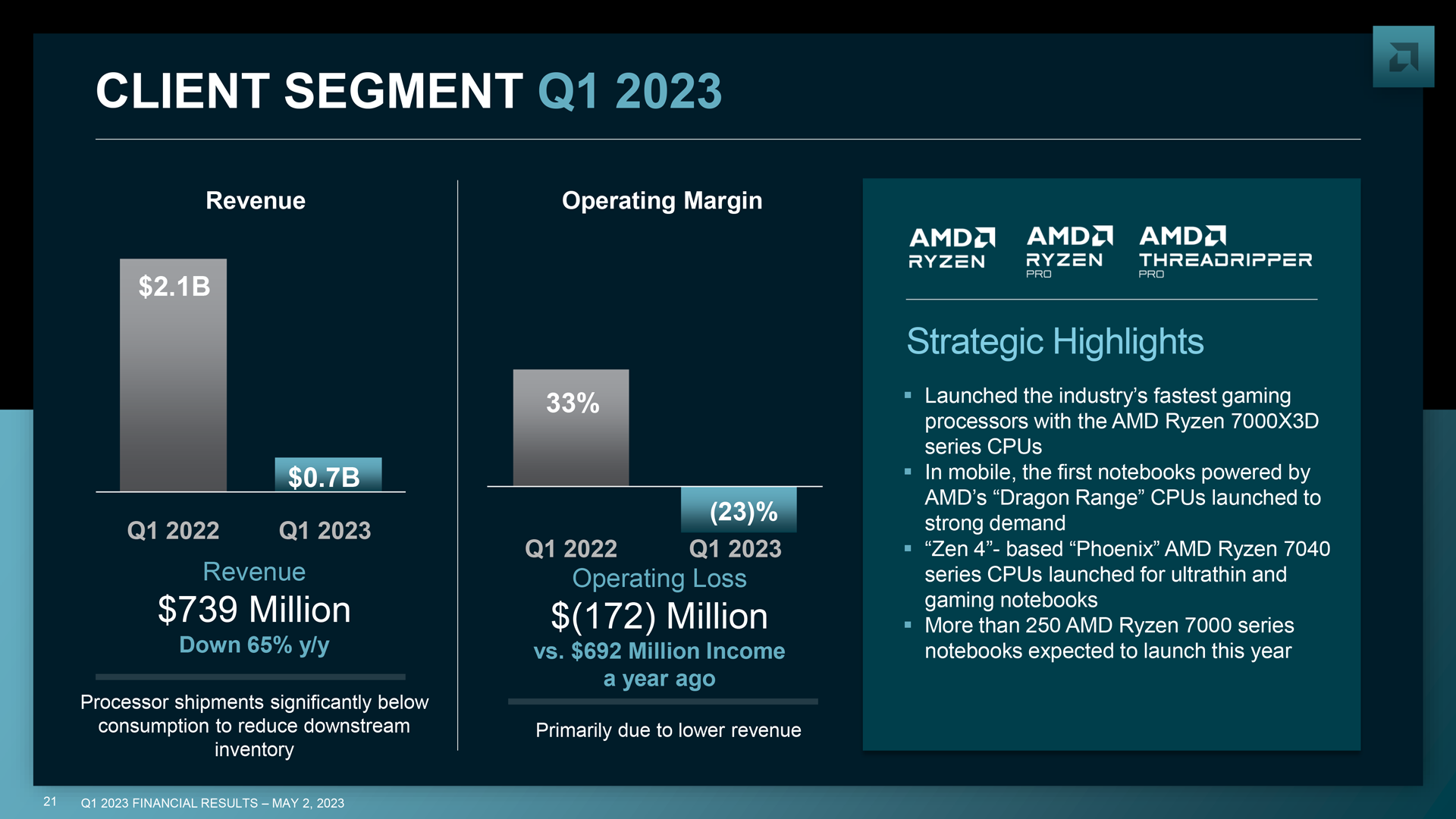 AMD's Client Computing business unit earned $739 million in revenue in Q1 FY2023, a 65% drop from the same quarter in the previous year. The unit lost $172 million, which is in stark contrast to the $625 million profit it posted in the same quarter a year ago. For years, AMD's main source of revenue was from selling CPUs and chipsets for client PCs, but for the second quarter in a row, this unit suffered from a revenue decline and bled money. As it turns out, AMD's client PC business suffered more from the soft PC market than Intel's client computing group, which Q1 sales dropped 36% year-over-year.
"As we stated on our last earnings call, we believe the first quarter was the bottom for our client processor business," said Su.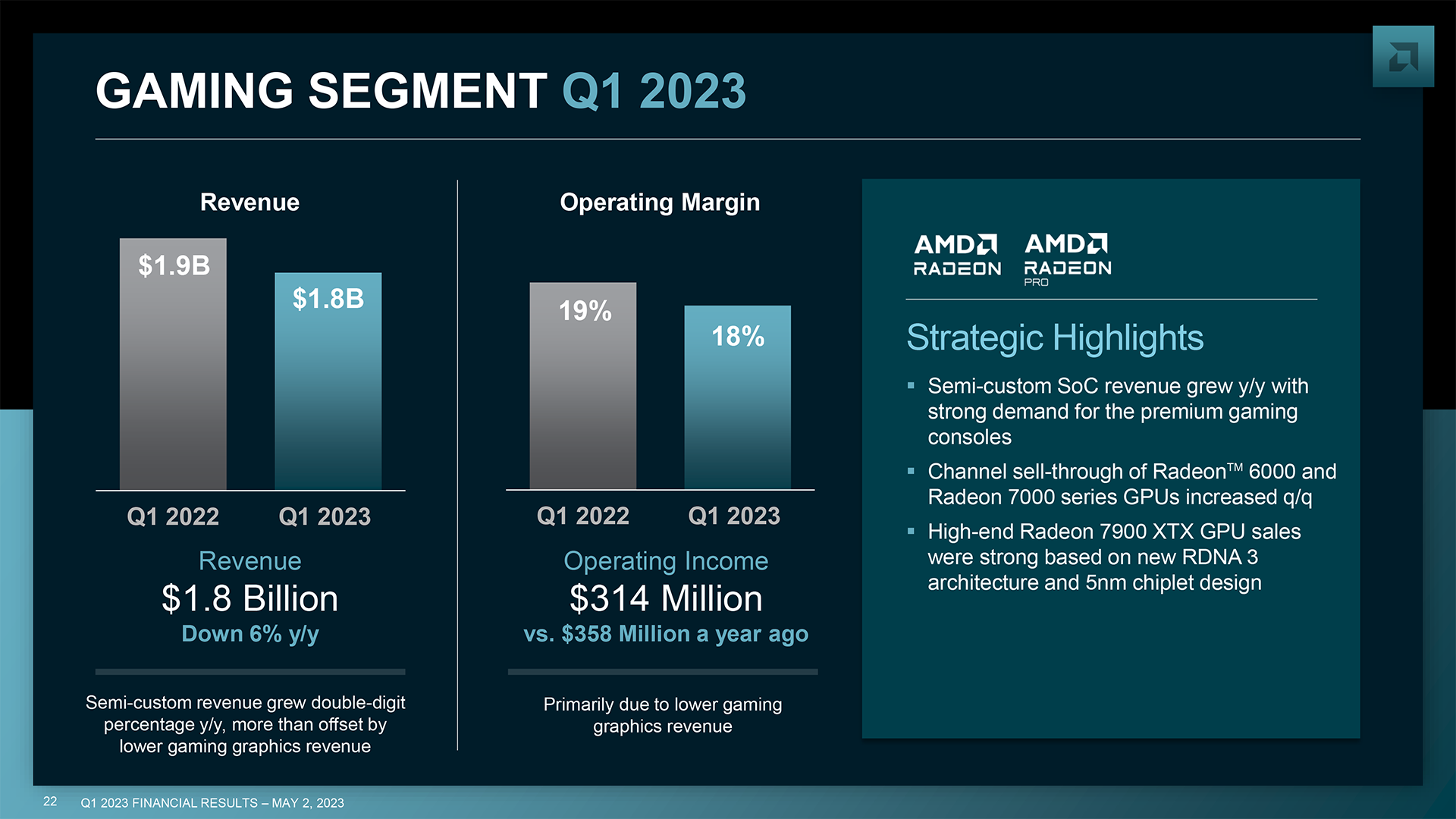 By contrast, AMD's Gaming Business unit's revenue in the first quarter reached $1.757 billion, down 6% year-over-year, which looks like a strong result given the ongoing turmoil. System-on-chips for Microsoft's and Sony's game consoles accounted for the lion's share of AMD's gaming business and increased YoY. Meanwhile, sales of discrete Radeon graphics processors dropped year-over-year. Still, they grew quarter-over-quarter as the company ramped up shipments of its Radeon RX 7900-series graphics offerings and offered its previous generation Radeon RX 6000-series products at competitive prices. Despite challenges, the division remained profitable and posted a net income of $314 million (down 12% YoY). 
"Semi-custom SoC revenue grew year-over-year as demand for premium consoles remain strong following the holiday cycle," said Su. "In gaming graphics channels sell through over Radeon RX 6000 and Radeon RX 7000 series GPUs increased sequentially. We saw strong sales of our high-end Radeon RX 7900 XTX GPUs in the first quarter, and we are on track to expand our RDNA 3 GPU portfolio with the launch of new mainstream Radeon RX 7000- series GPUs this quarter."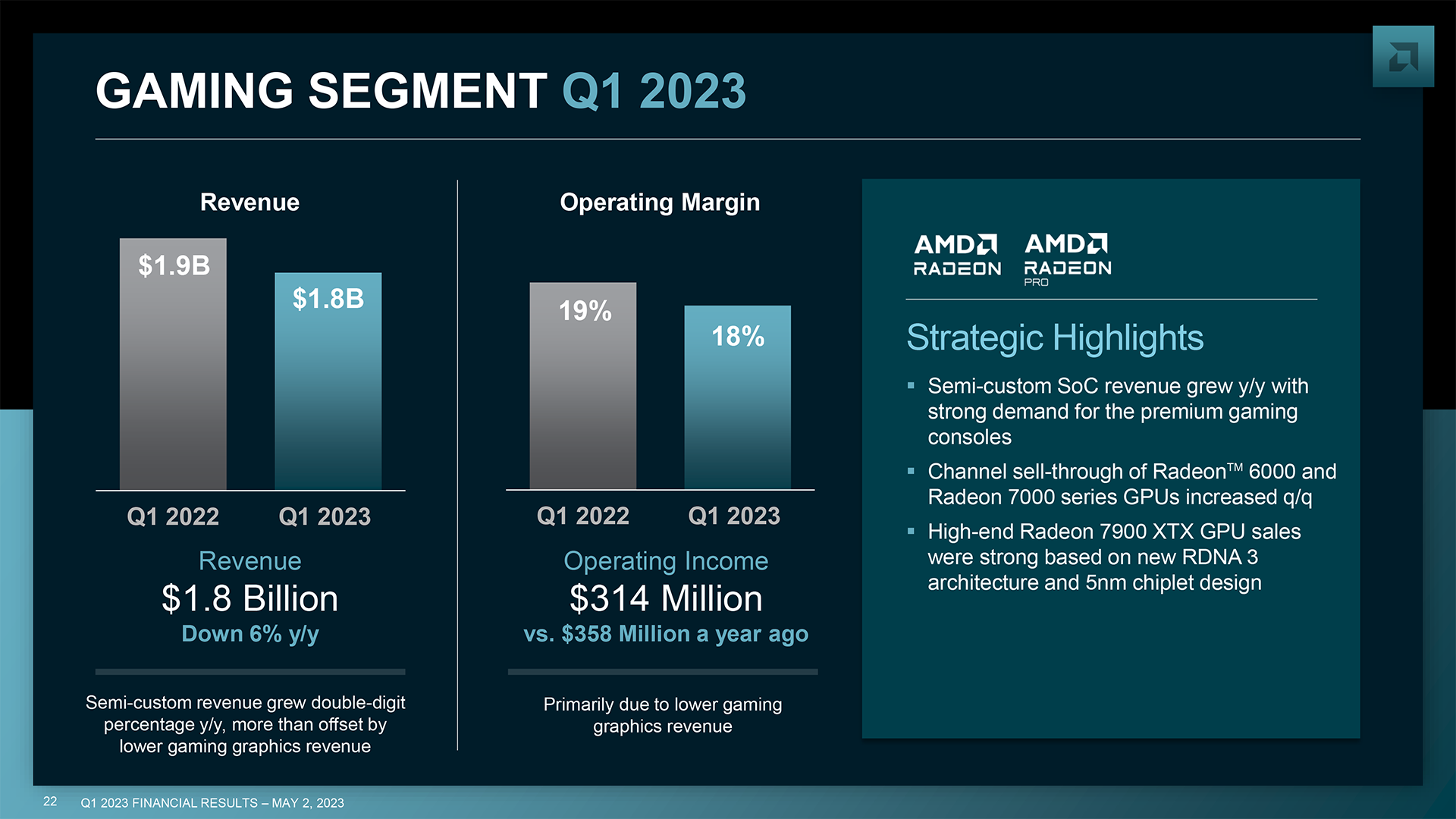 In Q1 2023, AMD's Data Center Business generated $1.295 billion, which is almost flat compared to the same quarter in the previous year ($1.293). Meanwhile, the profitability of the unit decreased 65% year-over-year and totaled $148 million, which is not surprising as large cloud services providers are reconsidering their server purchases these days, and therefore AMD and other players have to offer them better pricing to keep volumes high.
It is noteworthy that when compared to Intel's data center and AI group, AMD's server business performed somewhat better as it remained flat. By contrast, the blue company posted a 39% revenue drop for its data center parts.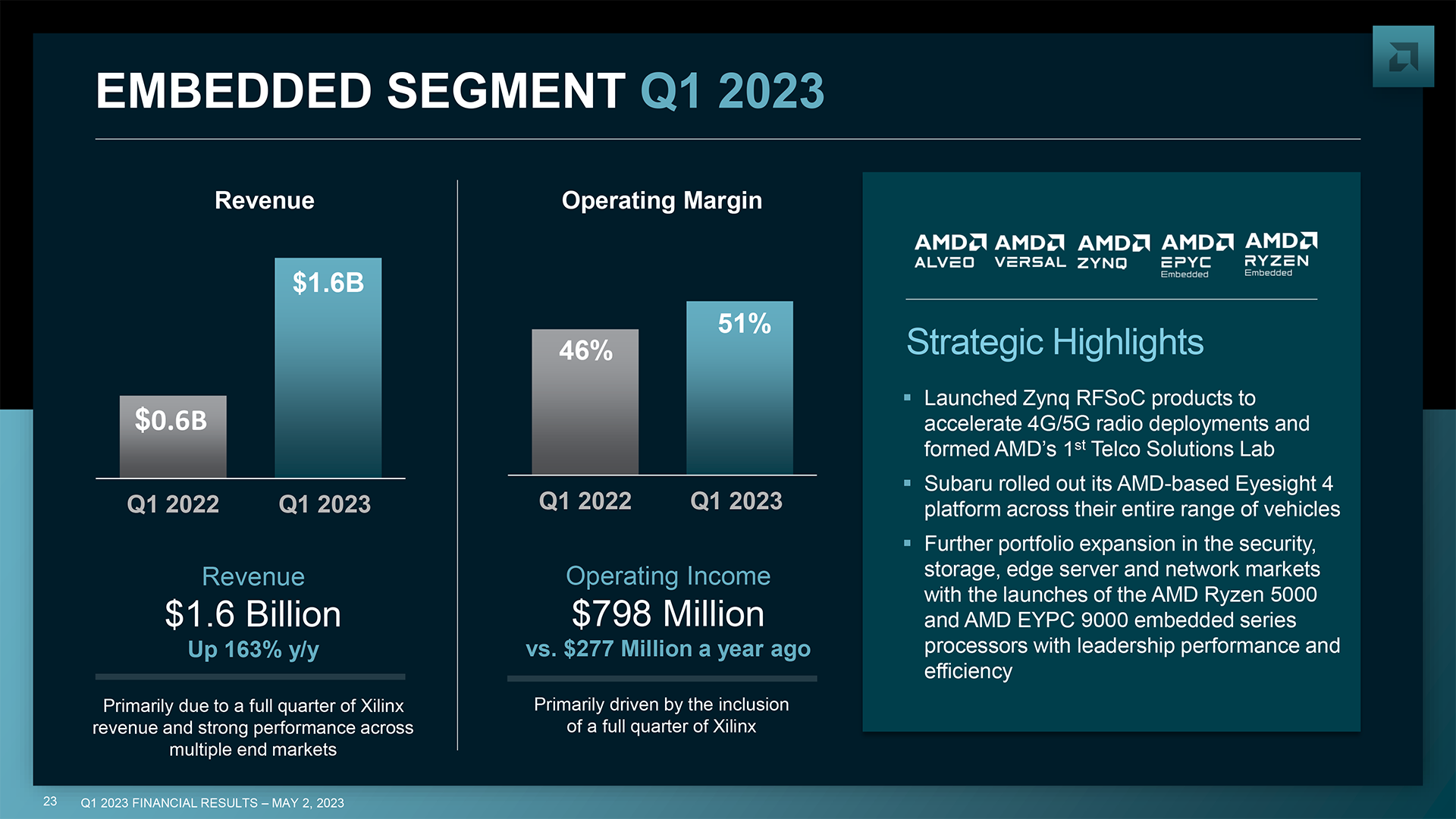 AMD's Embedded Business, which mostly sells products developed by Xilinx and some CPUs designed by AMD, reported earnings of $1.562 billion and profits of $798 million, a positive highlight in AMD's financial report. 
Cautious Outlook
AMD expects its revenue in the second quarter to stay more or less flat with the first quarter and total around $5.3 billion ± $300 million.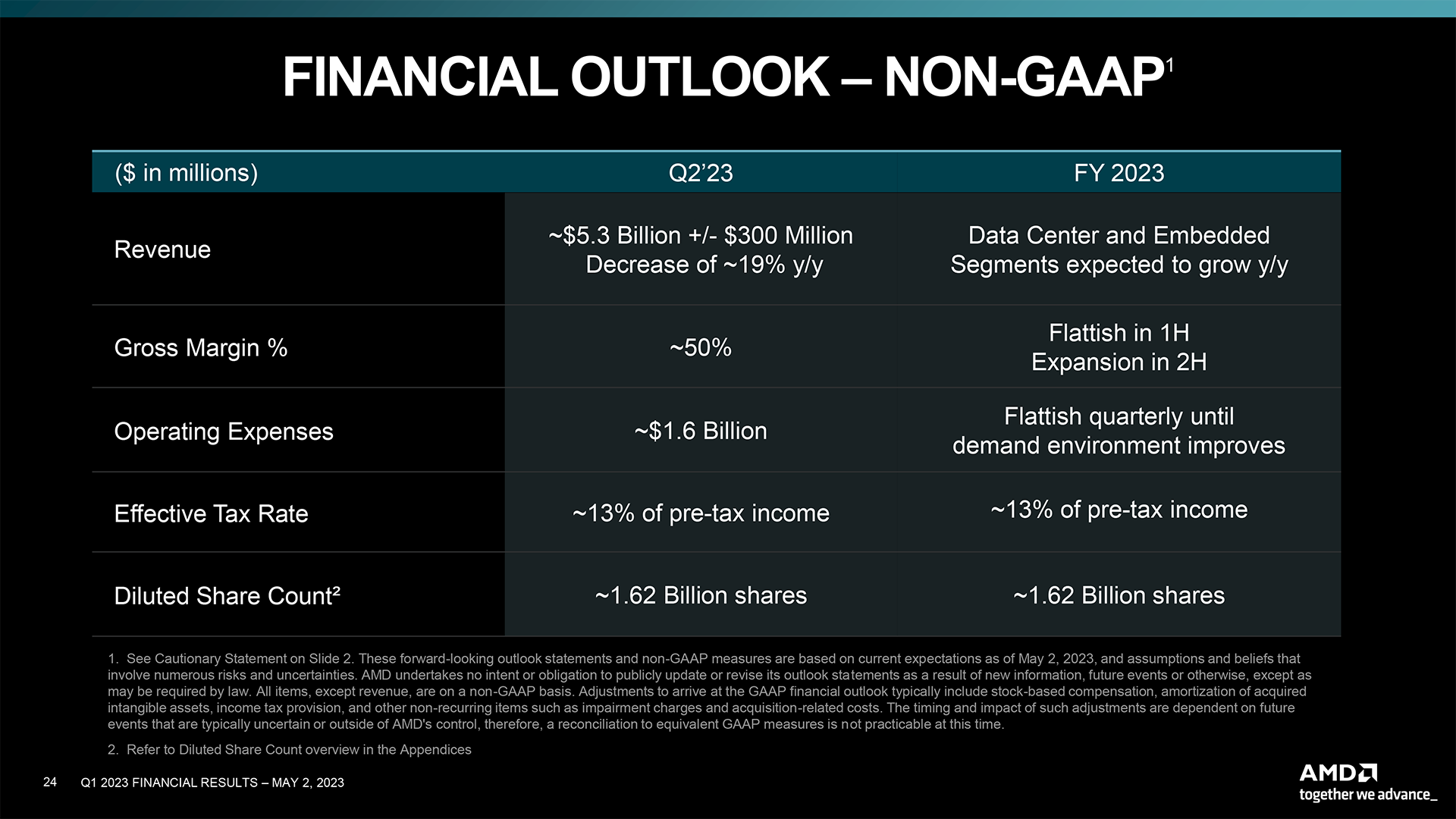 Such a cautious outlook is a bit surprising as AMD is ramping up production and sales of its Ryzen 7000-series processors for laptops, with its Phoenix chips already on the way to OEMs, and these units tend to be sold at a premium, so the company expects its client PC revenue to be up quarter-over-quarter. In addition, the company is on track to release its new Radeon 7000-series graphics processors in Q2, which are also expected to boost sales of the company's gaming hardware, but this might be offset by weaker sales of console SoCs.
Furthermore, AMD plans to formally introduce its EPYC 'Bergamo' CPUs for cloud data centers and EPYC 'Genoa-X' for high-performance technical computing applications. While ramps of server CPUs tend to be slow, these parts will still allow AMD to increase its sales of data center hardware slightly. 
"For the second quarter, we expect sequential growth in our Data Center and Client segments offset by modest declines in our Gaming and Embedded segments," said AMD's chief financial officer. "We remain confident in our growth in the second half of the year as the PC and server markets strengthen and our new products ramp."
 Meanwhile, AMD remains optimistic about strong demand for its products in the second half and beyond. For example, the firm expects its data center sales to beat 2022 this year. 
"Looking longer term, we have significant growth opportunities ahead based on successfully delivering our roadmaps and executing our strategic datacenter and embedded property have priorities led by accelerating adoption of our AI products," Su said.