When the Steam Deck launched last year, it turned heads, showing gamers how well handheld PC gaming on the go could work. It didn't run Windows (unless you installed it yourself) and was limited to Steam games (again, unless you installed Windows). But it ran games well enough on low settings to turn heads, and Valve's hardware and software integration was well executed.
Now, Asus is fresh out of the gate with the first serious competitor to the Steam Deck in the Asus ROG Ally, a Windows 11-based gaming handheld using a new AMD chip, the Ryzen Z1 Extreme (starting with a lower-end Z1).
While neither are as powerful as the best gaming PCs, it's clear that the burgeoning handheld gaming market has struck a nerve. If you're looking to buy one of these devices, here's how they stacked up following our extensive benchmarking and reviews.
Design
Oftentimes, people who love tech prefer something lighter and sleeker. But that's not always the case. Despite being heavier and wider, I prefer the Steam Deck's design to the ROG Ally.
The Steam Deck is a bit of a brick at 11.73 x 4.6 x 1.93 inches and 1.47 pounds. The Ally is 11.04 x 4.38 x 0.84 inches and weighs 1.34 pounds. That's a noticeable difference. If you have smaller hands, you may prefer the Ally. But the Deck is more ergonomic, with rounded grips to hold onto, giving you control of its weight. The Ally is more angular, which can dig into your palms.
The Ally uses an Xbox-style layout, while the Steam Deck's is a bit more controversial, putting the thumbsticks and buttons side by side. I was able to quickly get used to this, so it's a bit of a non-issue, or at least it was for me. The Steam Deck also fits in touch pads, which are great for navigation with a mouse in games like Civilization VI and for precise aiming in first-person shooters. To me, that's worth the extra size.
And when it comes to feel, the Steam Deck simply feels more premium in the hands. The Ally is lighter, but also a bit more plasticky and more like a toy. Everyone should take some design cues, especially on ergonomics, from Valve here.
Winner: Steam Deck
Steam Deck vs Asus ROG Ally Specs
On paper, the Ally makes the Steam Deck look old. To be fair, it also came out more than a year later.
While the Steam Deck uses a custom AMD Zen 2 chip, codenamed "Aerith," with 4 cores, 8 threads and 8 RDNA 2 compute units for graphics, the Z1 and Z1 Extreme both use newer chips based on AMD's Zen 4 architecture. The Z1 has the same number of cores and threads as Aerith, while the Z1 Extreme in the model of the Ally we tested doubles them. The Z1 Extreme has 12 compute units, while the Z1 has 4 CUs.
Swipe to scroll horizontally
| Tom's Hardware | Valve Steam Deck | Asus ROG Ally |
| --- | --- | --- |
| CPU | Custom Zen 2 "Van Gogh," 4 cores, 8 threads, 2.4 – 3.5 GHz | AMD Ryzen Z1 Extreme (Zen 4, 8 cores / 16 threads, up to 5.1 GHz, 4 nm) or AMD Ryzen Z1 (Zen 4, 4 cores / 8 threads, up to 4.9 GHz, 4 nm) |
| GPU | 8 RDNA 2 compute units, 1.0 – 1.6 GHz | RDNA 3, 4GB VRAM, 12 compute units at 2.7 GHz clock with Z1 Extreme, 4 compute units at 2.5 GHz with Z1 |
| RAM | 16GB LPDDR5 | 16GB LPDDR5-6400 |
| Storage | Up to 512GB m.2 NVMe SSD, SD card slot (UHS-I) | Up to 512GB M.2 SSD, SD card slot (UHS-II) |
| Display | 7-inch touchscreen, 1280 x 800 (16:10), 60 Hz, IPS, anti-glare etched glass on 512GB model | 7-inch touchscreen, 1920 x 1080, 120 Hz, IPS touchscreen with Gorilla Glass Victus and Gorilla Glass DXC |
| Battery | 40 WHr | 40 WHr |
| Power Adapter | 45 W | 65 W |
| Operating System | SteamOS 3.0 (Arch Linux, KDE Plasma on desktop) | Windows 11 Home |
| Dimensions | 11.73 x 4.6 x 1.93 inches / 298 x 117 x 49 mm | 11.04 x 4.38 x 0.84 inches / 280.44 x 111.18 x 21.22 mm |
| Weight | 1.47 pounds / 669 grams | 1.34 pounds / 608 grams |
| Price | $399 for 64GB; $529 for 256GB; $649 for 256GB and anti-glare etched glass | $699.99 for Z1 Extreme, $599.99 for Z1 |
I think the 512GB storage number — the top end for both models — alongside 16GB of RAM are extremely important.
The Ally wins here based on newness alone, with a newer chip. But that comes with an asterisk, as we haven't tested the lower end model with the regular Z1. Every Steam Deck comes with the same processor, but different storage (this means you could upgrade the storage on any Steam Deck and be equivalent — or better — than the highest end model). That's not the case on the Ally. So consider this a feather in the cap specifically for the Z1 Extreme.
Winner: Asus ROG Ally
Performance
It shouldn't come as any surprise that the system with the newer, more powerful graphics technology has an edge. Surely enough, the RDNA 3 compute units in the Z1 Extreme (again, we didn't get to test the Z1) often outpace the RDNA 2 CUs in the Steam Deck. But frankly, I was surprised to see how little the differences were in some cases.
Nonetheless, higher numbers are indeed higher. If you already own a Steam Deck, I'm not sure it's worth upgrading to the Z1 Extreme Ally, but if performance matters to you above all else, the Ally offers more of it with Z1 Extreme.
Also note that Steam Deck and its Aerith chip are meant to run the same whether on battery or connected to power, which means you always know what you're going to get. But the Ally doesn't do that. Much like a gaming laptop, it defaults to a "Performance" preset on battery and "turbo" with the AC adapter plugged in. It's in Turbo with the charger where you see the biggest performance differences. I'd argue that scores on battery matter the most here, since these are after all gaming portables. But the Ally does offer a way to get more performance when you're chained to the wall (or a PD power bank).
Winner: Asus ROG Ally
Display
There's no question about it: the Asus ROG Ally has a superior display to the Steam Deck. It's brighter, offers a higher resolution, and offers faster speeds.
While both handhelds have 7-inch touch displays, that's where the similarities end. The Steam Deck has a 16:10 aspect ratio while the ROG Ally is 16:9. The Steam Deck has a lower-res 1280 x 800 screen, and the Ally is higher-resolution at 1920 x 1080. The Steam Deck caps out at 60 Hz while the ROG Ally goes up to 120 Hz.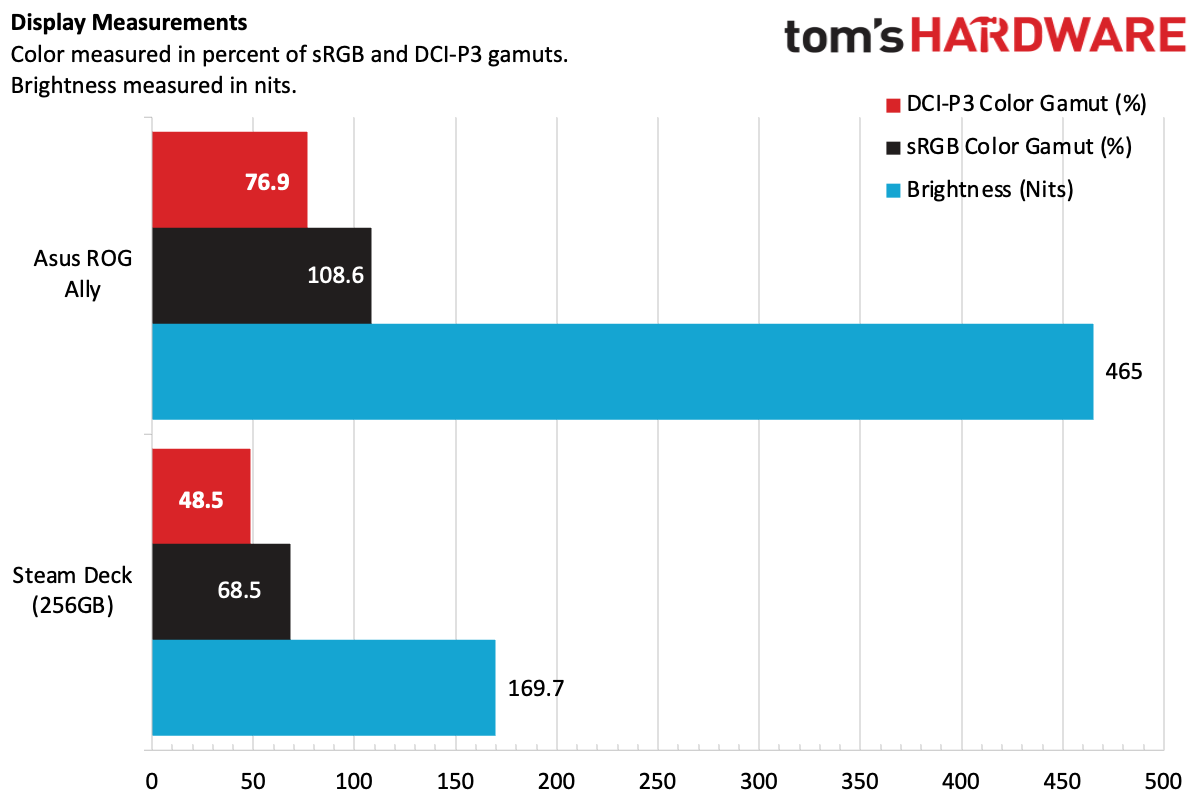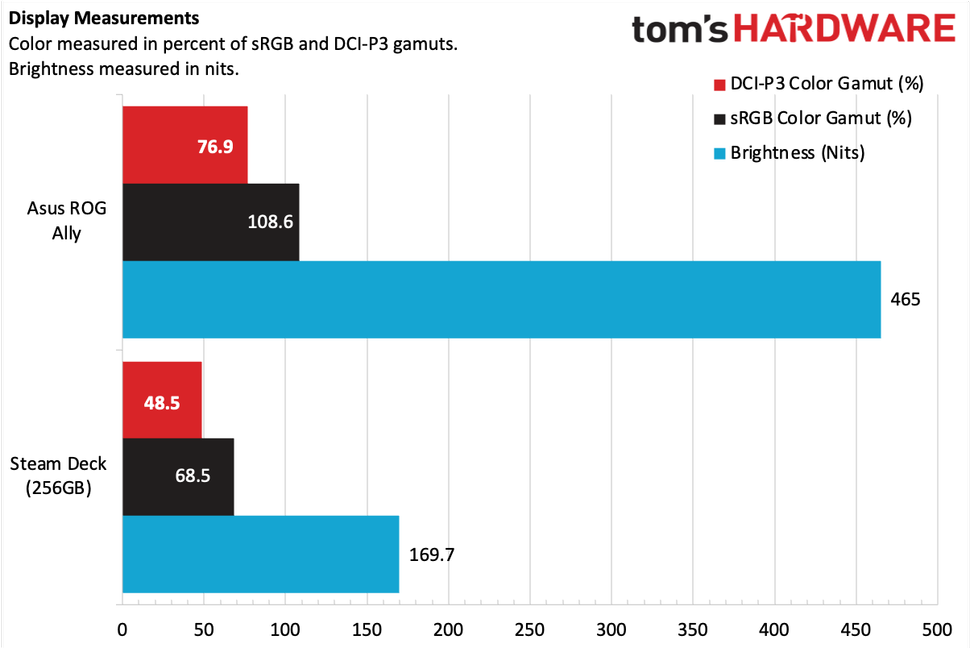 When tested with our light meter and colorimeter, we found the Ally is significantly brighter (at 465 nits) and more vivid than the standard screen on a Steam Deck. It is nice that Valve offers an anti-glare option for outside play on the 512GB model, though.
The 120 Hz panel on the Ally is great for esports (I used it a lot for Rocket League), and the screen is so bright that I rarely needed to use it at full luminosity. But these screen advancements can cause a hit in battery life, which brings us to the next section.
Winner: Asus ROG Ally
Battery Life
Both the Steam Deck and the ROG Ally have 40 watt hour batteries. And both of them will require frequent charging.
In my own typical use, I found that I could only use the Ally for about two hours, and that was with the display at half brightness. When I reviewed the Steam Deck, a bit over two hours was the norm, though depending on the type of game I often stretched it out to closer to five hours. In general, battery life will depend heavily on the settings you use and the games you play.
But the Steam Deck has a lower resolution screen that's also dimmer, but far from unusable. Its frame-locking software also is easier to use, and in general I find the system can eke out a bit of time over the Ally, with its weaker SoC, while not as much as I'd like. The Steam Deck wins here, but just barely.
Winner: Steam Deck
Game Library
While Steam has an impressive library of games, the Asus ROG Ally can play those and more.
The Steam Deck, running SteamOS, can run most games on Steam, though certain games can't run because of issues with controls, small text, emulation issues, or anti-cheat problems. There are thousands of games that Valve has verified to run. And eventually, Valve has committed to rating the whole library.
Windows doesn't have the same issues, which gives the Ally an edge here. Games designed for Windows largely run well. There's no emulation here. You can also easily include games from multiple launchers, including Xbox, GOG, Epic Games, Rockstar Games, Ubisoft, EA, and more. That opens you up to basically any PC game. Some games, especially older games, may have some control issues, but there's still a far bigger library overall on the ROG Ally, and you're not limited to just Steam.
One might argue the best answer is (or at least would be) dual-booting, but Valve hasn't made that available yet. You could, if you wanted to, install Windows on Steam Deck, though I don't see most people doing that.
Winner: Asus ROG Ally
Operating System and Software
One of the biggest differences between the two devices is the OS. The Steam Deck uses Steam OS 3.0, a customized version of Arch Linux, with the option to use KDE Plasma on the desktop. Most people will probably never leave SteamOS, which is fine — it works well and is totally integrated with the hardware. If you know Steam on other PCs (especially Big Picture mode), you know SteamOS.
It all, largely, just works. There are options for quick settings like brightness and audio volume, but also more advanced features like locking frame rates and adjusting the TDP. Some sections, like downloads, are basically taken verbatim from the desktop app. Because all the games are Steam games, they launch right away directly from your library.
The ROG Ally uses Windows 11. The advantage here is that Windows can run more games. It doesn't have to emulate things via Proton, and it can have more launchers, like Epic Games, Xbox, Ubisoft and more. But Windows 11 wasn't inherently meant to run on a system like this, so Asus has built on top of it with its Armoury Crate SE software. This has a section called Command Center with similar quick actions, though I've occasionally had certain settings, like resolution or frame rate, revert on me. Armoury Crate SE has a library section, but it can't launch games on its own — it launches launchers, which launch games.
Windows 11 also isn't as easy to navigate with a controller. There is a desktop mode to use a thumbstick as a mouse, but it's clear that Windows 11 wasn't designed for this specific application. It can be made to work, but it's clunkier.
The best launcher on Windows 11 is actually Steam in Big Picture mode. It works just like the Steam Deck and it feels great.
Winner: Steam Deck
Upgradeability
While at one point, Valve suggested that "you shouldn't do any of this" when it comes to upgrading the Steam Deck, it's still the more repairable system.
Admittedly, it's harder to upgrade the main component, the m.2 SSD, in the Steam Deck than it is in the ROG Ally. On the Steam Deck, you have to remove a thermal shield that shares a screw with the fan assembly. But for most enthusiasts, that shouldn't be too much to worry about.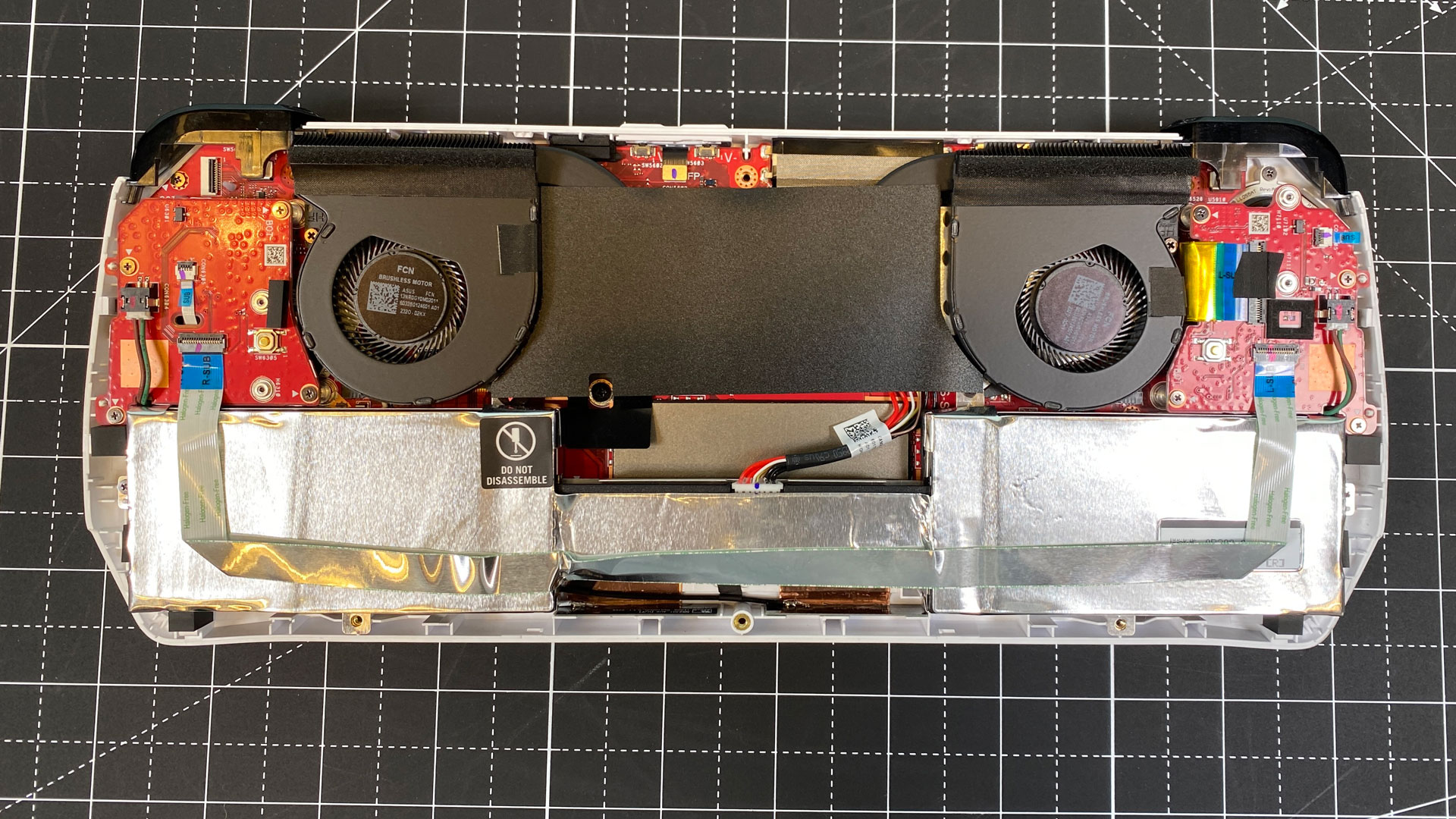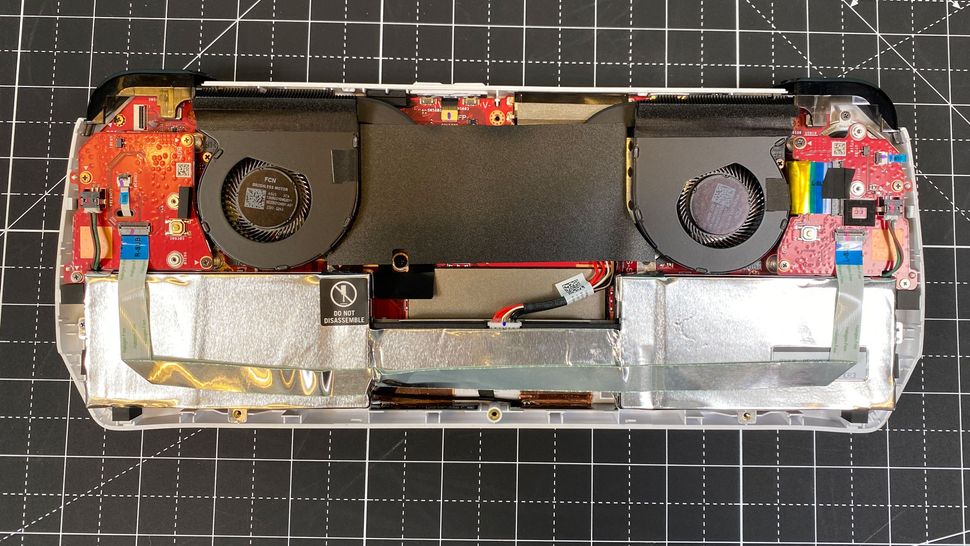 On the other hand, that SSD is currently the only part you can really replace on the Ally. For the Steam Deck, Valve has teamed up with iFixit to offer new fans, batteries, joysticks, bumper assemblies, and other replacement parts. The company has also opened repair centers for those who don't want to open these machines themselves. It's unclear what Asus will do to support the Ally outside of its one-year warranty.
Both handhelds also have microSD card slots. The Steam Deck's is UHS-I, while the Ally's is a slightly faster UHS-II.
Winner: Steam Deck
Total
Swipe to scroll horizontally
| Round | Valve Steam Deck | Asus ROG Ally |
| --- | --- | --- |
| Design | X | Row 0 – Cell 2 |
| Specs | Row 1 – Cell 1 | X |
| Performance | Row 2 – Cell 1 | X |
| Display | Row 3 – Cell 1 | X |
| Battery Life | X | Row 4 – Cell 2 |
| Game Library | Row 5 – Cell 1 | X |
| Operating System and Software | X | Row 6 – Cell 2 |
| Upgradeability | X | Row 7 – Cell 2 |
| Total | 4 | 4 |
Bottom Line
The Steam Deck excels in some areas, the ROG Ally in others. If you prioritize comfort (and don't have smaller hands), play most of your games on Steam and want a tightly integrated platform, the Steam Deck is for you. You could, if you wanted, always install Windows later. For those who want a brighter display and the latest chips from AMD, the Z1 or Z1 Extreme, the Ally is the way to go, especially if you don't mind fiddling more with launchers and software that's a bit buggy.
In some ways, the Steam Deck is a bit more like a console: largely ready out of the box, comfortable to use, but not as powerful. It also starts at a lower price with the same SoC as its more expensive counterparts, though you'll want to update the storage down the line. The Ally is like a gaming PC in good and bad ways, with more fiddling, more component choices, and more options.
Which way you go will depend largely on your needs and what you want to work best. For newcomers, I think the Steam Deck is the way to go, while those who want the latest and greatest (and a better screen) may go for a Z1 Extreme-based Ally, even if the feel of the system isn't as good.